2021 Petite Sirah, Dry Creek Valley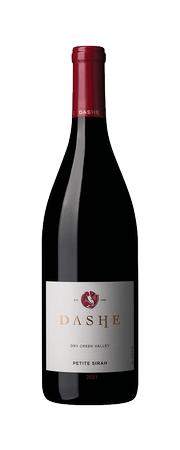 History
This is the first Petite Sirah that we've made at Dashe Cellars which is a combination of two of our favorite Dry Creek Valley vineyards: the Louvau Ranch and the West Ranch.
The growing conditions in 2021 were such that we were only able to get a small production of Petite Sirah from each of these vineyards, and when we tasted the berries we realized that not only were the flavor profiles similar, but that the vines were ripening at the same time. We decided that it would produce the best wine if we were to ferment the two blocks together, so the decision was made to crush and ferment the grapes in a single tank.
On the West Vineyard, there is a tiny patch of old-vine Grenache that produces less than a half-ton of grapes that was also picked at the same time, so we decided to ferment the Grenache together with the Petite Sirah, which is a similar combination as some wines from the northern Rhone Valley. The addition added complexity and balance to the wine, and we loved the resulting texture and depth.
Production
As always, we sorted the grapes before crushing them and allowed the wine to ferment on its native yeast. The fermentation was allowed to get quite warm to extract maximum color and pressed early to prevent too much harsh tannins to keep the wine velvety and rich.
After pressing, the wine was racked into large 120-gallon French and Hungarian oak puncheons, and aged for 16 months.
Tasting Notes
Color: Black-purple
Aroma: Lovely blackberry, blueberry, plum, chocolate.
Taste: Entry of blackberry and highlights of brighter blueberry fruit, with a great balance of fruit and acidity. Chocolate and clove spice, quite full-bodied with round, mouth-filling tannins that fill the finish without being harsh or astringent. Finish of blueberry and chocolate that persist for minutes after swallowing.
81 cases produced
Wine Specs
Appellation
Dry Creek Valley
Aging
90% 2-year French oak 120 gal puncheons 10% 2-year Hungarian oak 120 gal puncheons
Product Reviews