2021 Zinfandel, West Vineyard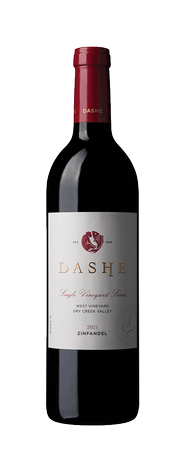 History
The West Vineyard has long been one of the major components vineyards of our Dry Creek Reserve Zinfandel. These head-trained old vines always produce one of the biggest and darkest Zinfandels we make and we realized it was a perfect wine for a single vineyard offering. The wine is big, explosively aromatic, and quite rich in both mouthfeel and texture.
Production
In 2021 the grapes matured slowly and then a blast of heat just before the harvest pushed the ripeness of the grapes. They concentrated their flavors and sugar as we picked in the early morning on September 15th. We made a tiny amount of wines from these grapes, but the wine we made was clearly great the second we crushed the grapes. In the fermenter, the wine turned inky black within a day or two of crushing. Initially, we hand-sorted the grapes on a conveyor, to eliminate any leaves or imperfect fruit. The crushed grapes were then fermented using only the natural yeast population on the grapes to conduct the fermentation. At dryness, the wine was gently pressed in a membrane press and pumped to 30% new and 70% 2-year or older 120 gallon French oak puncheons.

Tasting Notes:
Color: Reddish-purple
Aroma: Black cherry, black raspberry, plum, pomegranate, chocolate.
Taste: Ripe blackberry, black raspberry. cassis, licorice. Notes of black pepper, mocha, and chocolate. Almost sweet on entry (although it's bone dry), with great texture and velvety mouthfeel. Very long, spicy, fruit-driven finish; great aging potential.

Wine Specs
Appellation
Dry Creek Valley
Vineyard Designation
West Vineyard
Product Reviews