The Complete Feast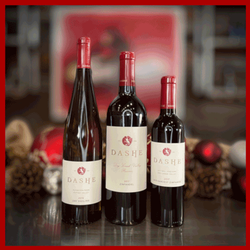 Shipping Included!
Our Perfect Pairing-Friendly Set
2019 Dry Riesling, McFadden Farm
These organically-grown gnarled, 30+ year-old vines are from high in the mountains of Potter Valley. We made this wine bone dry and has powerful aromas, a mouthfilling velvety structure, and a depth of flavor that makes it one of the most age-worthy Rieslings we've ever produced.
2017 Zinfandel Reserve, Dry Creek Valley
Reserve version of our classic Dry Creek Zinfandel is made by hand selecting individual barrels of our best lots to make this special blend. Selected for intensity, complexity & balance, this is consistently one of the finest wines made at Dashe Cellars!
2017 Late Harvest Zinfandel, Lily Hill Vineyard
From the Lilly Hill vineyard, the steep slopes and rocky soils help these vines produce grapes that are concentrated and complex. Harvested a month later, the grapes they maintain their acidity, resulting in a focused and crisp dessert wine.
Product Reviews