Wine Club Happy Hour
SOLD OUT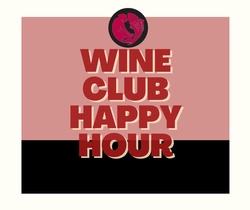 SOLD OUT! To be added to the waiting list, send an email to info@dashecellars.com
We'll be focusing on summer wines! You know the ones, the wines that beg for a juicy burger fresh off the grill, for simply sitting poolside with your toes in the water, or gathering with friends for a leisurely game of bocce ball. We'll have cheese and charcuterie for your happy hour snacking pleasure too.
Make your reservations now, space is limited.
DATE: Thursday, July 14th
TIME: 5:30-7PM
COST: Complimentary, limit 4 per membership | Reservations Required!
WINES POURED:
2017 Sparkling Wine, Methode Ancestrale
2021 Rosé of Barbera
2020 "Concrete Cuvée" Chenin Blanc
2018 "Les Enfants Terribles" Zinfandel, Mendocino Cuvée
2018 The Comet, Sonoma Valley
Product Reviews
Mike & Deb McJilton
(May 5, 2022 at 7:20 PM)
Dashe Cellars offers fantastic wine varietal's at their winery. They have created a great place to taste, enjoy & purchase wine right hear in the Bay Area. We have been members for years. You won't be disappointed. Mike & Deb McJilton
Jaye W.
(May 5, 2022 at 7:54 PM)
I'm a new member and very pleased with the quality of Dashe wines and the hospitality extended by the winery staff. Great spot for wine lovers!
Doug Spurr
(May 5, 2022 at 8:01 PM)
Dashe Zinfandel can't be beat!
Katherine Zapata
(May 5, 2022 at 8:25 PM)
Always surprised and amazed at the superior wines that Dashe has to offer. So happy to be a member of the wine club and can't wait for the tasting!
Alenka Zoric
(May 6, 2022 at 6:37 AM)
4 tickets please! Could not have said it better, all the above!!
Janyce Prothro
(Jul 5, 2022 at 1:28 PM)
Great wines!