March 16, 2021 | Culture & Travel, Small Business Life | Michael Dashe
A Lighter Shade of Zinfandel, or My, How Times Change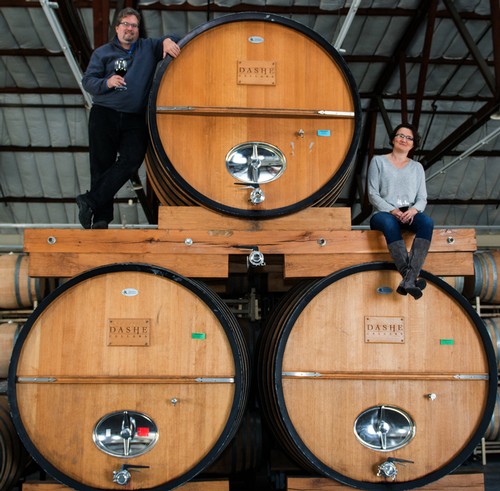 Last year, the wine writer Eric Asimov, long time New York Times wine columnist, wrote a two-part series for his Wine School column entitled "Revisiting Zinfandel from a Less Brawny Angle" and "Finding the Heart of Zinfandel." The focus of the two articles was to taste three current examples of Zinfandel—all of which were a more modern, lighter, and less alcoholic styles—to see how recent styles of Zinfandel compared with the bigger, jammier, more alcoholic styles of popular Zinfandels from a decade or more ago.
Frankly, the focus of the article was that Mr. Asimov's tastes had moved away from drinking Zinfandel a few years ago because of heavy-handed ripe flavors in some of the most popular zins. He was looking to see if recent offerings from wineries that made less brawny Zinfandels was more interesting and palatable, both to him and to his readers who commented on the wines.
Here at our little urban winery at Dashe Cellars, we were gratified that he selected a Dashe wine—the 2018 Zinfandel Vineyard Select—for his widely-read Wine School series. In the introduction, he said that "I selected the Dashe because I generally like this producer's wines, they were fairly widely available, and the bottle was cheaper than the other two.". We'll take that—and we're glad that Asimov enjoys our wines.
The Times have Caught Up with Dashe Cellars?
Personally, we were a bit amused by the premise of the article because it implied that it was only a recent development that certain wineries had moved towards making lighter, more elegant Zinfandels.
But those of you who know Dashe Cellars wines from when we started in 1996 know that we have always selected vineyards and used wine making practices to make lighter, more delicate, yet complex and balanced Zinfandels.
Although our single vineyard wines such as the Louvau Vineyard Old Vines Zinfandel has traditionally been less alcoholic than our peers, we really turned the Zinfandel world on its head in 2008 when we released our first "Les Enfants Terribles" single vineyard wine—a Zinfandel, naturally—from the McFadden Farm in Potter Valley.
Are we Drinking all 500 Cases Ourselves?
The first Les Enfants Terribles wine was a fluke, in a way, because it was a phone call from a sommelier—Mark Ellenbogen from the Slanted Door restaurant in San Francisco—that sparked the creation of this wine.
Mark was extremely diligent about which wines made his Wine List at the restaurant, and he loved softer European reds such as Gamay-based wines from Beaujolais region in France, and a wide array of Pinot Noir-based wines, also from Europe.
When the Slanted Door was criticized from some quarters for not having many domestic wines, Mark reached out to me and asked if it was possible if we might make a single vineyard wine that had many of the attributes he loved in his favorite European wines to go with the cuisine from the Slanted Door: lower alcohols; lower tannins; little or no oak influence; beautiful softer fruit character; a softer, velvety texture.
I had just seen the Zinfandel grown at McFadden Farm—a high elevation vineyard—and the red grapes were surrounded by Riesling, Pinot Blanc, and Gewurztraminer white wine grapes. I immediately loved the fruit flavors of the Zinfandel but was shocked at how light-colored the red grapes were. When Mark called me up, I said that I had found the perfect grapes to make a "Beaujolais-styled" carbonic maceration wine.
We had just purchased a 900-gallon oak foudre from Burgundy, and decided we would make all of the Zinfandel in the vineyard, and age it in this huge single barrel.
When we made the wine, using the carbonic maceration technique of whole berries and whole clusters, the wine was gorgeous, but the color was so pale red that it looked like a Gamay or Pinot Noir. I was so shocked that I turned to Anne and asked "are we going to have to drink all 500 cases of this wine by ourselves?" She turned to me and said "you're crazy. This is exactly what I had in mind when we made this wine. People will love it!"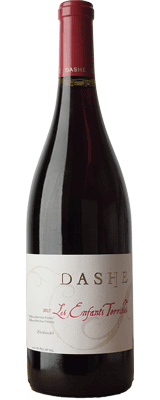 Click Here for 2017 Zinfandel, Mendocino Cuvée
We've Been Making Trendy Wine for 26 Years!
I shouldn't have been so worried. The first Les Enfants Terribles 2007 Zinfandel from the McFadden Farm went on to become a tremendous hit at the Slanted Door, and soon word got around that Dashe Cellars was making this carbonic maceration Zinfandel that tastes unlike any other Zinfandel on the market. The wine became a darling of wine drinkers around the country who liked European wines for their balance and lower alcohols but wanted the vibrant fruit of a California wine at the same time.
Compared to many other Zinfandels out on the market, Dashe Cellars Zinfandels are lighter in style and have a certain balance between fruit and acid, with less oak and tannin on the finish. We've been making Zinfandels in this style from when we first released a single vineyard wine—a 1996 Dry Creek Valley Zinfandel—and have kept this signature style since.
It used to be that very few wineries were making wines that were lower alcohol and fermented on native yeast. No more—it's quite common for new wineries to make wines in this style. We are pleased that after all these years following our heart, making wines that had a balance of an "Old-World" wine, our style is now very much on target for young, innovative wine makers.
We are huge believers in making wines that reflect the vineyards, and our style champions this type of artisan wine. Many thanks to Eric Asimov and other wine writers that now are highlighting our style of wine to a broader market of wine drinkers. For 26 years we've made wines that are now touted as "trendy," due to their restraint and balance. We might not be a new winery, anymore, but we'll take the trendy label anytime, as long as people enjoy the wines.
Comments
Commenting has been turned off.