April 25, 2022 | Michael Dashe
What do Mike and Anne have in store for our Wine Club Members this spring?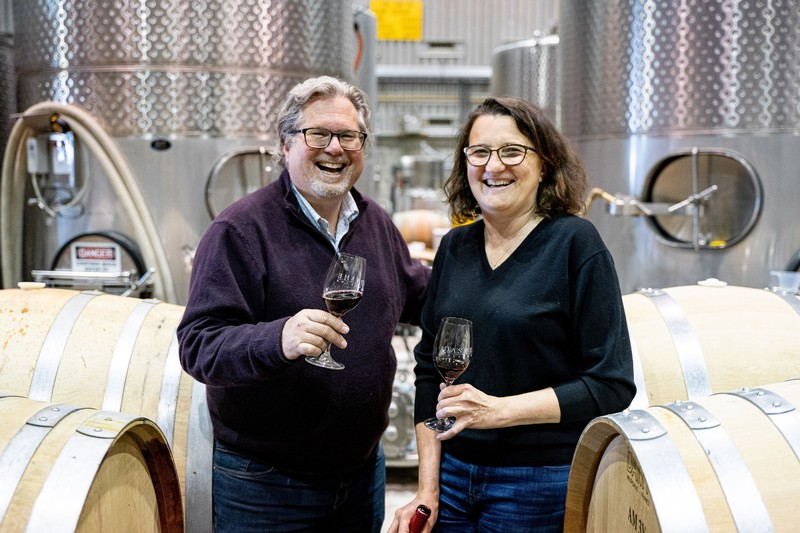 Spring 2022 Wine Club Allocation
We love Spring here at Dashe Cellars. It's warm (most days!) out on our SF View Patio; the bird activity kicks in with lots of Great Blue Herons, geese, hawks, pelicans, and a variety of sea birds flying or hatching chicks by the winery; and we're busily bottling wines and sending the younger red wines down to barrel.
After work we can sip a glass of wine on the patio and see the skyline of San Francisco outlined in crimson and orange, and say our thanks for living and working in such a beautiful place.
Out in the vineyards the vines are budding out and growing, which is both exciting and terrifying. We start to think about harvest (yes, this early!), and map out our plans for the upcoming year.
We know that it's been a strange couple of years for everybody, between the pandemic and world affairs, and to all of you who have been affected, you have our best wishes and support. Let's hope this year ends up significantly better than it started.
Spring is also fun because we get to plan and ship our Spring Wine Club shipments, and this year's lineup is quite delicious–it's like a greatest hits list of some our most popular wines.
On the Zinfandel front, we have some heavy hitters from the Dry Creek Valley. One of our most long-standing vineyards is the Louvau ranch. The Old Vines Louvau Zinfandel is the tiniest parcel of grapes on the property: gnarled, 100+ year old vines, about 98% Zinfandel but also with a few scattered Petite Sirah, Alicante Bouschet, and Carignane vines that add to the wine's depth and complexity.
Also from the Louvau ranch is the Louvau Zinfandel Block 2, from the steepest part of the vineyard. This block is always the most fruit-forward and intense in both color and structure than any other Zinfandel on the property. It has a huge fan-base among our Wine Club members (since it's a Wine Club exclusive wine) and is renowned for being one of the most popular wines for bringing to dinner parties.
Next we have the Florence Vineyard Zinfandel. This is classic northern Dry Creek wine, floral and fruit-forward, and we think this 2019 vintage is an exceptional example. Sadly, this is our last year of making this wine because Jack Florence sold the vineyard when he retired, but we've locked in another great northern Dry Creek Valley vineyard to replace it with in the upcoming years.
Finally, the West Vineyard Zinfandel is one of our favorite Zinfandels from the Dry Creek Valley. Dark, complex, and almost chocolaty along with the blackberry fruit, this is an age-worthy zin.
We are lucky to make wine from the Evangelho Vineyard, where we source old-vine Evangehlho Carignane planted in the 1800's that is one of the most stylish wines we make. Dark purple, spicy, and with great fruit.
Our Louvau Vineyard Petite Sirah rounds up the shipment: jet-black, concentrated, and yet very smooth and drinkable. It will last for many years in the cellar, but can be drank immediately as well.
We hope you enjoy drinking all these wines!
- Michael and Anne Dashe
Interested in receiving these wines and not yet a Wine Club Member? Click Here to learn more about membership.
Comments
Commenting has been turned off.