September 8, 2022 | Michael Dashe
Why we do this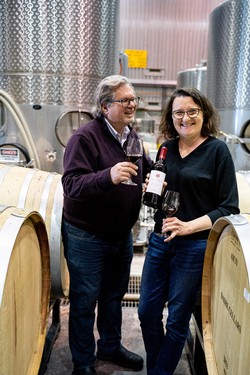 Mike Dashe here.
Do you ever think about why someone does what they do for a living?
Maybe an accountant really loves numbers and helping people keep their earnings in their own pockets. Or a doctor loves to heal. And an artist loves expressing human experience with paint.
I always knew I was going to one day have my own business. In my early 20s, studying plant physiology and biology at UC Santa Cruz, winemaking wasn't even on the radar. I had no idea you could even start or own a winery unless it was already in your family.
And though my father liked wine and it was always on the table, enjoying it and making it are about as far apart as diving for abalone and eating it for dinner. Strange comparison, sure, but diving for abalone was exactly what I was doing when I got my first wine job.
A local winemaker's wife loved the coastal mollusks, and the winemaker wanted to trade wine for the buttery delicacies we dove for back in the 1970s. That soon led to another trade—my labor on the bottling line for wine. This is how I found out you could go to school for winemaking, and just like that I was headed for grad school at UC Davis.
I'd already had a lot of training in biology, plant physiology, and chemistry. But I also loved making things. If I could simplify my love of winemaking into a T-shirt-worthy "phrase", it might look like this:
Art + Science = Wine
Because winemaking is the absolute best synthesis of art and science as you can get.
You've probably heard this before—wine is an expression of place. It's also evidence of the winemaker's philosophies and general views on life.
You can take the raw materials from a place, split them up between two winemakers, and the end product will be two totally different wines.
Isn't that cool?
That's why I do this. That's why I've been making wine for almost 40 years. And why Anne and I started Dashe Cellars 26 years ago.
Like me, Anne also loves the process, the whole chain from grape to finished product. Unlike me, she also loves all the in-between business decisions, like choosing the paper type for the labels and how to think about marketing (a necessary part of telling the world you exist).
She loves the silence of the cellar, too, the physical catharsis of manually pumping wine over the cap during fermentation. Of course these days other people are doing the pump-overs, which saves our (older) backs and shoulders. But we still make wine with a natural approach and non-industrial practices.
Anne loves that part, too, that we focus on the purest expression of fruit and place to make wines that pair with food and that we love to drink with friends.
We are so lucky to do what we do and grateful for the opportunity to share it with you.
Thanks for being here.

Cheers,
Mike (and Anne)

P.S. You can have Dashe Cellars on your table any time you want by ordering through our website. Check out our current offerings.
P.P.S. Let us choose for you by joining the Dashe Wine Club with shipments twice per year. Pick the collection that's best for you.
Comments
Commenting has been turned off.