June 21, 2022 | Stephanie Flasher
RECIPE ALERT! Smash Burgers with the new 2018 Mendocino Cuvée Zinfandel
Fire up the Grill and Grab Your Wine Opener
Recently, our Winemaker, Rene, walked into the office and stated that it was officially Smash Burger Season. As someone who prides myself on eating all of the things, I was a little embarrassed to admit that I had never had one before and before I knew it the date was set... lunch on the SF City View Patio complete with homemade smash burgers, (doubles, with cheese) delicious watermelon salad, and a corn arugula salad that would knock your socks off.
Since we are the crew at Dashe Cellars, we couldn't let the chance pass to open some wine and make it a party. My dear readers, my world stopped when I had my first sip the 2018 Mendocino Cuvée Zinfandel paired with one of Rene's smash burgers. The bright fruit, and firm acidity cut right through the fattiness of the burger, and the notes of pepper and red fruits further accentuated the rich flavors in the burger.
It was heaven, and I highly recommend that you try it tonight.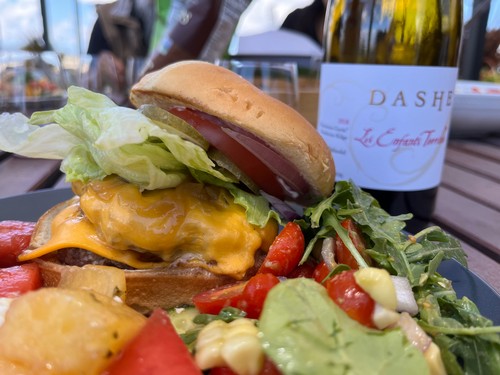 The BA Smash Burger
By Adam Rapoport, Bon Appétit October 2015 issue - Smash Burger food pairing by Rene Calderon
(Rene's variation was topped with a caramelized onion marmalade. If you have some time on your hands and want to caramelize some onions, then I included the recipe for that too)
Ground chuck is a great all-purpose, buy-it-anywhere choice for burgers. But if you want to get ambitious and blend, say, chuck with ground short rib or brisket, we say go for it.
Makes 4 Servings
Ingredients
Vegetable oil (for pan)
1 pound ground beef chuck (20% fat)Kosher salt
4 slices American cheese
potato rolls, toasted
Ketchup, mayonnaise, shredded iceberg lettuce, and dill pickle slices (for serving)
Preparation
Step 1
Heat a cast-iron griddle or large heavy skillet over medium-high until very hot, about 2 minutes, then lightly brush with vegetable oil. Divide ground beef into 4 equal portions (do not form patties).
Step 2
Working in batches if needed, place portions on griddle and smash flat with a spatula to form 4"-diameter patties (craggy edges are your friend). Season liberally with salt and cook, undisturbed, until outer edges are brown, about 2 minutes. Flip patties, season with salt, and place a slice of cheese on top of each patty. Cook until cheese droops and burgers are medium-rare, about 1 minute.
Step 3
Serve patties on rolls with ketchup, mayonnaise, lettuce, and pickles.
Click Here to go to the original recipe posted on bonappetit.com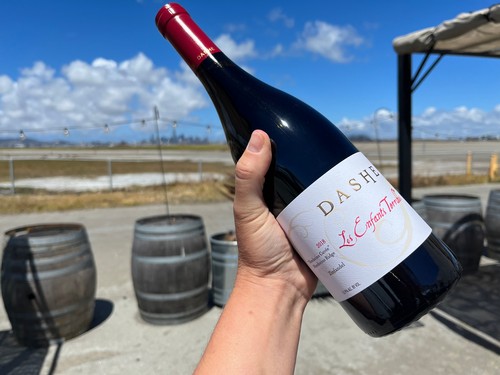 2018 "Les Enfants Terribles" Zinfandel, Mendocino Cuvée
Color: Cherry red
Aroma: Raspberry, pomegranate, plum, and fresh earth, followed by hints of white pepper and minerals.
Taste: Raspberry, cranberry, and darker hints of black cherry and plum. Great acidity to balance the sweetness of the fruit, and a long, spicy red fruit finish
Click Here for the 2018 Zinfandel, Mendocino Cuvé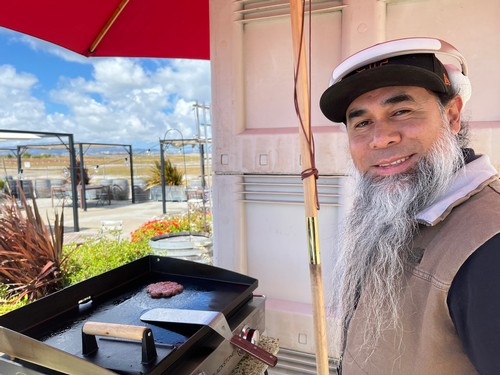 Rene's Caramelized Onion Marmalade
Ingredients
1 tablespoon olive oil
2 teaspoons brown sugar
6 large thinly sliced onions
Preparation
Start with a BIG pot! Your onions will take up a lot of room at first and you want to make sure to be able to fold them as they cook. Heat the olive oil and then add the onions, tossing to coat. Very important, instead of stirring the onions while they cook, you want to fold them from the outside of the pot in so that you keep the texture of the onions. Once the onions start to release their liquid, add the brown sugar and continue cooking until the onions are done to your liking (for me it's about 1.5 hours).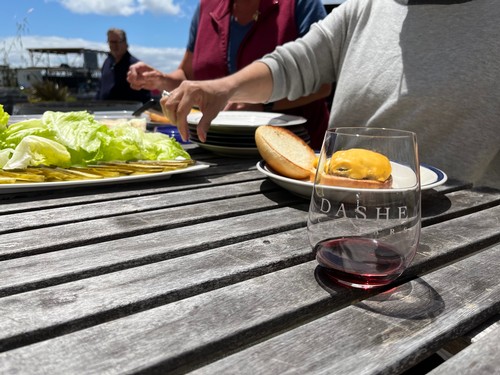 Comments
Commenting has been turned off.