The Dish @ Dashe
Fish Tales and Monkey Business from the Team at Dashe Cellars

Mike Dashe Co-founder & Director of Winemaking

Anne Dashe Co-founder

Rene Calderon Winemaker

Monica Chappell Wine Club Manager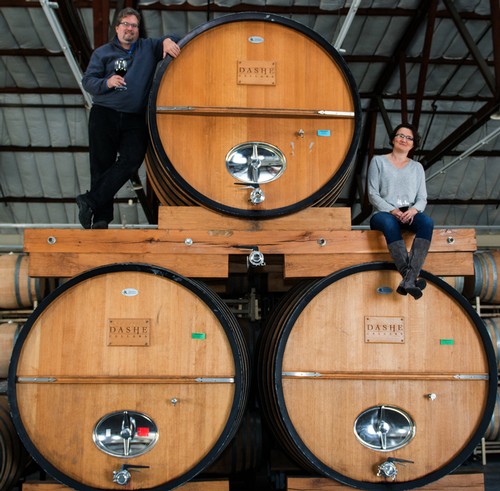 Last year, the wine writer Eric Asimov, long time New York Times wine columnist, wrote a two-part series for his Wine School column entitled "Revisiting Zinfandel from a Less Brawny Angle" and "Finding the Heart of Zinfandel." The focus of the two articles was to taste three current examples of Zinfandel—all of which were a more modern, lighter, and less alcoholic styles—to see how recent styles of Zinfandel compared with the bigger, jammier, more alcoholic styles of popular Zinfandels from a decade or more ago.
Frankly, the focus of the article was that Mr. Asimov's tastes had moved away from drinking Zinfandel a few years ago because of heavy-handed ripe flavors in some of the most popular zins. He was looking to see if recent offerings from wineries that made less brawny Zinfandels was more interesting and palatable, both to him and to his readers who commented on the wines.
Here at our little urban winery at Dashe Cellars, we were gratified that he selected a Dashe wine—the 2018 Zinfandel Vineyard Select—for his widely-read Wine School series. In the introduction, he said that "I selected the Dashe because I generally like this producer's wines, they were fairly widely available, and the bottle was cheaper than the other two.". We'll take that—and we're glad that Asimov enjoys our wines.
The Times have Caught Up with Dashe Cellars?
Personally, we were a bit amused by the premise of the article because it implied that it was only a recent development that certain wineries had moved towards making lighter, more elegant Zinfandels.
But those of you who know Dashe Cellars wines from when we started in 1996 know that we have always selected vineyards and used wine making practices to make lighter, more delicate, yet complex and balanced Zinfandels.
Although our single vineyard wines such as the Louvau Vineyard Old Vines Zinfandel has traditionally been less alcoholic than our peers, we really turned the Zinfandel world on its head in 2008 when we released our first "Les Enfants Terribles" single vineyard wine—a Zinfandel, naturally—from the McFadden Farm in Potter Valley.
Are we Drinking all 500 Cases Ourselves?
The first Les Enfants Terribles wine was a fluke, in a way, because it was a phone call from a sommelier—Mark Ellenbogen from the Slanted Door restaurant in San Francisco—that sparked the creation of this wine.
Mark was extremely diligent about which wines made his Wine List at the restaurant, and he loved softer European reds such as Gamay-based wines from Beaujolais region in France, and a wide array of Pinot Noir-based wines, also from Europe.
When the Slanted Door was criticized from some quarters for not having many domestic wines, Mark reached out to me and asked if it was possible if we might make a single vineyard wine that had many of the attributes he loved in his favorite European wines to go with the cuisine from the Slanted Door: lower alcohols; lower tannins; little or no oak influence; beautiful softer fruit character; a softer, velvety texture.
I had just seen the Zinfandel grown at McFadden Farm—a high elevation vineyard—and the red grapes were surrounded by Riesling, Pinot Blanc, and Gewurztraminer white wine grapes. I immediately loved the fruit flavors of the Zinfandel but was shocked at how light-colored the red grapes were. When Mark called me up, I said that I had found the perfect grapes to make a "Beaujolais-styled" carbonic maceration wine.
We had just purchased a 900-gallon oak foudre from Burgundy, and decided we would make all of the Zinfandel in the vineyard, and age it in this huge single barrel.
When we made the wine, using the carbonic maceration technique of whole berries and whole clusters, the wine was gorgeous, but the color was so pale red that it looked like a Gamay or Pinot Noir. I was so shocked that I turned to Anne and asked "are we going to have to drink all 500 cases of this wine by ourselves?" She turned to me and said "you're crazy. This is exactly what I had in mind when we made this wine. People will love it!"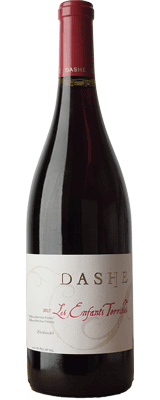 Click Here for 2017 Zinfandel, Mendocino Cuvée
We've Been Making Trendy Wine for 26 Years!
I shouldn't have been so worried. The first Les Enfants Terribles 2007 Zinfandel from the McFadden Farm went on to become a tremendous hit at the Slanted Door, and soon word got around that Dashe Cellars was making this carbonic maceration Zinfandel that tastes unlike any other Zinfandel on the market. The wine became a darling of wine drinkers around the country who liked European wines for their balance and lower alcohols but wanted the vibrant fruit of a California wine at the same time.
Compared to many other Zinfandels out on the market, Dashe Cellars Zinfandels are lighter in style and have a certain balance between fruit and acid, with less oak and tannin on the finish. We've been making Zinfandels in this style from when we first released a single vineyard wine—a 1996 Dry Creek Valley Zinfandel—and have kept this signature style since.
It used to be that very few wineries were making wines that were lower alcohol and fermented on native yeast. No more—it's quite common for new wineries to make wines in this style. We are pleased that after all these years following our heart, making wines that had a balance of an "Old-World" wine, our style is now very much on target for young, innovative wine makers.
We are huge believers in making wines that reflect the vineyards, and our style champions this type of artisan wine. Many thanks to Eric Asimov and other wine writers that now are highlighting our style of wine to a broader market of wine drinkers. For 26 years we've made wines that are now touted as "trendy," due to their restraint and balance. We might not be a new winery, anymore, but we'll take the trendy label anytime, as long as people enjoy the wines.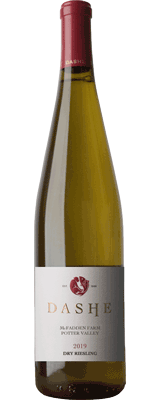 We have more than a casual interest in Riesling, since we make a single vineyard wine from a wonderful old-vine Riesling vineyard in Potter Valley.
In case you didn't know, March 13th has been officially designated as Riesling's Birthday; Happy 586th Birthday, Riesling, you don't look a day older than 400. The reason for that date is that the earliest recording of Riesling dates to March 13, 1435 in Germany, when the first Riesling single-vineyard wines were officially recorded.
For me, Riesling is the wine world's best-kept secret. Few great grapes are so affordable, grown worldwide and liked by so many. Its hallmarks are floral aromas, spice, citrus, and stone fruit flavors, and my favorite component, high natural acidity. For this reason, Riesling is a wine that can age incredibly well. It's got it all!
What to Love about Riesling
First of all, it's incredibly versatile: It can be lightweight and super-delicate, range from dry to sweet, and can be made in both still and sparkling styles. So, basically, there is a Riesling out there for every palate. Riesling produces one of the most popular white wines in the world and is beloved by everyday wine drinkers and sommeliers alike. Not an easy feat!
Food-Pairing Affinity
Riesling has become a darling of sommeliers because of its incredible versatility for pairing with food. It's clean, fresh, mineral expression is fantastic with vegetable dishes or seafood, and the sweeter styles are famous for pairing with spicy food because sweetness helps balance out spice. Finally, rich, luscious styles are excellent with cheese, my favorite food group.
Unique expression of Terroir
Perhaps most appealing of all, is the fact that Riesling is an expressive single vineyard wine depending on where the grapes are grown. There can be a different dimension to each bottle not to mention you can keep in your cellar for years, and it will only get more interesting.
Dashe McFadden Farm Riesling
Click Here for 2019 Dry Riesling, McFadden Farm
Our 2019 Dashe Riesling is organically-grown and cultivated high in the mountains of Potter Valley on the east border of Mendocino county. Since we love dry Riesling, and especially single-vineyard wines, we made this wine bone dry with a beautiful characteristic fruit and mineral aroma, a firm structure, lush mid-palate, and a dry long fruity finish. With its lovely aromatics and mouthfeel, good acid/fruit balance, and complex minerality, this single-vineyard wine is ideal to drink right now and can also be saved for aging in the cellar. This vintage has powerful aromas, a mouth-filling velvety structure, and a depth of flavor that makes it one of the most age-worthy Rieslings we've ever produced.
Celebrating Riesling's birthday is easy; just crack open a bottle and enjoy. Why not join the fun and share your Riesling experiences on social media using the hashtag #RieslingBirthday.
I love serving this Frittata with Riesling. Riesling knows how to play nice with vegetable dishes so it's my go-to wine when veggies are the star of the dish.
Vegetable Frittata Ingredients
2 tablespoons Olive Oil
1 1/2 cups blanched Broccoli Rabe
4 ounces Pancetta
8 ounces Arugula
2 1/2 tablespoons chopped Italian Parsley
1 1/2 cups Italian Fontina cheese grated
8 eggs
1 1/2 cups half-and-half
4 tablespoons freshly grated Parmesan cheese
Directions
Preheat the oven to 375 degrees. Heat the oil in a large oven proof sauté pan. Add the Broccoli Rabe and sauté for 5 minutes. Add the Pancetta and sauté for 2 to 3 minutes. Add the Arugula and cook for another minutes until it is wilted. Off the heat, stir in the parsley and sprinkle the Fontina evenly on top.
Beat the eggs, half-and-half, pinch of salt, and pinch of pepper together with a fork. Pour the egg mixture evenly over the filling. Sprinkle the frittata with the Parmesan cheese and bake for 20 to 25 minutes, until puffed and lightly browned on top. Cool for 5 minutes, serve hot or warm with, you guessed it, a glass of Dashe Riesling. No Birthday candle required.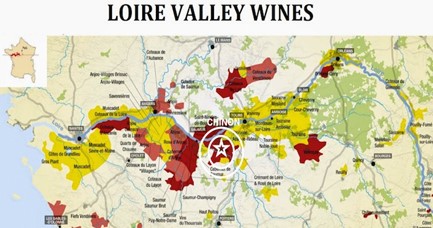 Back in 1995, before Dashe Cellars was a gleam in the eyes of Michael and Anne Dashe (and back when Anne's name was Anne Bringuet), a visit to Brittany France, Anne's homeland, was a revelation.
It started with the cuisine—creperies that were on almost every corner; oysters that were plucked right out of the river and eaten in front of your eyes; the freshest langoustine and fish you've ever tasted; butter that crunched in your mouth from embedded salt crystals; Kouignman and croissants so delicate that they melted in your mouth. The food simply was spectacular.
But beyond the cuisine, there was artisan wine. First, I was surprised to learn, there wasn't any local stuff. There are no grapes grown in Brittany (to speak of). Lots of apple cider that went beautifully with crepes, but no Bretagne natural wine.
Instead, there were the wines of the Loire Valley, a scant 2 hours away from Brittany at its closest edge. To be honest, I didn't know much about Loire wines. I had worked in Bordeaux, visited Burgundy, the Rhone, Champagne, the Jura. But the Loire? It was a place I knew about because of Sancerre and Poully-Fuisse, and I knew that Vouvray existed. That was it.
What blew my mind, in retrospect, is that the stores in Brittany were just filled with amazingly inexpensive bottles of Loire wines that I had never imagined. Just a few euros (francs at the time, but who's counting) would buy you a great bottle of wine in the local supermarket. Whites from Montlouis and Touraine, beautiful light reds from Chinon and Bourgueil, crisp dry white wines from Muscadet. For a bit more, you could have beautiful complex wines from the hills of Sancerre, a balanced and age-worthy Vouvray or Savennières, or a luscious red from Saumur.
We devoured lots of Loire wines, every time we came out to visit Anne's family in Brittany.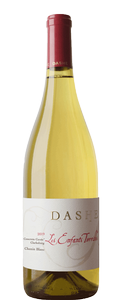 Dashe Chenin Blanc Makes its Debut
Years after that first introduction to the wines of the Loire Valley—and after we had started Dashe Cellars—we became dedicated drinkers of Loire wines.
We especially learned to love the many aspects of Chenin Blanc, a varietal that had a terrible reputation in the US (mostly because of years of uninteresting white wines made from huge vineyards in the Central Valley of California). The more we looked at wines made from Chenin, the more we learned to appreciate the spiciness, acid balance, and texture that make it one of the great varietals of the world.
At Dashe Cellars, the focus had mainly been on red wine varietals, except for a wonderful little Riesling that we had made, since 1999, from organic grapes on the McFadden Farm. We had made a conscious decision not to make Chardonnay (too many Chardonnays made in CA!), but our customers were constantly saying that they wanted us to make another white wine. We thought about what kind of wine WE liked and decided that if we ever were to find a region and vineyard with excellent Chenin Blanc grapes, we would try our hand at it.
Luck came our way in the form of the Heringer vineyard in Clarksburg, CA. This region has one of the largest concentrations of Chenin Blanc vineyards anywhere in the state. The reason is wildly logical: the local government paid for a soil and vineyard consultant to analyze the terroir of the region and recommend what varietals the area would be best to grow. The consultant came back with "Chenin Blanc," which puzzled the local growers since it was not considered a top grape varietal. But to their credit, they started planting it and found that the resulting grapes and wine were of unusual quality.
Click Here to buy the 2019 'Concrete Cuvée', Chenin Blanc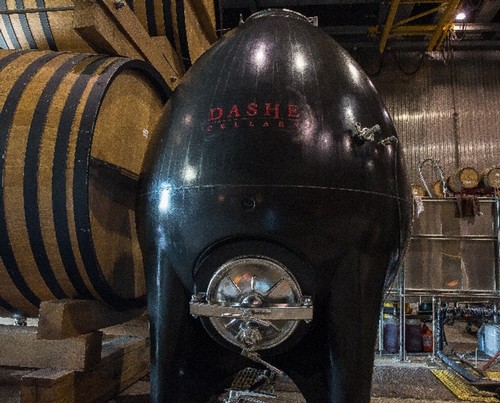 We Start Making Chenin Blanc: Black BART arrives
Dashe Cellars made its first artisan wine Chenin Blanc under our Les Enfants Terribles label from the Heringer Ranch in 2016. It was a hasty decision (we had just found the vineyard just before harvest) and came with another hasty decision: I wanted to make Chenin Blanc in a concrete egg. I had talked with other producers of Chenin Blanc, both in the US and in Europe, and there seemed to be a consensus that the complexity, texture, and aromatics of Chenin Blanc were all greatly highlighted when fermented as a natural wine, in concrete. We paid a ridiculous sum to purchase the perfect concrete egg (the price of impulsive buying), and the only one available so close to harvest was jet-black. They threw in a bright red DASHE logo for free, to make us feel better. We nicknamed it "Black Bart," although really it looked more like Humpty Dumpty.
From the start, we wanted to make a "Loire-style" Chenin, whatever that meant. The goal was to have something with great texture, good acidity, lovely minerality, and a long finish.
We found that fermenting Chenin as an artisan wine in concrete and in stainless steel fermenters made a HUGE difference in the resulting wine. The same juice went into the fermenters, but the resulting wines may well have come from completely different places. The concrete fermented wine was quite different in texture (round, velvety, mouth-filling) and had toasty elements to the flavors, almost like champagne. We presumed that the egg-shape promoted lots of yeast contact during fermentation and aging, which (like Champagne) resulted in the characteristic toasty, fresh-bread aromas.
In contrast, the stainless-steel fermented wine had much more structure, almost steely, and was fruit forward. Together, the two lots made for an extremely vibrant, complex wine. We loved it.
In the end, we blended the two together to highlight the best parts of both fermentation styles and released it to customers who were delighted to have another white wine available from Dashe.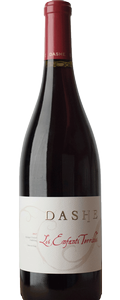 Cabernet Franc Rounded Out the Loire Valley Connection
We enjoyed the Chenin Blanc from Heringer vineyard so much that when we found out that they had a few rows of Cabernet Franc on their home ranch, we had to see if we could make a lighter-bodied Cabernet Franc—something in the style of a Chinon or a Bourgueil from the Loire.
When we first made the wine from these grapes, we simply couldn't get our heads around it. It showed flavors of cassis and black cherry, which was lovely, but also had an edge of green olive and herbs, that simply was confusing to us when the wine was young.
We decided to put the wine into some nice French oak and waited until the next year or so to see how the wine would evolve.
Some time went by until, one day, Rene Calderon was racking the wine from barrel to barrel and we suddenly remembered that the wine was languishing in barrel without us tasting it for quite a while.
With no expectations, we tried the wine and looked dumbfounded at one another. In the past year, it had changed from a gangly child to a full-blown mature wine. Simply put, it was gorgeous and had nothing in common with the wine that we had tasted when it was in its youth.
This wine was filled with aromas of blueberries, and cherry, and spice. Just lovely. Anne remarked that it reminded her of some of the delicious and structured Chinon wines that were made from Cabernet Franc, which her family loved drinking when she was growing up.
We had gone from wondering if this was just a wasted experiment to asking ourselves how fast we could get it into bottle so that we could share it with our Dashe fans.
Click Here to buy the 2017 'les enfants terribles' Cabernet Franc
Here at Dashe Cellars, we have always been known for our Zinfandels, especially wines that reflect the combination of New-World fruit and Old-World balanced style. We're proud of being standard-bearers for that style of Zinfandel.
But every once in a while, it's great to get back to our roots and make wines that we fondly remember from when we first met. The wines of the Loire are never far from our hearts, and these versions of Chenin Blanc and Cabernet Franc are some of our favorite wines in the Dashe Cellars lineup of wines. They are often our go-to wines when we come, tired from work, to pop open a cork and relax, sipping, at the end of the day.