March 11, 2021 | Culture & Travel, Food & Wine | Monica Chappell
Happy Birthday Riesling!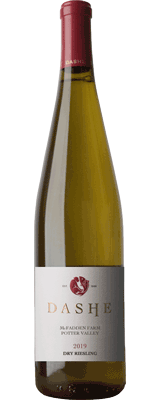 We have more than a casual interest in Riesling, since we make a single vineyard wine from a wonderful old-vine Riesling vineyard in Potter Valley.
In case you didn't know, March 13th has been officially designated as Riesling's Birthday; Happy 586th Birthday, Riesling, you don't look a day older than 400. The reason for that date is that the earliest recording of Riesling dates to March 13, 1435 in Germany, when the first Riesling single-vineyard wines were officially recorded.
For me, Riesling is the wine world's best-kept secret. Few great grapes are so affordable, grown worldwide and liked by so many. Its hallmarks are floral aromas, spice, citrus, and stone fruit flavors, and my favorite component, high natural acidity. For this reason, Riesling is a wine that can age incredibly well. It's got it all!
What to Love about Riesling
First of all, it's incredibly versatile: It can be lightweight and super-delicate, range from dry to sweet, and can be made in both still and sparkling styles. So, basically, there is a Riesling out there for every palate. Riesling produces one of the most popular white wines in the world and is beloved by everyday wine drinkers and sommeliers alike. Not an easy feat!
Food-Pairing Affinity
Riesling has become a darling of sommeliers because of its incredible versatility for pairing with food. It's clean, fresh, mineral expression is fantastic with vegetable dishes or seafood, and the sweeter styles are famous for pairing with spicy food because sweetness helps balance out spice. Finally, rich, luscious styles are excellent with cheese, my favorite food group.
Unique expression of Terroir
Perhaps most appealing of all, is the fact that Riesling is an expressive single vineyard wine depending on where the grapes are grown. There can be a different dimension to each bottle not to mention you can keep in your cellar for years, and it will only get more interesting.
Dashe McFadden Farm Riesling
Click Here for 2019 Dry Riesling, McFadden Farm
Our 2019 Dashe Riesling is organically-grown and cultivated high in the mountains of Potter Valley on the east border of Mendocino county. Since we love dry Riesling, and especially single-vineyard wines, we made this wine bone dry with a beautiful characteristic fruit and mineral aroma, a firm structure, lush mid-palate, and a dry long fruity finish. With its lovely aromatics and mouthfeel, good acid/fruit balance, and complex minerality, this single-vineyard wine is ideal to drink right now and can also be saved for aging in the cellar. This vintage has powerful aromas, a mouth-filling velvety structure, and a depth of flavor that makes it one of the most age-worthy Rieslings we've ever produced.
Celebrating Riesling's birthday is easy; just crack open a bottle and enjoy. Why not join the fun and share your Riesling experiences on social media using the hashtag #RieslingBirthday.
I love serving this Frittata with Riesling. Riesling knows how to play nice with vegetable dishes so it's my go-to wine when veggies are the star of the dish.
Vegetable Frittata Ingredients
2 tablespoons Olive Oil
1 1/2 cups blanched Broccoli Rabe
4 ounces Pancetta
8 ounces Arugula
2 1/2 tablespoons chopped Italian Parsley
1 1/2 cups Italian Fontina cheese grated
8 eggs
1 1/2 cups half-and-half
4 tablespoons freshly grated Parmesan cheese
Directions
Preheat the oven to 375 degrees. Heat the oil in a large oven proof sauté pan. Add the Broccoli Rabe and sauté for 5 minutes. Add the Pancetta and sauté for 2 to 3 minutes. Add the Arugula and cook for another minutes until it is wilted. Off the heat, stir in the parsley and sprinkle the Fontina evenly on top.
Beat the eggs, half-and-half, pinch of salt, and pinch of pepper together with a fork. Pour the egg mixture evenly over the filling. Sprinkle the frittata with the Parmesan cheese and bake for 20 to 25 minutes, until puffed and lightly browned on top. Cool for 5 minutes, serve hot or warm with, you guessed it, a glass of Dashe Riesling. No Birthday candle required.
Comments
Commenting has been turned off.