February 18, 2021 | Food & Wine, How-to | Stephanie Flasher
RECIPE ALERT! Comet paired with Pancetta Pot Pie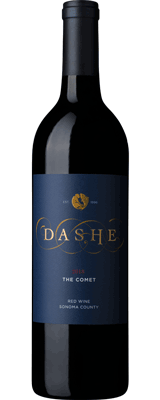 The perfect Zinfandel food pairing
The women in my family have a common addiction... we can sit around a kitchen table and flip through cookbooks for hours on end. Can you imagine how this was transformed for us when food blogging became popular? Over the years, I've discovered new favorite bloggers and explored new cuisines and pairings, specifically Zinfandel food pairing once I started working with Mike and Anne. But no matter how wide my internet roaming goes, I always come back to my favorite blog Smitten Kitchen. I've been making this pot pie recipe for years, and it's an amazing recipe. When paired with our 2018 'The Comet' though, it takes on an entirely new life. Please, before the spring comes, make this recipe & pop the cork on a bottle of Comet... You'll forget that spring training and summer sailing are still months away.
2018 'The Comet' Sonoma County
This wine is made of Petite Sirah and Zinfandel, blended with 130-year-old vine Carignane. The blend makes for a very complex, balanced, dark wine with a long, long finish. It's a quintessential steak-house wine, made to go with food. It will last in the cellar for years!
Color: Reddish-purple
Aromas: Chocolate, black cherry, blackberry, followed by elements of toffee, vanilla, black pepper, and coffee
Taste: Extremely smooth and velvety entry, wine, with good acid balance, and silky tannins. The entry is of bright fruit—black cherry, blackberry, and pomegranate—and then a lush texture filled with fruit, cocoa powder, clove, and a spicy finish. The wine has a velvety mouthfeel and long finish.
Zinfandel food pairing: Asian 5 Spice Short Ribs, Grilled Venison with Berry Reduction, anything with Mole Poblano Sauce.
Click Here to buy the 2018 'The Comet' Sonoma County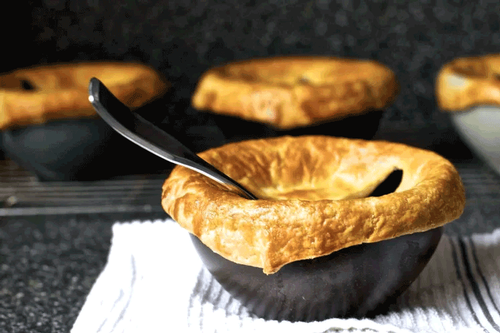 Pancetta, White Bean, and Chard Pot Pies
By Deb Perelman, from The Smitten Kitchen Cookbook - Zinfandel food pairing by Stephanie Flasher
The pancetta, while adding a lovely, smoky base, can be omitted to make this vegetarian. In fact, I went back and forth many, many times about removing it so that this could stay in the vegetarian section, but in the end, decided it easier I leave the choice to you. For a vegetarian version, simply skip the pancetta and cook your vegetables in 2 tablespoons olive oil instead of 1. You can replace the swiss chard with any green you have around, from a hearty spinach to kale, adjusting the cooking time accordingly to make sure it wilts a bit before going into the oven to finish cooking.
As you can see from the photos, I really don't own soup crocks. I have debated the value of purchasing some many times of the years, but you must trust me when I say I don't have room for a single extra dish I don't already own in my life right now. Instead, I just use two-cup bowls we already have that are ovenproof. (When buying a dish set, I always look to see if they are ovenproof, as you never know when this will come in handy.) If you don't have ovenproof soup bowls, you can always make a large version of this in a casserole dish with one big pastry .
Weekday night tip: Make a double batch of the stew and lids. Keep them separate and for two to three nights, you can ladle what you'd like into bowls, roll out lids and bake them to order.
Serves 4
Ingredients
Lid
2 cups (250 grams) all- purpose flour
1/2 teaspoon table salt
13 tablespoons (185 grams or 1 stick plus 5 tablespoons) cold unsalted butter, diced
6 tablespoons (90 grams) sour cream or whole Greek yogurt (i.e., a strained
yogurt)
1 tablespoon (15 ml) white wine vinegar
1/4 cup (60 ml) ice water
1 egg, beaten with 1 tablespoon water, for egg wash
Filling
2 tablespoons (30 ml) olive oil
4 ounces (115 grams or 3/4 to 1 cup) 1/4-inch-diced pancetta
1 large or 2 small onions, finely chopped
1 large carrot, finely chopped
1 large stalk celery, finely chopped
Pinch of red pepper flakes
Salt and freshly ground black pepper
2 garlic cloves, minced
Thinly sliced Swiss chard leaves from an 8- to 10-ounce (225- to 285-gram)
bundle (4 cups); if leaves are very wide, you can halve them lengthwise
3 1/2 tablespoons (50 grams) butter
3 1/2 tablespoons (25 grams) all- purpose flour
3 1/2 cups (765 ml) sodium- free or low- sodium chicken or vegetable broth
2 cups white beans, cooked and drained, or from one and a third 15.5- ounce
(440-gram) cans
Directions
Make lids:
In a large, wide bowl (preferably one that you can get your hands into), combine the fl our and salt. Add the butter and, using a pastry blender or your fingertips, cut them up and into the flour mixture until it resembles little pebbles. Keep breaking up the bits of butter until the texture is like uncooked couscous. In a small dish, whisk together the sour cream, vinegar, and water, and combine it with the butter-flour mixture. Using a flexible spatula, stir the wet and the dry together until a craggy dough forms. If needed, get your hands into the bowl to knead it a few times into one big ball. Pat it into a flattish ball, wrap it in plastic wrap, and chill it in the fridge for 1 hour or up to 2 days.
Make filling:
Heat 1 tablespoon olive oil over medium- high heat in a large, wide saucepan, and then add the pancetta. Brown the pancetta, turning it frequently, so that it colors and crisps on all sides; this takes about 10 minutes. Remove it with a slotted spoon, and drain it on paper towels before transferring to a medium bowl. Leave the heat on and the renderings in the pan. Add an additional tablespoon of olive oil if needed and heat it until it is shimmering. Add onions, carrot, celery, red pepper flakes, and a few pinches of salt, and cook over medium heat until the vegetables are softened and begin to take on color, about 7 to 8 minutes. Add the garlic, and cook for 1 minute more. Add the greens and cook until wilted, about 2 to 3 minutes. Season with the additional salt and freshly ground black pepper to taste. Transfer all of the cooked vegetables to the bowl with the pancetta, and set aside.
Make sauce:
Wipe out the large saucepan; don't worry if any bits remain stuck to the bottom. Then melt the butter in the saucepan over medium- low heat. Add the flour, and stir with a whisk until combined. Continue cooking for 2 minutes, stirring the whole time, until it begins to take on a little color. Whisk in the broth, one ladleful at a time, mixing completely between additions. Once you've added one- third of the broth, you can begin to add the rest more quickly, two to three ladlefuls at a time; at this point you can scrape up any bits that were stuck to the bottom — they'll add great flavor.
Note from Stephanie: to make this an even more perfect Zinfandel food pairing, sometimes I'll substitute a little broth for a splash of The Comet!
Once all of the broth is added, stirring the whole time, bring the mixture to a boil and reduce it to a simmer. Cook the sauce until it is thickened and gravylike, about 10 minutes. Season with salt and pepper. Stir the white beans and reserved vegetables into the sauce.
Preheat your oven to 375 degrees.
Assemble and cook pot pies:
Divide the filling between four ovenproof 2-cup bowls. (You'll have about 1 1/2 cups filling in each.) Set the bowls on a baking pan. Divide the dough into four pieces, and roll it out into rounds that will cover your bowls with an overhang, or about 1 inch wider in diameter than your bowls. Whisk the egg wash and brush it lightly around the top rim of your bowls (to keep the lid glued on; nobody likes losing their lid!) and drape the pastry over each, pressing gently to adhere it. Brush the lids with egg wash, then cut decorative vents (smaller than mine, please, as they led to lots of draping) in each to help steam escape. Bake until crust is lightly bronzed and filling is bubbling, about 30 to 35 minutes.
Do ahead:
The dough, wrapped twice in plastic wrap and slipped into a freezer bag, will keep for up to 2 days in the fridge, and for a couple months in the freezer. The filling can be made up to a day in advance and stored in a covered container in the fridge.
Click Here to go to the original recipe posting on www.smittenkitchen.com
Enjoy!
If you haven't already, open up that bottle of 2018 'The Comet' and enjoy an absolutely stellar Zinfandel food pairing! I know what I'm going to be making tonight.
Comments
Commenting has been turned off.