July 6, 2020 | Food & Wine, How-to | Stephanie Flasher
RECIPE ALERT! Pozole Verde paired with 2017 Grenache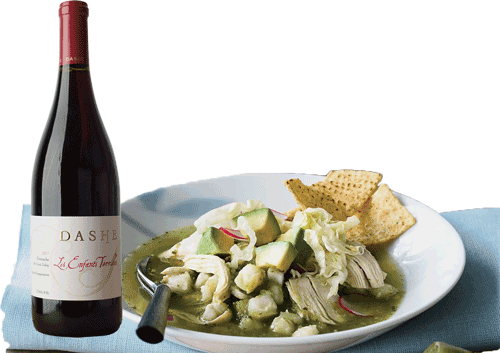 We have quite the collection of gourmands here at Dashe Cellars. Monica, with her Italian heritage, can throw a pasta feed for 60 at the drop of a hat. Mike will spend the day making the perfect Bolognese for his homemade lasagna (don't tell my mom, but it's the absolutely best that I've ever tasted). And if you haven't tasted Anne's baking then you haven't lived, seriously I'm always impressed when we have a team lunch and Anne shows up first-thing in the morning with an amazing dessert fresh from the oven.
Food-Pairing Reds
So, when we decided to host a lunch for Anne for her birthday, I knew that I had to not only find a recipe that would impress, but I needed to find the perfect wine to match. Lucky for me, our 'les enfants terribles' wines are the perfect wines for pairing with lighter-bodied dishes like this Chicken Pozole that I found on Food & Wine's website. These wines tend to be lighter and more ethereal in style than our more structured single-vineyard wines. This is because of a style of fermentation known as Carbonic Maceration in which the grapes are fermented intact rather than being pressed when they come in from the vineyard. We age them for a short amount of time in large 120- or 900-gallon oak casks which keep the fruit fresh and without too much oak influence.
2017 'les enfants terribles' Grenache
A beautiful wine that offers bright, lively fruit with a great structure and balance. This Grenache is made in almost a Grand Cru Beaujolais style that offers a velvety texture with aromas of wild strawberry and flavors of strawberries and raspberries and a finish of minerals and peppery spice.
Color: Pale Red
Aromas: Wild strawberry, pomegranate, spice, minerals
Taste: Beautiful velvety texture. Entry of intense strawberry, raspberry, and pomegranate fruit. Beautiful floral elements of lavender and violets, long, sweet finish of red fruit, minerals and peppery spice.
Click Here to buy the 2017 Grenache
Mexican Chicken Verde
By Anya Von Bremzen Food & Wine Issue May 2008
Makes 6-8 servings
There are many variations on pozole, a traditional hominy-based Mexican stew closely associated with the Pacific-coast state of Guerrero. Anya von Bremzen's version, a green pozole, derives much of its flavor from tangy ingredients like tomatillos, cilantro and green chiles.
Ingredients
7 cups chicken stock or low-sodium broth
2 cups water
4 chicken breast halves on the bone, with skin
1 pound tomatillos, husked and halved
1 small onion, quartered
2 poblano chiles—cored, seeded and quartered
2 jalapeños, seeded and quartered
4 large garlic cloves, smashed
1/2 cup chopped cilantro
1 tablespoon oregano leaves
Salt and freshly ground black pepper
1 tablespoon vegetable oil
Three 15-ounce cans of hominy, drained
Finely shredded iceberg lettuce, sliced radishes, chopped onion, diced avocado, sour cream, tortilla chips and lime wedges, for serving
How to Make It
Step 1
In a large, enameled cast-iron casserole, bring the chicken stock and water to a boil. Add the chicken breasts, skin side down, cover and simmer over very low heat until they're tender and cooked through, about 25 minutes. Transfer the chicken breasts to a plate and shred the meat; discard the bones and skin. Skim any fat from the cooking liquid and reserve.
Step 2
In a blender, combine the halved tomatillos with the quartered onion, poblanos and jalapeños, smashed garlic, chopped cilantro and oregano. Pulse until coarsely chopped, scraping down the side. With the machine on, add 1 cup of the cooking liquid and puree until smooth. Season the tomatillo puree with salt and pepper.
Step 3
In a large deep skillet, heat the vegetable oil until shimmering. Add the tomatillo puree and cook over moderate heat, stirring occasionally, until the sauce turns a deep green, about 12 minutes.
Step 4
Pour the green sauce into the cooking liquid in the casserole. Add the hominy and bring to a simmer over moderate heat. Add the shredded chicken to the stew, season with salt and pepper and cook just until heated through. Serve the pozole in deep bowls, passing the lettuce, radishes, onion, avocado, sour cream, tortilla chips and lime wedges at the table.
Click Here to go to original recipe posting on www.foodandwine.com.
Comments
Josh Flasher

@ May 29, 2020 at 4:06 PM

My fiancée and I love this wine! I can't wait to try it with pozole.

Commenting has been turned off.