April 12, 2021 | Cellar Updates, Events at Dashe, Small Business Life | Michael Dashe
Spring has Sprung at the Winery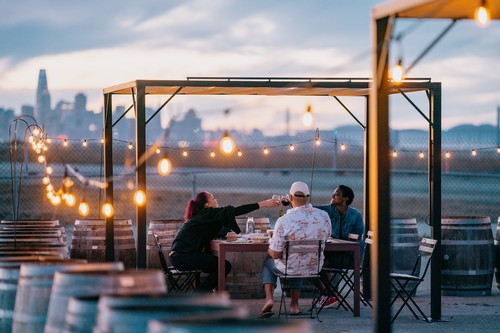 Well, Spring is finally here and with some luck, we'll have been through the worst of this last year and starting to be (relatively speaking) back to normal. Not a minute too soon. We've all endured one of the most trying years of our collective lives, and now that the days are longer and lovely Spring afternoons are warming us, it's our fervent hope that all of you are feeling better and are optimistic about the future.
We really can't say thank you enough to have supported us during the most difficult year in our 26 years in business. One of the best things that emerged from this last year was that we discovered how much people have enjoyed the City views and the bird sanctuary in front of the winery on our City View Patio. We've loved having you come out and share this outdoor space with us, drinking wine and enjoying food from our food truck purveyors. Your spirit and enthusiasm has sustained us here at Dashe and we certainly wouldn't have survived this last year without you to help us through it.
Amazingly, now we're making our plans for this upcoming harvest. Bud-break has happened in the vineyards and the vines are starting to push out. Nothing like growing things to remind us that nature doesn't wait for pandemics or politics—when it's time to harvest, it's time to harvest. We're excited as always about the ripening grapes and our plans for upcoming wines.
–Best to you all, Michael and Anne Dashe
Comments
Bhai Behan Sex Story
@ May 10, 2021 at 8:43 AM
All that idea to agree with the designer's inclination about this subject and I envision that it would be genuinely charming to make such a trade with various site guests. After a short time I completely agree with the organizer appraisal about this subject and I recognize that it is enchanting to make such chat with various site visitors.
roboswalker
@ Sep 11, 2021 at 3:40 AM
As we Already Know season comes sales increase. The businesses have great opportunities to grow its own sales while the best season.