June 22, 2020 | Food & Wine, How-to | Monica Chappell
Top 5 Secrets of Cooking with Wine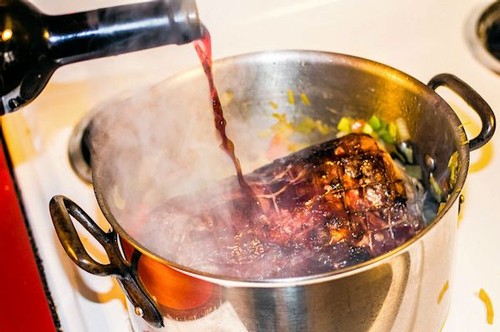 There's no better way to spend a SIP evening than creating a delicious dish while sipping a Dashe wine for inspiration. When the topic of food and wine pairing comes up, the usual flow of conversation revolves around what wine to drink WITH dinner. Yet sometimes the tougher decision is what wine to put IN dinner. That's because when listed as an ingredient, wine is often suggested in the most generic terms, and you're left to wonder - will any wine do? But there is more to cooking with wine than using up last night's leftovers. Take a look at my top 5 tips.
Leftover Wine
As a general rule, never cook with any wine you would not drink. The month old leftovers in the refrigerator won't do. Any off flavors in wine become more concentrated during cooking.
Cooking Wine
Avoid using these all together. They are made of a thin, cheap base wine to which salt and food coloring have been added.
White Wine
If the dish has bold or spicy flavors go for a more aromatic white such as our Dashe McFadden Farm Dry Riesling made from organically grown grapes from the Potter Valley. Our newly released 2019 vintage has a wonderful fruit/acid balance along with floral aromas that can counterbalance heavily spiced dishes.
Click Here for our 2019 Dry Riesling, McFadden Farm
Dry Red Wine
If a recipe calls for dry red wine, consider the heartiness of the dish. A long-simmered meat dish calls for a correspondingly hearty red like a Cab. A lighter dish might call for a less powerful red such as one of our lighter-styled 'les enfant terribles' Zin's.
Click Here for our 2016 Cabernet Sauvignon, Heart Arrow Ranch
Click Here for our line of 2017 'les enfant terribles' Wild Children
Sparkling Wine
When you cook sparkling wine, you eliminate its primary qualities, bubbles, and alcohol. However, a simple beurre blanc sauce can benefit from the two remaining qualities of a good sparkler: high acidity and yeast flavor.
Click Here for our 2016 Sparkling Wine, Methode Champenoise
Happy Cooking!
Comments
Jim Anderson

@ Jun 25, 2020 at 1:40 AM

Cheers to suggestion #1 re leftover wine! Goodness gracious NEVER use "old wine' for cooking. :) Make vinegar instead. It takes a while but the results are worth it! :) - the kid -

Commenting has been turned off.