The Dish @ Dashe
Fish Tales and Monkey Business from the Team at Dashe Cellars

Mike Dashe Co-founder & Director of Winemaking

Anne Dashe Co-founder

Rene Calderon Winemaker

Monica Chappell Wine Club Manager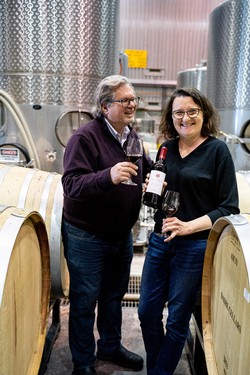 Mike Dashe here.
Do you ever think about why someone does what they do for a living?
Maybe an accountant really loves numbers and helping people keep their earnings in their own pockets. Or a doctor loves to heal. And an artist loves expressing human experience with paint.
I always knew I was going to one day have my own business. In my early 20s, studying plant physiology and biology at UC Santa Cruz, winemaking wasn't even on the radar. I had no idea you could even start or own a winery unless it was already in your family.
And though my father liked wine and it was always on the table, enjoying it and making it are about as far apart as diving for abalone and eating it for dinner. Strange comparison, sure, but diving for abalone was exactly what I was doing when I got my first wine job.
A local winemaker's wife loved the coastal mollusks, and the winemaker wanted to trade wine for the buttery delicacies we dove for back in the 1970s. That soon led to another trade—my labor on the bottling line for wine. This is how I found out you could go to school for winemaking, and just like that I was headed for grad school at UC Davis.
I'd already had a lot of training in biology, plant physiology, and chemistry. But I also loved making things. If I could simplify my love of winemaking into a T-shirt-worthy "phrase", it might look like this:
Art + Science = Wine
Because winemaking is the absolute best synthesis of art and science as you can get.
You've probably heard this before—wine is an expression of place. It's also evidence of the winemaker's philosophies and general views on life.
You can take the raw materials from a place, split them up between two winemakers, and the end product will be two totally different wines.
Isn't that cool?
That's why I do this. That's why I've been making wine for almost 40 years. And why Anne and I started Dashe Cellars 26 years ago.
Like me, Anne also loves the process, the whole chain from grape to finished product. Unlike me, she also loves all the in-between business decisions, like choosing the paper type for the labels and how to think about marketing (a necessary part of telling the world you exist).
She loves the silence of the cellar, too, the physical catharsis of manually pumping wine over the cap during fermentation. Of course these days other people are doing the pump-overs, which saves our (older) backs and shoulders. But we still make wine with a natural approach and non-industrial practices.
Anne loves that part, too, that we focus on the purest expression of fruit and place to make wines that pair with food and that we love to drink with friends.
We are so lucky to do what we do and grateful for the opportunity to share it with you.
Thanks for being here.

Cheers,
Mike (and Anne)

P.S. You can have Dashe Cellars on your table any time you want by ordering through our website. Check out our current offerings.
P.P.S. Let us choose for you by joining the Dashe Wine Club with shipments twice per year. Pick the collection that's best for you.

Fire up the Grill and Grab Your Wine Opener
Recently, our Winemaker, Rene, walked into the office and stated that it was officially Smash Burger Season. As someone who prides myself on eating all of the things, I was a little embarrassed to admit that I had never had one before and before I knew it the date was set... lunch on the SF City View Patio complete with homemade smash burgers, (doubles, with cheese) delicious watermelon salad, and a corn arugula salad that would knock your socks off.
Since we are the crew at Dashe Cellars, we couldn't let the chance pass to open some wine and make it a party. My dear readers, my world stopped when I had my first sip the 2018 Mendocino Cuvée Zinfandel paired with one of Rene's smash burgers. The bright fruit, and firm acidity cut right through the fattiness of the burger, and the notes of pepper and red fruits further accentuated the rich flavors in the burger.
It was heaven, and I highly recommend that you try it tonight.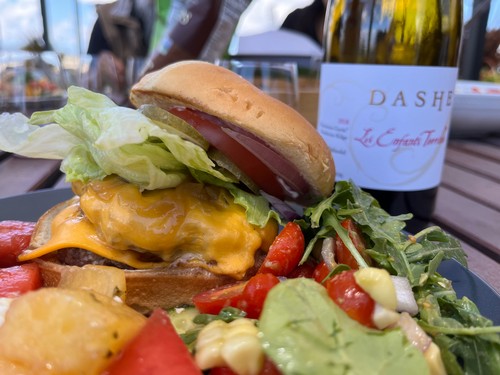 The BA Smash Burger
By Adam Rapoport, Bon Appétit October 2015 issue - Smash Burger food pairing by Rene Calderon
(Rene's variation was topped with a caramelized onion marmalade. If you have some time on your hands and want to caramelize some onions, then I included the recipe for that too)
Ground chuck is a great all-purpose, buy-it-anywhere choice for burgers. But if you want to get ambitious and blend, say, chuck with ground short rib or brisket, we say go for it.
Makes 4 Servings
Ingredients
Vegetable oil (for pan)
1 pound ground beef chuck (20% fat)Kosher salt
4 slices American cheese
potato rolls, toasted
Ketchup, mayonnaise, shredded iceberg lettuce, and dill pickle slices (for serving)
Preparation
Step 1
Heat a cast-iron griddle or large heavy skillet over medium-high until very hot, about 2 minutes, then lightly brush with vegetable oil. Divide ground beef into 4 equal portions (do not form patties).
Step 2
Working in batches if needed, place portions on griddle and smash flat with a spatula to form 4"-diameter patties (craggy edges are your friend). Season liberally with salt and cook, undisturbed, until outer edges are brown, about 2 minutes. Flip patties, season with salt, and place a slice of cheese on top of each patty. Cook until cheese droops and burgers are medium-rare, about 1 minute.
Step 3
Serve patties on rolls with ketchup, mayonnaise, lettuce, and pickles.
Click Here to go to the original recipe posted on bonappetit.com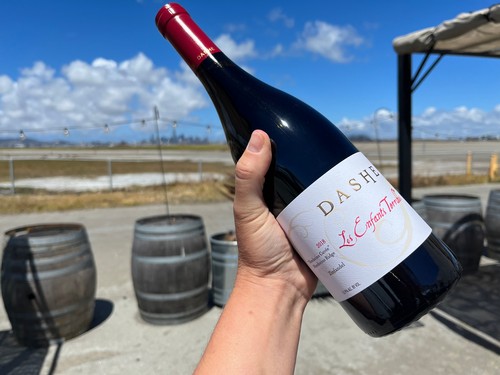 2018 "Les Enfants Terribles" Zinfandel, Mendocino Cuvée
Color: Cherry red
Aroma: Raspberry, pomegranate, plum, and fresh earth, followed by hints of white pepper and minerals.
Taste: Raspberry, cranberry, and darker hints of black cherry and plum. Great acidity to balance the sweetness of the fruit, and a long, spicy red fruit finish
Click Here for the 2018 Zinfandel, Mendocino Cuvé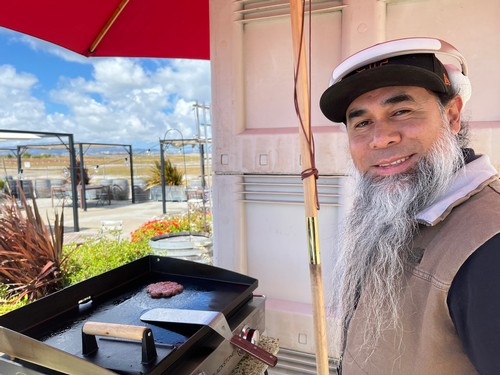 Rene's Caramelized Onion Marmalade
Ingredients
1 tablespoon olive oil
2 teaspoons brown sugar
6 large thinly sliced onions
Preparation
Start with a BIG pot! Your onions will take up a lot of room at first and you want to make sure to be able to fold them as they cook. Heat the olive oil and then add the onions, tossing to coat. Very important, instead of stirring the onions while they cook, you want to fold them from the outside of the pot in so that you keep the texture of the onions. Once the onions start to release their liquid, add the brown sugar and continue cooking until the onions are done to your liking (for me it's about 1.5 hours).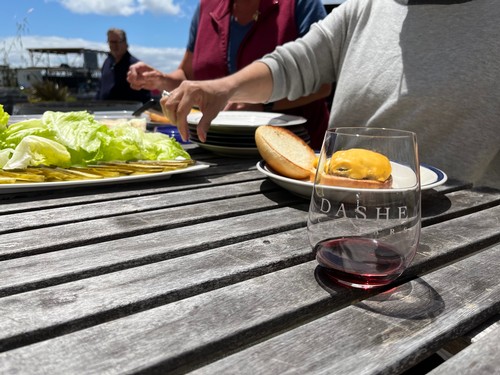 The release of our 2018 Todd Brothers Ranch Zinfandel, celebrates 20 years of making wine from one of our favorite vineyards. We sat down with Anne Dashe to talk about this extraordinary piece of land in Geyserville.
Click Here to order the 2018 Zinfandel, Todd Brothers Ranch

There are very few vineyards in California that can truly be called "Grand Cru" vineyards. The Todd Brothers Ranch in Geyserville within the Alexander Valley AVA is one of them.
We made our very first vintage of Todd Brothers Ranch Zinfandel in 1998, and now have 23 exceptional vintages under our belts. The bright red volcanic soil, steep rocky terrain, and old head-trained vines of this property make this terroir unique, producing some of the best, most structured wines from Sonoma County. The Zinfandel and Petite Sirah fruit from the Todd Brothers Ranch are incredibly complex, showing intensity and layers that make the resulting wines almost Cabernet Sauvignon-like in their stature and structure.
Over the years, we've collected quite a few pictures of the Todd Brothers Ranch. As one of our most picturesque vineyards, we wanted to take this opportunity to share with you a tour of the ranch throughout the year.
Click Here to pick up a bottle of our 2018 Zinfandel, Todd Brothers Ranch
Enjoy!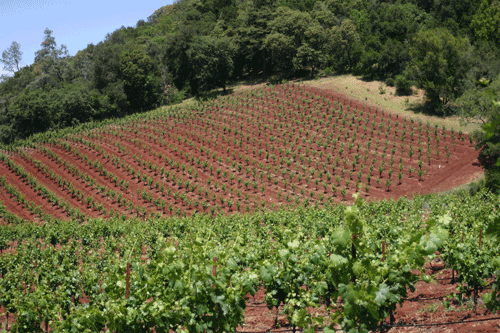 This red, volcanic soil has very high concentrations of iron and retains & reflects heats. Soil like this is found in some of the best wine-growing regions of the world. Mt. Etna in Sicily, the Soave, Santorini, Portugal, and yes even Alexander Valley!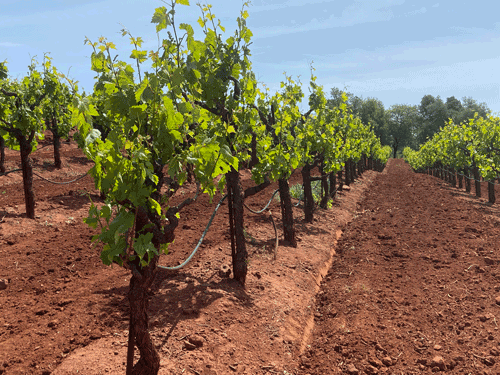 The vines are head-trained so that all the spurs are along the top of the trunk of the vine. Head-trained vines allow for even ripening and sunshine exposure across the vineyard, ensuring even phenolic development at harvest.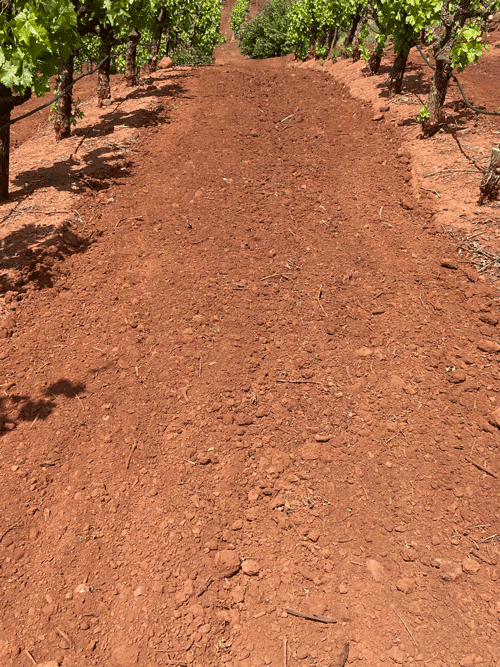 Red Rocks make the best wine! Decomposed volcanic soils are known to retain water, which is excellent for this exceptionally dry area of Alexander Valley.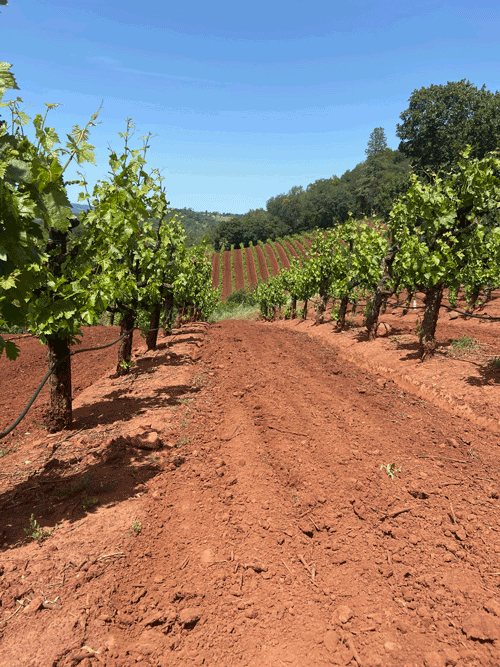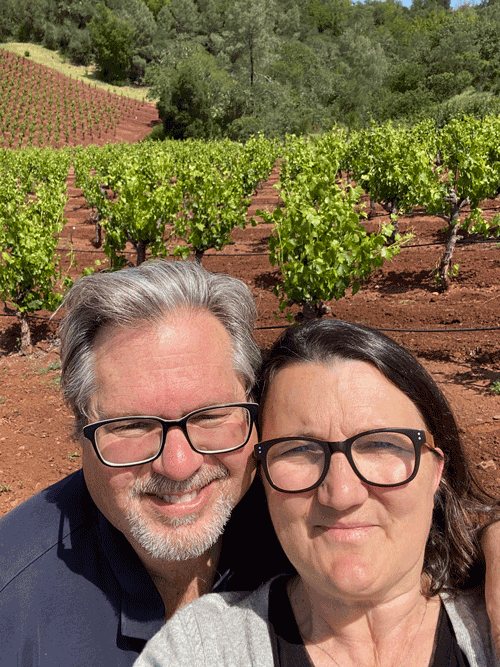 Selfie time! Anne & Mike Dashe visiting the vineyard in May.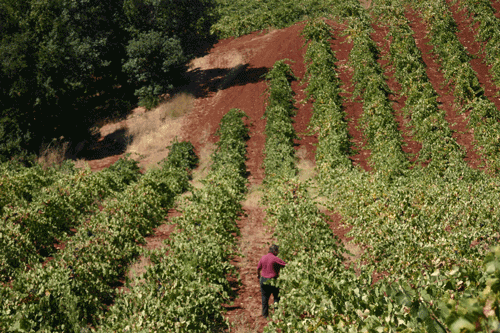 Later on in the year, the vines will have grown in their canopy, requiring an exceptional amount of vineyard management.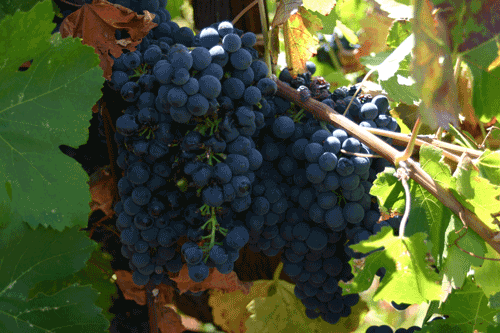 Petite Sirah
Zinfandel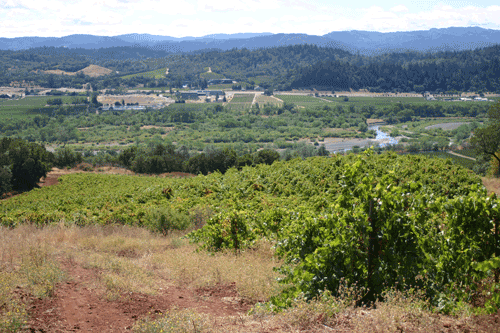 After harvest, the vines are allowed a well-earned rest until...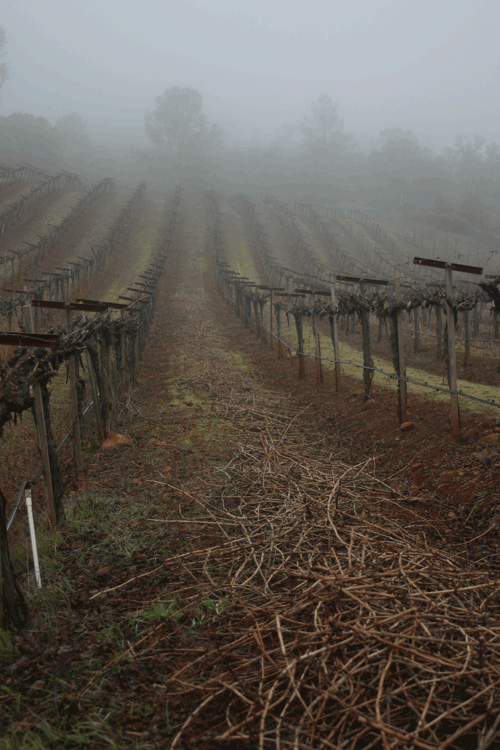 ... the winter comes and the canes are pruned. The canes are pruned off during dormancy when the vines are spending their energy developing their root system and storing carbohydrates. This will provide the energy needed for budbreak in the springtime.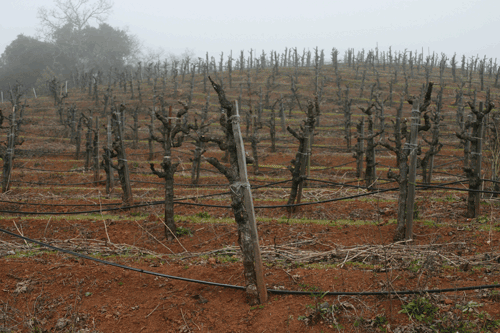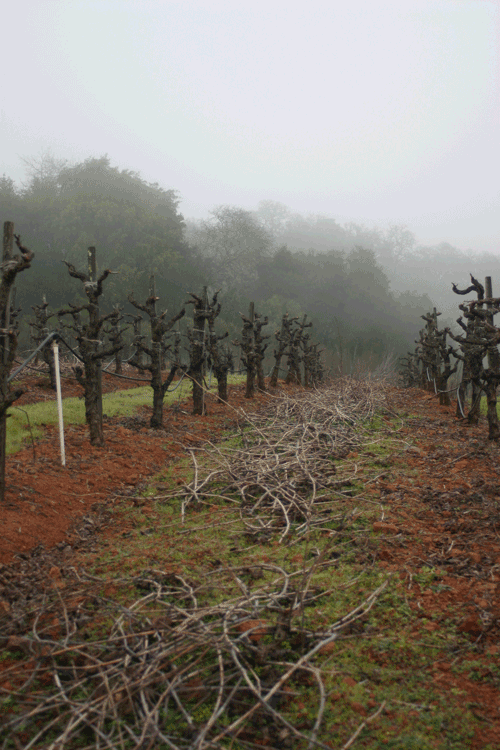 Thank you for taking this "tour" of our Todd Brothers Ranch! If you are interested in an in-person tour, leave a comment below or email Stephanie at stephanie@dashecellars.com.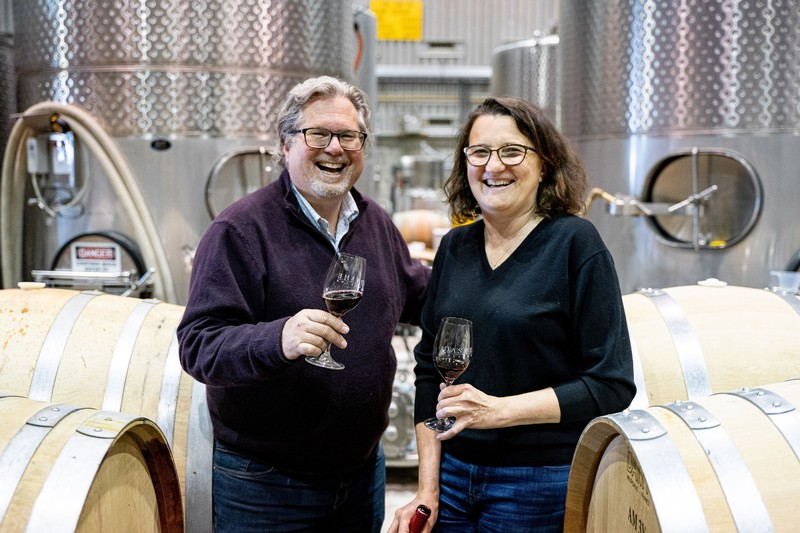 Spring 2022 Wine Club Allocation
We love Spring here at Dashe Cellars. It's warm (most days!) out on our SF View Patio; the bird activity kicks in with lots of Great Blue Herons, geese, hawks, pelicans, and a variety of sea birds flying or hatching chicks by the winery; and we're busily bottling wines and sending the younger red wines down to barrel.
After work we can sip a glass of wine on the patio and see the skyline of San Francisco outlined in crimson and orange, and say our thanks for living and working in such a beautiful place.
Out in the vineyards the vines are budding out and growing, which is both exciting and terrifying. We start to think about harvest (yes, this early!), and map out our plans for the upcoming year.
We know that it's been a strange couple of years for everybody, between the pandemic and world affairs, and to all of you who have been affected, you have our best wishes and support. Let's hope this year ends up significantly better than it started.
Spring is also fun because we get to plan and ship our Spring Wine Club shipments, and this year's lineup is quite delicious–it's like a greatest hits list of some our most popular wines.
On the Zinfandel front, we have some heavy hitters from the Dry Creek Valley. One of our most long-standing vineyards is the Louvau ranch. The Old Vines Louvau Zinfandel is the tiniest parcel of grapes on the property: gnarled, 100+ year old vines, about 98% Zinfandel but also with a few scattered Petite Sirah, Alicante Bouschet, and Carignane vines that add to the wine's depth and complexity.
Also from the Louvau ranch is the Louvau Zinfandel Block 2, from the steepest part of the vineyard. This block is always the most fruit-forward and intense in both color and structure than any other Zinfandel on the property. It has a huge fan-base among our Wine Club members (since it's a Wine Club exclusive wine) and is renowned for being one of the most popular wines for bringing to dinner parties.
Next we have the Florence Vineyard Zinfandel. This is classic northern Dry Creek wine, floral and fruit-forward, and we think this 2019 vintage is an exceptional example. Sadly, this is our last year of making this wine because Jack Florence sold the vineyard when he retired, but we've locked in another great northern Dry Creek Valley vineyard to replace it with in the upcoming years.
Finally, the West Vineyard Zinfandel is one of our favorite Zinfandels from the Dry Creek Valley. Dark, complex, and almost chocolaty along with the blackberry fruit, this is an age-worthy zin.
We are lucky to make wine from the Evangelho Vineyard, where we source old-vine Evangehlho Carignane planted in the 1800's that is one of the most stylish wines we make. Dark purple, spicy, and with great fruit.
Our Louvau Vineyard Petite Sirah rounds up the shipment: jet-black, concentrated, and yet very smooth and drinkable. It will last for many years in the cellar, but can be drank immediately as well.
We hope you enjoy drinking all these wines!
- Michael and Anne Dashe
Interested in receiving these wines and not yet a Wine Club Member? Click Here to learn more about membership.


A brand-new wine to Dashe Cellars, this ancestrale methode sparkling wine is otherwise known as a 'Pet Nat'. We've aged this wine in the bottle since 2017, long aging in the bottle alongside the native yeast contributes to its nutty, almost cider-like aromas and flavors. A perfect wine for pairing with strong cheeses and nuts, or simply enjoying a glass with friends!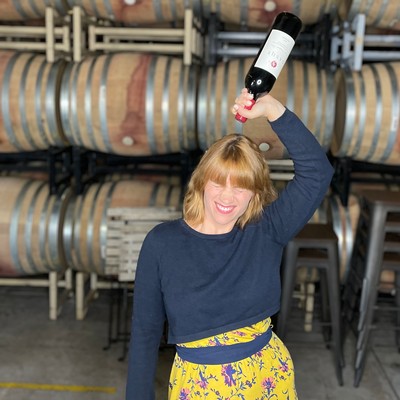 Every Thanksgiving, I lead my family through the exercise of putting the name to things that we are thankful for and talking about them around the table (some participate more willingly than others). I'm making my list for the big day, and there is so much that I have to be thankful for that it's a difficult list to condense.

When it comes to my Dashe Family, I am most thankful for you! Our friends, our Wine Club Members, our supporters, even if you've only been to the winery and had one glass of wine, you have helped to keep us going. For small businesses like ours, every glass and every bottle makes a difference.

This year, I'm grateful for the progress that we've made in getting operations at the winery closer to normal. We've been able to bring back all of our employees, we expanded service on our patio to accommodate covid-friendly seating, we are in the process of opening up our tasting room inside of the airplane hangar, and we had a harvest free of the worries of wildfires. I'm grateful for every single bit of it, every win and every celebratory glass of wine along the way.

And as you may or may not know, my husband and I gave birth to a beautiful baby boy earlier this year, Everett Flasher. I am so grateful that he is growing, healthy, and (mostly) sleeping through the night! Thank you for all of your supportive messages and tidbits of advice that I've received over the past few months.

... and pumpkin pie paired with Late Harvest Zinfandel, I'm definitely thankful for that!

With Gratitude,
Stephanie Flasher
DTC & Wine Club Manager
---
What are you grateful for this year?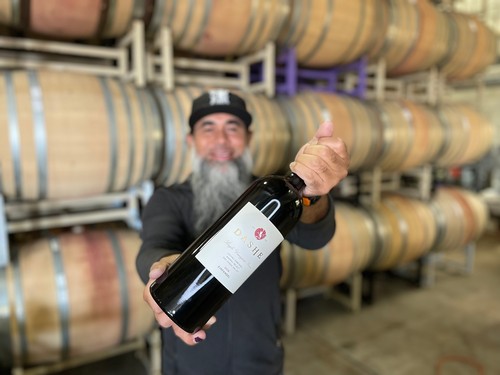 Rene Calderon | Winemaker
That Harvest actually happened.
My hardworking interns were willing to learn as much as possible.
Grateful for the very large door at the crushpad, it made a hard day's work much more enjoyable!
Pam Maners | Tasting Room Manager
I am very grateful for joining the Dashe Family earlier this summer, I already have so much love for my fellow colleagues and just as importantly our guests! We have the best wine club members and a loyal following, everyone truly makes our jobs easier and fun to be here!

I am also grateful for the holidays this year, it's been a long while to be with family and friends and those I am the most grateful for...
and possibly pumpkin cheesecake and our 2018 Dry Riesling. Oh yeah!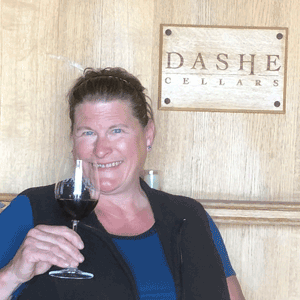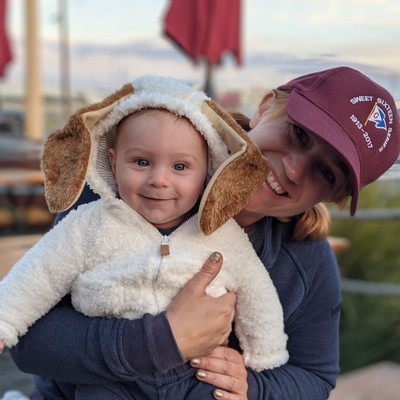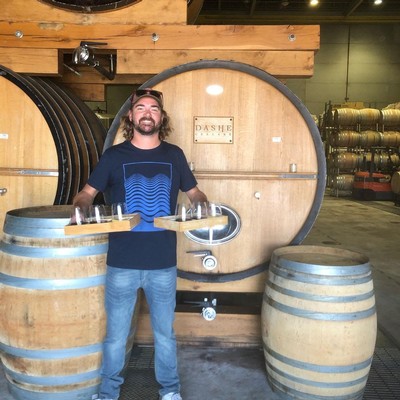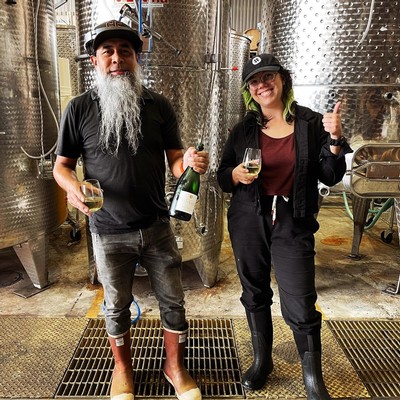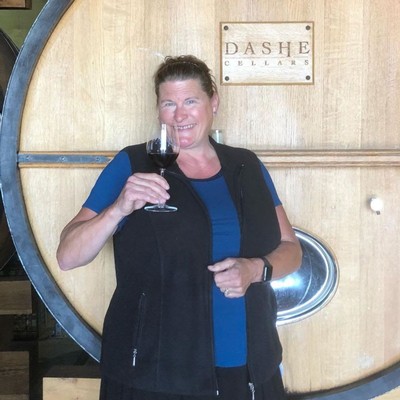 Let's Talk Thanksgiving!
Wine adds a perfect festive touch to holiday meals, but selecting what to drink on Thanksgiving can be daunting. So how do you choose the right wine for the big dinner? Here's an easy answer: No single wine will work perfectly with your meal so serve a few. Matching wine with roast turkey is pretty easy, but the side dishes are another story. These dishes usually range from sweet to savory. Think about what is usually served in addition to the turkey; the meal might include sweet potatoes, tart cranberries, buttery carrots, earthy mushroom stuffing, and more. These dishes all have different tastes that make selecting one wine difficult. So, what to do? Try at least two, preferably a red and a white.

Dashe Single-Vineyard Dry Riesling McFadden Farm
-Riesling has a perfect balance of fruit and acidity that will complement sweeter Thanksgiving foods.
Click Here for Dry Riesling, McFadden Farm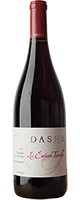 Dashe Les Enfants Terribles Grenache
- Grenache is my first choice for a red wine on Thanksgiving. With most Grenache, fruit is the dominant flavor with just enough acid and tannin to give the wine a nice balance.
Click Here for Grenache, Clarksburg 'Les Enfants Terribles'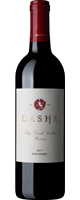 Dashe Zinfandel Reserve, Dry Creek Valley
- Being a Zin-centric Winery, how could we not recommend Zinfandel. Thanksgiving being the All-American holiday, why not go with the All-American grape. Zin can be made into wines of varying style, but for this meal, I would suggest going with a fruitier style of Zinfandel. Stay away from the high-alcohol versions. Our Reserve, Dry Creek Valley would be my top choice.
Click Here for Zinfandel Reserve, Dry Creek Valley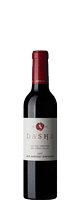 Late-Harvest Zinfandel, Lily Hill Vineyard
-Elevate your dessert game with our Single-Vineyard Late-Harvest Zinfandel. This wine is moderately sweet, with great brambly raspberry, blackberry, and vanilla notes with its sweetness softening the tannins.
Click Here for Late Harvest Zinfandel, Lily Hill Vineyard

THANKSGIVING TURKEY
INGREDIENTS:
• 1 (12-14 pound) fresh whole turkey
• 1/2 cup unsalted butter, at room temperature
• 2 tablespoons freshly squeezed lemon juice
• 2 tablespoons fresh thyme leaves
• 2 tablespoons fresh rosemary leaves
• 1 tablespoon lemon zest
• 2 cloves garlic, minced
• 3 carrots, peeled
• 3 stalks celery
• 1 sweet onion, cut into wedges
• 1/2 cup Dashe Single-Vineyard Riesling
• 1 1/2 cups turkey or chicken stock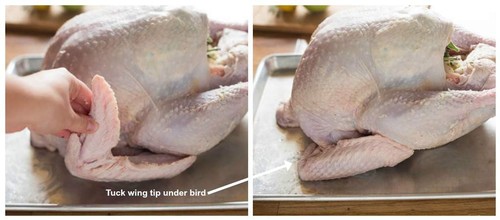 DIRECTIONS:
1. Preheat oven to 400 degrees F.
2. Remove giblets from the turkey cavity. Dry turkey thoroughly with paper towels. Season turkey cavity with salt and pepper, to taste.
3. In a small bowl, combine butter, lemon juice, thyme, rosemary, lemon zest and garlic; season with 1 1/2 teaspoons salt and 1 1/2 teaspoons pepper, or more, to taste.
4. Using your fingers, carefully loosen the skin from the breast meat, spreading half of the butter mixture under the skin. Secure skin over the butter with wooden picks.
5. Place carrots, celery and onion in a shallow roasting pan. Place turkey, breast side up, on top of the vegetables; tie drumsticks together with kitchen twine, tucking the wingtips under.
6. Spread remaining half of the butter mixture over the turkey; season with salt and pepper, to taste. Add the Dashe Single-Vineyard Riesling and chicken stock to the roasting pan.
7. Place into oven and roast for 30 minutes.
8. Reduce oven temperature to 325 degrees F. Continue roasting until the turkey is completely cooked through, reaching an internal temperature of 165 degrees F in the thickest part of the thigh, about 2 hours to 2 hours and 30 minutes more; baste every 30 minutes with pan drippings. When turkey begins to brown, cover lightly with aluminum foil.
9. Let stand 20 minutes before carving; reserve pan dripping for gravy.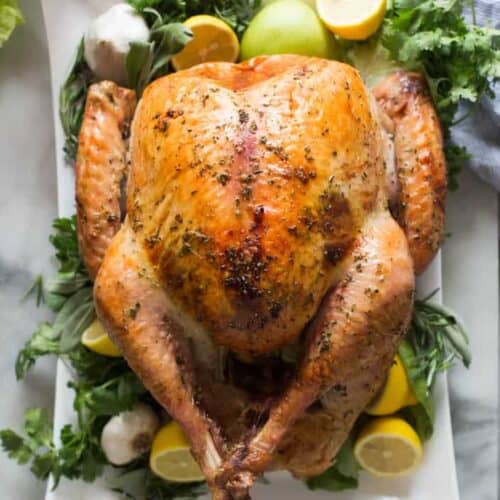 SAVE ROOM FOR DESSERT
You could end Thanksgiving with apple pie and coffee. You could also go to bed early on Thursday night; But, HELLO, it's Thanksgiving. This is no time for underachievement. With Thanksgiving's top pie, I suggest you take the humble apple pie to a whole new level. In fact, I've watched it happen many times. The right wine can elevate the flavor of a dish; 1 + 1 = 3, so to speak, with my kind of wine math.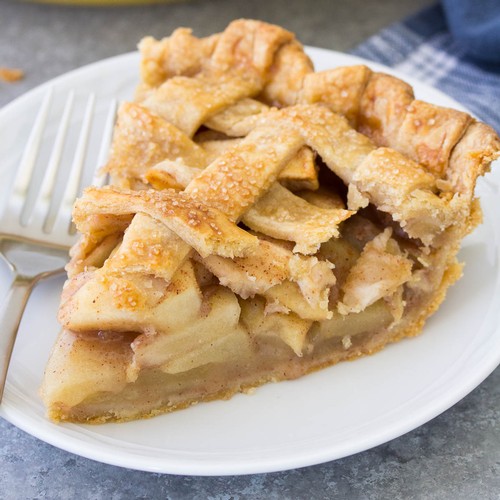 Rule of thumb for pairing wine with dessert - The wine should be at least as sweet as the dessert, with enough acidity for balance. Our single-vineyard late-harvest is made from grapes left on the vine past normal picking times to build sugar levels and develop tastes like dried cherries and chocolate. Try the single-vineyard late-harvest Zinfandel with Thanksgiving Apple Pie, Cheesecake with raspberries or jam, fruit tarts, or carrot cake; late-harvest Zin is always yummy with chocolate too.
There you have it, a few wine options to help you enjoy your Thanksgiving with a bang, not a whisper.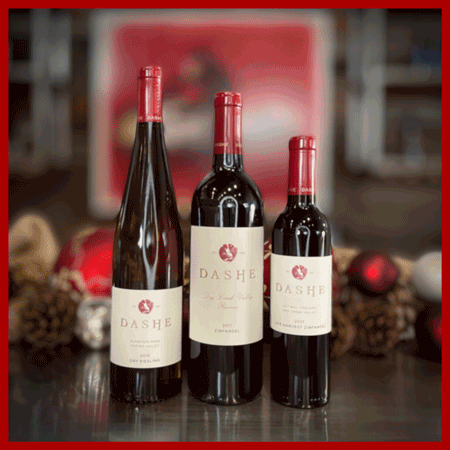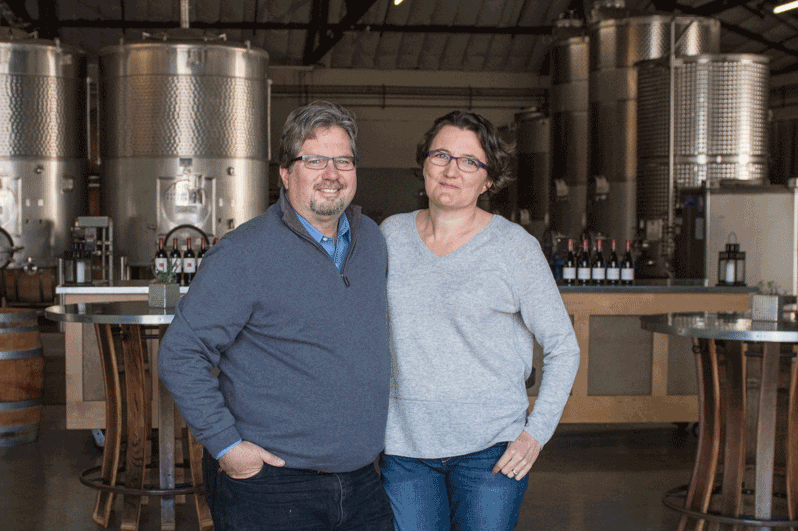 Fall 2021 Wine Club Allocation
Harvest is here, and by the time our Wine Club Members receive their allocation, most of the grapes should be safely in the winery and fermenting away (if not finished).
2021 has flashed by so far, and harvest just pounced on us seemingly without warning. It's been an early harvest, but as of the time of this writing, the quality of the grapes was exceedingly high although quantities of grapes from the vineyard were low.
This has of course been a heck of a year, but we are seriously proud of both our Dashe Cellars staff and for our customers and Wine Club members, who together have helped Dashe Cellars survive what has been the most difficult year of our existence. Everyone stepped up to the plate and helped us when the chips were down, and we thank you from the bottom of our hearts. You're the best.
It's exciting of course to harvest the grapes and smell all of those fermenting tanks, and to see the wines reveal themselves as we press them, finish the fermentation, and pump them off to barrel. It's always delightful to see a new vintage, especially with the wines like the Todd Brothers Ranch which we've been making for 25 vintages. Each vineyard has its unique characteristics, aromatics, and flavors, and we love to see those characteristics express themselves in a vintage.
But those are wines for the future. I'm sure you're looking forward to your Wine Club shipment wines, and you can be sure that we have a great lineup in this Fall shipment.
The Todd Brothers Ranch figures prominently in this lineup, with our flagship Todd Brothers Ranch Zinfandel heading up the pack. Some of our Wine Club members have vertical tastings of this wine dating back 10, 15, or even 20 years. The wine ages magnificently, but even in its youth this Zinfandel drinks beautifully, with a bit of decanting. We are also featuring the Todd Brothers Petite Sirah, which has a bit of Zinfandel blended in for smoothness and complexity. This Petite Sirah is drinking surprisingly well as a young wine, and would pair perfectly with some braised short ribs or a rack of lamb.
We are also featuring the 2019 version of The Comet, a stylish blend of Zinfandel, Petite Sirah, and 130-year-old vine Carignane. Each year we work on refining this blend so that it has beautiful depth of flavor; layers of different fruit, spice, and earth that evolve in the glass after pouring; and a long, structured finish with flavors that persist for minutes after swallowing the wine. The 2019 is one of the best Comets that we've ever made, and we are sure that you'll love the wine not only now, on opening, but will continue to improve for years to come.
Lastly, we have two powerhouse wines to present. The first is the 2019 Heart Arrow Vineyard Cabernet Sauvignon, a rich, structured Cabernet in the mode of a Bordeaux-styled Cabernet: elegant, finely structured, able to be cellared for years. This is a dynamite wine that is made to go with holiday meals and grilled meats, gorgeous on release but with the intensity and complexity that will benefit with a few years of cellar age. The second wine is the Louvau Vineyard Zinfandel Barrel Select, a special Wine Club exclusive wine made from barrels that were hand-selected from tasting all of the barrels from this great vineyard to make a special reserve wine with wonderful structure and beautiful fruit and spice flavors. It will knock your socks off.
Enjoy the wines and thank you for your support.
- Michael and Anne Dashe
Interested in receiving these wines and not yet a Wine Club Member? Click Here for to learn more about membership.