The Dish @ Dashe
Fish Tales and Monkey Business from the Team at Dashe Cellars

Mike Dashe Co-founder & Director of Winemaking

Anne Dashe Co-founder

Rene Calderon Winemaker

Monica Chappell Wine Club Manager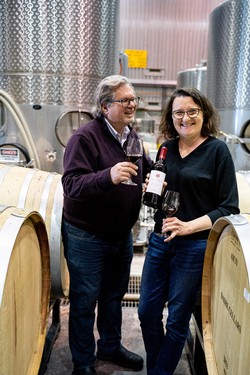 Mike Dashe here.
Do you ever think about why someone does what they do for a living?
Maybe an accountant really loves numbers and helping people keep their earnings in their own pockets. Or a doctor loves to heal. And an artist loves expressing human experience with paint.
I always knew I was going to one day have my own business. In my early 20s, studying plant physiology and biology at UC Santa Cruz, winemaking wasn't even on the radar. I had no idea you could even start or own a winery unless it was already in your family.
And though my father liked wine and it was always on the table, enjoying it and making it are about as far apart as diving for abalone and eating it for dinner. Strange comparison, sure, but diving for abalone was exactly what I was doing when I got my first wine job.
A local winemaker's wife loved the coastal mollusks, and the winemaker wanted to trade wine for the buttery delicacies we dove for back in the 1970s. That soon led to another trade—my labor on the bottling line for wine. This is how I found out you could go to school for winemaking, and just like that I was headed for grad school at UC Davis.
I'd already had a lot of training in biology, plant physiology, and chemistry. But I also loved making things. If I could simplify my love of winemaking into a T-shirt-worthy "phrase", it might look like this:
Art + Science = Wine
Because winemaking is the absolute best synthesis of art and science as you can get.
You've probably heard this before—wine is an expression of place. It's also evidence of the winemaker's philosophies and general views on life.
You can take the raw materials from a place, split them up between two winemakers, and the end product will be two totally different wines.
Isn't that cool?
That's why I do this. That's why I've been making wine for almost 40 years. And why Anne and I started Dashe Cellars 26 years ago.
Like me, Anne also loves the process, the whole chain from grape to finished product. Unlike me, she also loves all the in-between business decisions, like choosing the paper type for the labels and how to think about marketing (a necessary part of telling the world you exist).
She loves the silence of the cellar, too, the physical catharsis of manually pumping wine over the cap during fermentation. Of course these days other people are doing the pump-overs, which saves our (older) backs and shoulders. But we still make wine with a natural approach and non-industrial practices.
Anne loves that part, too, that we focus on the purest expression of fruit and place to make wines that pair with food and that we love to drink with friends.
We are so lucky to do what we do and grateful for the opportunity to share it with you.
Thanks for being here.

Cheers,
Mike (and Anne)

P.S. You can have Dashe Cellars on your table any time you want by ordering through our website. Check out our current offerings.
P.P.S. Let us choose for you by joining the Dashe Wine Club with shipments twice per year. Pick the collection that's best for you.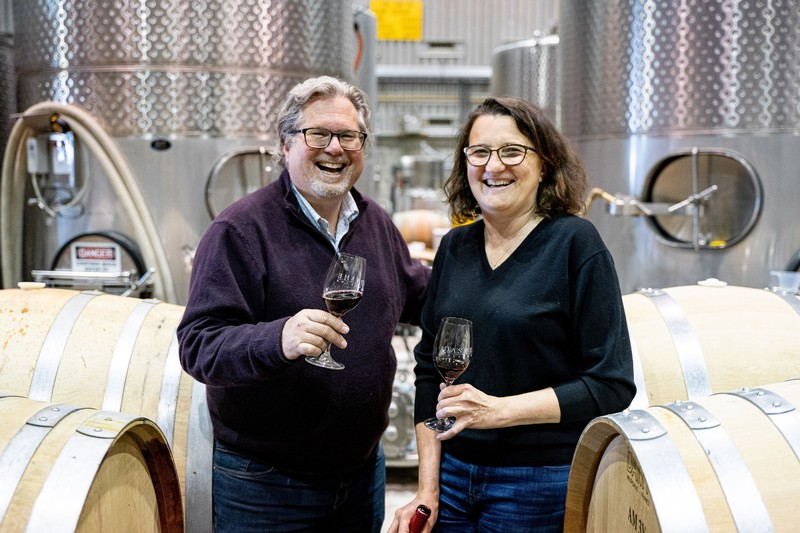 Spring 2022 Wine Club Allocation
We love Spring here at Dashe Cellars. It's warm (most days!) out on our SF View Patio; the bird activity kicks in with lots of Great Blue Herons, geese, hawks, pelicans, and a variety of sea birds flying or hatching chicks by the winery; and we're busily bottling wines and sending the younger red wines down to barrel.
After work we can sip a glass of wine on the patio and see the skyline of San Francisco outlined in crimson and orange, and say our thanks for living and working in such a beautiful place.
Out in the vineyards the vines are budding out and growing, which is both exciting and terrifying. We start to think about harvest (yes, this early!), and map out our plans for the upcoming year.
We know that it's been a strange couple of years for everybody, between the pandemic and world affairs, and to all of you who have been affected, you have our best wishes and support. Let's hope this year ends up significantly better than it started.
Spring is also fun because we get to plan and ship our Spring Wine Club shipments, and this year's lineup is quite delicious–it's like a greatest hits list of some our most popular wines.
On the Zinfandel front, we have some heavy hitters from the Dry Creek Valley. One of our most long-standing vineyards is the Louvau ranch. The Old Vines Louvau Zinfandel is the tiniest parcel of grapes on the property: gnarled, 100+ year old vines, about 98% Zinfandel but also with a few scattered Petite Sirah, Alicante Bouschet, and Carignane vines that add to the wine's depth and complexity.
Also from the Louvau ranch is the Louvau Zinfandel Block 2, from the steepest part of the vineyard. This block is always the most fruit-forward and intense in both color and structure than any other Zinfandel on the property. It has a huge fan-base among our Wine Club members (since it's a Wine Club exclusive wine) and is renowned for being one of the most popular wines for bringing to dinner parties.
Next we have the Florence Vineyard Zinfandel. This is classic northern Dry Creek wine, floral and fruit-forward, and we think this 2019 vintage is an exceptional example. Sadly, this is our last year of making this wine because Jack Florence sold the vineyard when he retired, but we've locked in another great northern Dry Creek Valley vineyard to replace it with in the upcoming years.
Finally, the West Vineyard Zinfandel is one of our favorite Zinfandels from the Dry Creek Valley. Dark, complex, and almost chocolaty along with the blackberry fruit, this is an age-worthy zin.
We are lucky to make wine from the Evangelho Vineyard, where we source old-vine Evangehlho Carignane planted in the 1800's that is one of the most stylish wines we make. Dark purple, spicy, and with great fruit.
Our Louvau Vineyard Petite Sirah rounds up the shipment: jet-black, concentrated, and yet very smooth and drinkable. It will last for many years in the cellar, but can be drank immediately as well.
We hope you enjoy drinking all these wines!
- Michael and Anne Dashe
Interested in receiving these wines and not yet a Wine Club Member? Click Here to learn more about membership.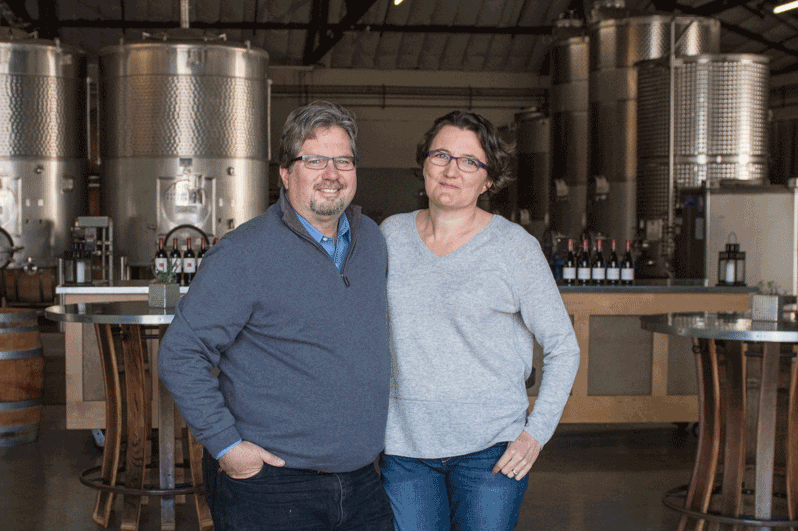 Fall 2021 Wine Club Allocation
Harvest is here, and by the time our Wine Club Members receive their allocation, most of the grapes should be safely in the winery and fermenting away (if not finished).
2021 has flashed by so far, and harvest just pounced on us seemingly without warning. It's been an early harvest, but as of the time of this writing, the quality of the grapes was exceedingly high although quantities of grapes from the vineyard were low.
This has of course been a heck of a year, but we are seriously proud of both our Dashe Cellars staff and for our customers and Wine Club members, who together have helped Dashe Cellars survive what has been the most difficult year of our existence. Everyone stepped up to the plate and helped us when the chips were down, and we thank you from the bottom of our hearts. You're the best.
It's exciting of course to harvest the grapes and smell all of those fermenting tanks, and to see the wines reveal themselves as we press them, finish the fermentation, and pump them off to barrel. It's always delightful to see a new vintage, especially with the wines like the Todd Brothers Ranch which we've been making for 25 vintages. Each vineyard has its unique characteristics, aromatics, and flavors, and we love to see those characteristics express themselves in a vintage.
But those are wines for the future. I'm sure you're looking forward to your Wine Club shipment wines, and you can be sure that we have a great lineup in this Fall shipment.
The Todd Brothers Ranch figures prominently in this lineup, with our flagship Todd Brothers Ranch Zinfandel heading up the pack. Some of our Wine Club members have vertical tastings of this wine dating back 10, 15, or even 20 years. The wine ages magnificently, but even in its youth this Zinfandel drinks beautifully, with a bit of decanting. We are also featuring the Todd Brothers Petite Sirah, which has a bit of Zinfandel blended in for smoothness and complexity. This Petite Sirah is drinking surprisingly well as a young wine, and would pair perfectly with some braised short ribs or a rack of lamb.
We are also featuring the 2019 version of The Comet, a stylish blend of Zinfandel, Petite Sirah, and 130-year-old vine Carignane. Each year we work on refining this blend so that it has beautiful depth of flavor; layers of different fruit, spice, and earth that evolve in the glass after pouring; and a long, structured finish with flavors that persist for minutes after swallowing the wine. The 2019 is one of the best Comets that we've ever made, and we are sure that you'll love the wine not only now, on opening, but will continue to improve for years to come.
Lastly, we have two powerhouse wines to present. The first is the 2019 Heart Arrow Vineyard Cabernet Sauvignon, a rich, structured Cabernet in the mode of a Bordeaux-styled Cabernet: elegant, finely structured, able to be cellared for years. This is a dynamite wine that is made to go with holiday meals and grilled meats, gorgeous on release but with the intensity and complexity that will benefit with a few years of cellar age. The second wine is the Louvau Vineyard Zinfandel Barrel Select, a special Wine Club exclusive wine made from barrels that were hand-selected from tasting all of the barrels from this great vineyard to make a special reserve wine with wonderful structure and beautiful fruit and spice flavors. It will knock your socks off.
Enjoy the wines and thank you for your support.
- Michael and Anne Dashe
Interested in receiving these wines and not yet a Wine Club Member? Click Here for to learn more about membership.

What's Happening at Dashe Cellars?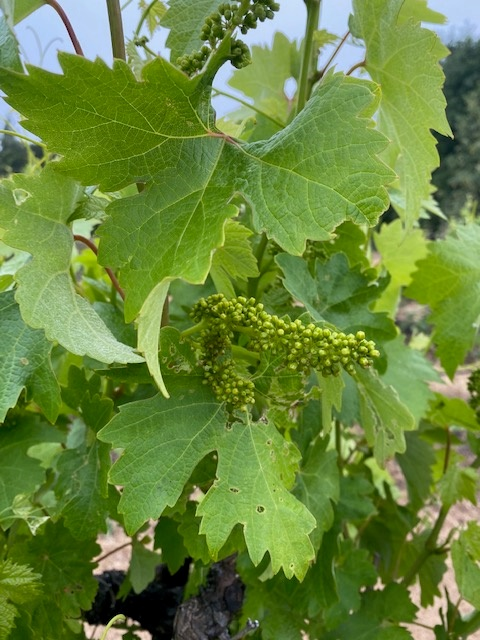 This is always a wild time of year, as we watch the grapevines develop flower clusters and we get an idea of how the crop will develop this vintage. We love looking at the tiny clusters (and of course the even tinier flowers) and the greenery develop throughout the vineyard. It's a beautiful time of year.
Although the clusters are tiny, they contain vital information about how heavy the crop will be and how many clusters are loaded on the vine. Although you really can't judge the quality of the fruit, you can certainly make some intuitive guesses based on how healthy the vine looks, how the weather has been at this crucial time of development, and how early or late the crop will be in the fall.
More than anything else, it tells you that the clock is ticking and that we'll be harvesting grapes before we know it. It always seems like the last vintage just finished and that we have plenty of time to prepare, but then the vineyard itself seems to come back to us every year and reminds us that we don't have nearly as much time as we think.
The Calm before the Storm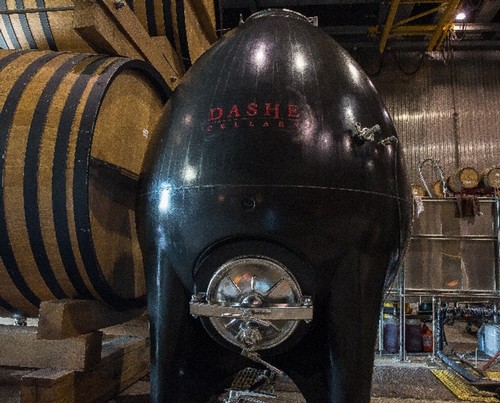 In the cellar itself, it's always a calm time, as we taste the developing wines, rack them from barrel to tank or barrel to barrel, and start preparing equipment for the harvest. It's amazing that we need to ramp up for harvest so far in advance of the grapes' ripening, but August is just around the corner and some of our vineyards in Contra Costa county are actually harvested in mid- to late-August.
We love to hang out in the winery—it always stays within the same range of temperatures no matter what time of year, because there's so much insulation in the 60 ft ceilings and the building itself it made out of thick concrete blocks. Many thanks to the US Navel Airforce, who built this building so solidly and with so much natural insulation.
Now, we just prepare the cellar and wait for the grapes to ripen. This year has turned out to be pretty dry, which is not terrible for the grapevines (they can survive much more than most fruit trees, for example) but we certainly hope that we have a bit of moisture before the grape clusters get very much more developed.
We will let you know before too long how the vineyards are coming along and how the quality of the 2021 vintage is shaping up. In the meantime, we suggest pouring a glass of wine and hanging out in the shade (preferable at our SF City View Patio!) and enjoying the summer.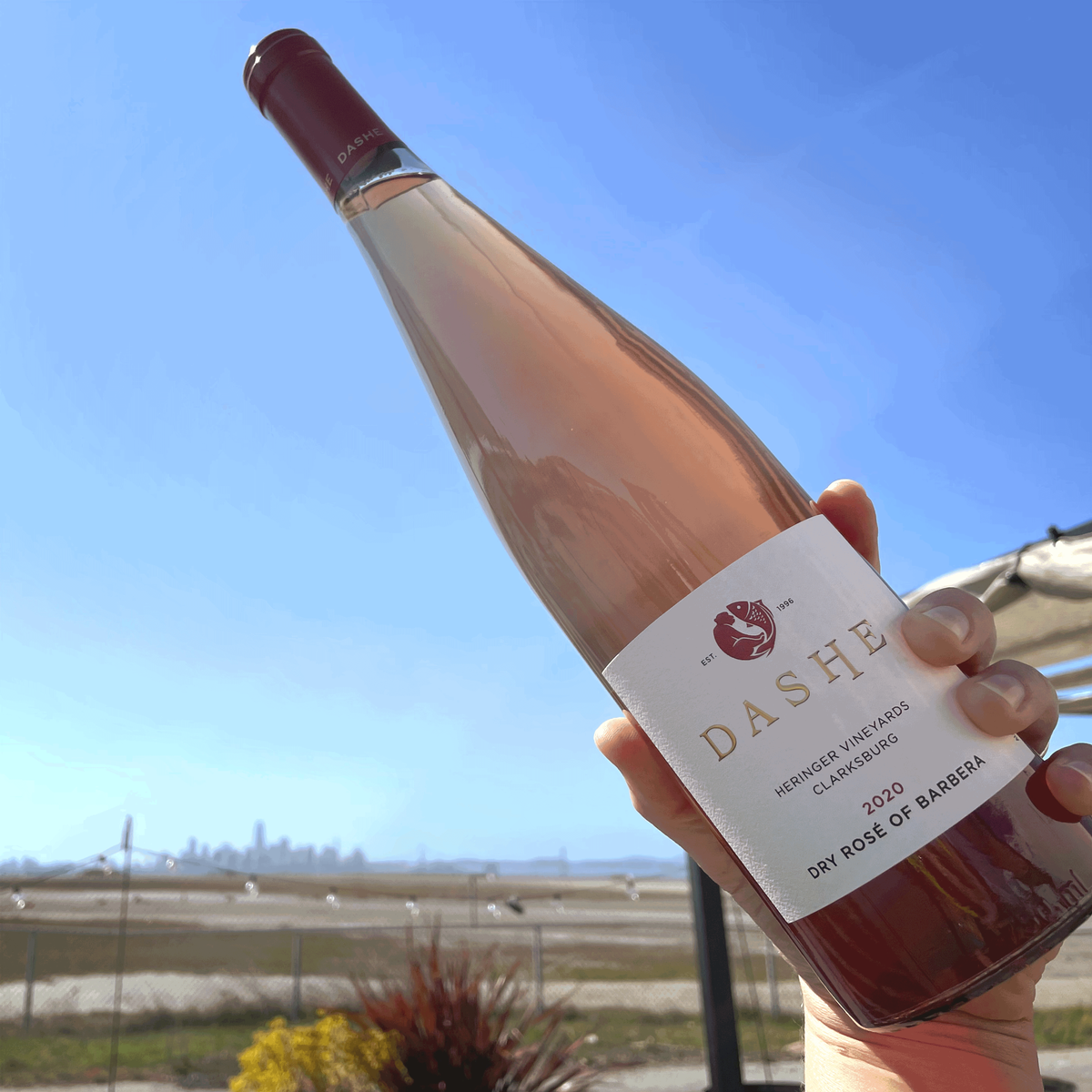 It's getting hotter, which means that rosé wines are getting popped into ice buckets and refrigerators. Every wine maker I know is releasing (or has released) a rosé, and Dashe Cellars is no exception.
I'll confess, we have changed our methods of making rosé over the years. Quite a while ago, our method of making rosé was a relatively simple one. We would crush red grapes—usually Grenache grapes from Dry Creek Valley—which were destined to make a bigger, more substantial wine, and simply bleed off pink juice from the tank after about 8 hours of skin contact. Voilà! Instant rosé.
Let it Bleed
This process of making rosé by "bleeding" the tank is called "saignèe," from the French word for blood, and is probably one of the most common methods of making rosé around the world.
There certainly are a few advantages to making a rosé this way. First of all, it's a great way of improving the depth and intensity of the red wine in the tank from which you're bleeding off the rosé juice. Since you're increasing your grape to juice ratio, you get more color in the wine from which you're bleeding off. Plenty of jet-black wines on the market are helped by bleeding the tanks.
Another definite advantage is that you can pick the color of your rosé by simply looking at the juice every few hours. As time goes by, you get more color until you decide you have enough color (or the right hue of pink) and then you frantically drain the juice off of the red skins before the color changes and becomes too dark.
The drawback to this method is that if you get your timing wrong, your rosé can be too light or too dark, and the only way to adjust is by blending red or white wine into your rose to try to adjust the color.
Hot off the Press
The other method, and the one that we've gravitated to over the years, is dedicating the grapes you select to be rosé (and only rosé). Using this method, you designate a vineyard (or a block within a vineyard) to be your rosé block and dedicate those grapes to just be used in your rosé program. You then pick the grapes exactly when you want to make your rosé and dump them directly into the press (or occasionally, crushing the grapes and letting them sit in bins for a bit of time to pick up color, and then dumping them into the press).
This direct press method has some distinct advantages.
First and most important, since you're dedicating these grapes to be rosé, you can select the time of picking the grapes to be ideal for making a rosé-style wine. In our case, we like our rosé wines to have good acidity, so as long as the flavor profile is correct, you can pick grapes earlier than you normally would for making red wine, so that the wine is crisp and flavorful with acidity.
Second, you can select a varietal specifically for rosé. In our case, we decided to try to use Barbera from a Clarksburg vineyard as a rosé grape, because it's a naturally high-acid grape and makes a very refreshing, zingy wine.
An added benefit of early picking is that your rosé is lower in alcohol because you're picking grapes before they produce a high amount of sugar.
Color is king
The final reason we love to press our rosé directly from the grapes is that we obtain a beautiful pale salmon color; quite a bit different than the color that we would obtain using the saigneé method of bleeding the tank.
Of course, wonderful wines are made using both methods of wine making, and everyone has their preference for what kind of rosé they like.
Our rosés are finished completely dry because that's our preference. Some people prefer a bit of sweetness to their rosés, which is completely a personal taste.
What's important is that rosés have finally risen in prominence in the wine-drinking community.
Personally, I believe that there's nothing better than a crisp, cold rosé on a Spring or Summer day, paired with something off of the grill or with a fish stew such as a French bouillabaisse. The acidity pares perfectly with food, and the wine itself provides an immensely satisfying way to balance the heat.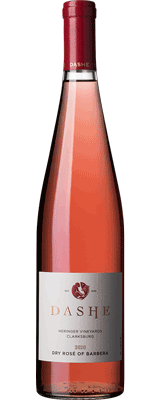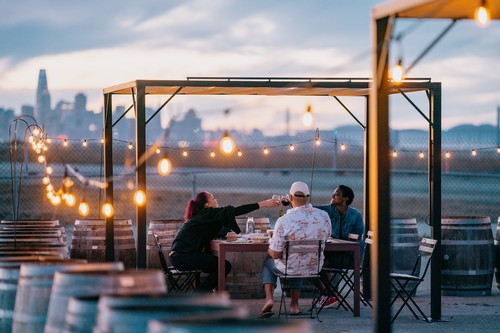 Well, Spring is finally here and with some luck, we'll have been through the worst of this last year and starting to be (relatively speaking) back to normal. Not a minute too soon. We've all endured one of the most trying years of our collective lives, and now that the days are longer and lovely Spring afternoons are warming us, it's our fervent hope that all of you are feeling better and are optimistic about the future.
We really can't say thank you enough to have supported us during the most difficult year in our 26 years in business. One of the best things that emerged from this last year was that we discovered how much people have enjoyed the City views and the bird sanctuary in front of the winery on our City View Patio. We've loved having you come out and share this outdoor space with us, drinking wine and enjoying food from our food truck purveyors. Your spirit and enthusiasm has sustained us here at Dashe and we certainly wouldn't have survived this last year without you to help us through it.
Amazingly, now we're making our plans for this upcoming harvest. Bud-break has happened in the vineyards and the vines are starting to push out. Nothing like growing things to remind us that nature doesn't wait for pandemics or politics—when it's time to harvest, it's time to harvest. We're excited as always about the ripening grapes and our plans for upcoming wines.
–Best to you all, Michael and Anne Dashe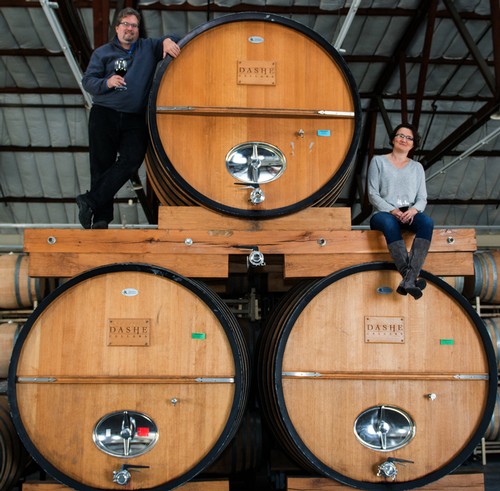 Last year, the wine writer Eric Asimov, long time New York Times wine columnist, wrote a two-part series for his Wine School column entitled "Revisiting Zinfandel from a Less Brawny Angle" and "Finding the Heart of Zinfandel." The focus of the two articles was to taste three current examples of Zinfandel—all of which were a more modern, lighter, and less alcoholic styles—to see how recent styles of Zinfandel compared with the bigger, jammier, more alcoholic styles of popular Zinfandels from a decade or more ago.
Frankly, the focus of the article was that Mr. Asimov's tastes had moved away from drinking Zinfandel a few years ago because of heavy-handed ripe flavors in some of the most popular zins. He was looking to see if recent offerings from wineries that made less brawny Zinfandels was more interesting and palatable, both to him and to his readers who commented on the wines.
Here at our little urban winery at Dashe Cellars, we were gratified that he selected a Dashe wine—the 2018 Zinfandel Vineyard Select—for his widely-read Wine School series. In the introduction, he said that "I selected the Dashe because I generally like this producer's wines, they were fairly widely available, and the bottle was cheaper than the other two.". We'll take that—and we're glad that Asimov enjoys our wines.
The Times have Caught Up with Dashe Cellars?
Personally, we were a bit amused by the premise of the article because it implied that it was only a recent development that certain wineries had moved towards making lighter, more elegant Zinfandels.
But those of you who know Dashe Cellars wines from when we started in 1996 know that we have always selected vineyards and used wine making practices to make lighter, more delicate, yet complex and balanced Zinfandels.
Although our single vineyard wines such as the Louvau Vineyard Old Vines Zinfandel has traditionally been less alcoholic than our peers, we really turned the Zinfandel world on its head in 2008 when we released our first "Les Enfants Terribles" single vineyard wine—a Zinfandel, naturally—from the McFadden Farm in Potter Valley.
Are we Drinking all 500 Cases Ourselves?
The first Les Enfants Terribles wine was a fluke, in a way, because it was a phone call from a sommelier—Mark Ellenbogen from the Slanted Door restaurant in San Francisco—that sparked the creation of this wine.
Mark was extremely diligent about which wines made his Wine List at the restaurant, and he loved softer European reds such as Gamay-based wines from Beaujolais region in France, and a wide array of Pinot Noir-based wines, also from Europe.
When the Slanted Door was criticized from some quarters for not having many domestic wines, Mark reached out to me and asked if it was possible if we might make a single vineyard wine that had many of the attributes he loved in his favorite European wines to go with the cuisine from the Slanted Door: lower alcohols; lower tannins; little or no oak influence; beautiful softer fruit character; a softer, velvety texture.
I had just seen the Zinfandel grown at McFadden Farm—a high elevation vineyard—and the red grapes were surrounded by Riesling, Pinot Blanc, and Gewurztraminer white wine grapes. I immediately loved the fruit flavors of the Zinfandel but was shocked at how light-colored the red grapes were. When Mark called me up, I said that I had found the perfect grapes to make a "Beaujolais-styled" carbonic maceration wine.
We had just purchased a 900-gallon oak foudre from Burgundy, and decided we would make all of the Zinfandel in the vineyard, and age it in this huge single barrel.
When we made the wine, using the carbonic maceration technique of whole berries and whole clusters, the wine was gorgeous, but the color was so pale red that it looked like a Gamay or Pinot Noir. I was so shocked that I turned to Anne and asked "are we going to have to drink all 500 cases of this wine by ourselves?" She turned to me and said "you're crazy. This is exactly what I had in mind when we made this wine. People will love it!"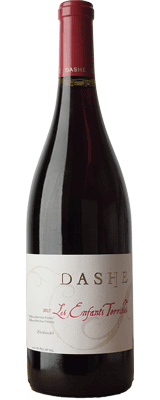 Click Here for 2017 Zinfandel, Mendocino Cuvée
We've Been Making Trendy Wine for 26 Years!
I shouldn't have been so worried. The first Les Enfants Terribles 2007 Zinfandel from the McFadden Farm went on to become a tremendous hit at the Slanted Door, and soon word got around that Dashe Cellars was making this carbonic maceration Zinfandel that tastes unlike any other Zinfandel on the market. The wine became a darling of wine drinkers around the country who liked European wines for their balance and lower alcohols but wanted the vibrant fruit of a California wine at the same time.
Compared to many other Zinfandels out on the market, Dashe Cellars Zinfandels are lighter in style and have a certain balance between fruit and acid, with less oak and tannin on the finish. We've been making Zinfandels in this style from when we first released a single vineyard wine—a 1996 Dry Creek Valley Zinfandel—and have kept this signature style since.
It used to be that very few wineries were making wines that were lower alcohol and fermented on native yeast. No more—it's quite common for new wineries to make wines in this style. We are pleased that after all these years following our heart, making wines that had a balance of an "Old-World" wine, our style is now very much on target for young, innovative wine makers.
We are huge believers in making wines that reflect the vineyards, and our style champions this type of artisan wine. Many thanks to Eric Asimov and other wine writers that now are highlighting our style of wine to a broader market of wine drinkers. For 26 years we've made wines that are now touted as "trendy," due to their restraint and balance. We might not be a new winery, anymore, but we'll take the trendy label anytime, as long as people enjoy the wines.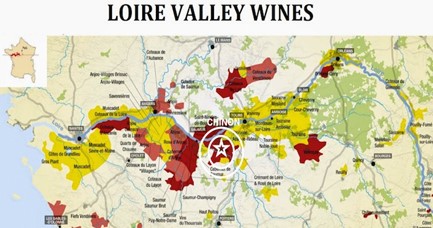 Back in 1995, before Dashe Cellars was a gleam in the eyes of Michael and Anne Dashe (and back when Anne's name was Anne Bringuet), a visit to Brittany France, Anne's homeland, was a revelation.
It started with the cuisine—creperies that were on almost every corner; oysters that were plucked right out of the river and eaten in front of your eyes; the freshest langoustine and fish you've ever tasted; butter that crunched in your mouth from embedded salt crystals; Kouignman and croissants so delicate that they melted in your mouth. The food simply was spectacular.
But beyond the cuisine, there was artisan wine. First, I was surprised to learn, there wasn't any local stuff. There are no grapes grown in Brittany (to speak of). Lots of apple cider that went beautifully with crepes, but no Bretagne natural wine.
Instead, there were the wines of the Loire Valley, a scant 2 hours away from Brittany at its closest edge. To be honest, I didn't know much about Loire wines. I had worked in Bordeaux, visited Burgundy, the Rhone, Champagne, the Jura. But the Loire? It was a place I knew about because of Sancerre and Poully-Fuisse, and I knew that Vouvray existed. That was it.
What blew my mind, in retrospect, is that the stores in Brittany were just filled with amazingly inexpensive bottles of Loire wines that I had never imagined. Just a few euros (francs at the time, but who's counting) would buy you a great bottle of wine in the local supermarket. Whites from Montlouis and Touraine, beautiful light reds from Chinon and Bourgueil, crisp dry white wines from Muscadet. For a bit more, you could have beautiful complex wines from the hills of Sancerre, a balanced and age-worthy Vouvray or Savennières, or a luscious red from Saumur.
We devoured lots of Loire wines, every time we came out to visit Anne's family in Brittany.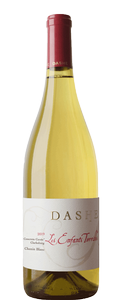 Dashe Chenin Blanc Makes its Debut
Years after that first introduction to the wines of the Loire Valley—and after we had started Dashe Cellars—we became dedicated drinkers of Loire wines.
We especially learned to love the many aspects of Chenin Blanc, a varietal that had a terrible reputation in the US (mostly because of years of uninteresting white wines made from huge vineyards in the Central Valley of California). The more we looked at wines made from Chenin, the more we learned to appreciate the spiciness, acid balance, and texture that make it one of the great varietals of the world.
At Dashe Cellars, the focus had mainly been on red wine varietals, except for a wonderful little Riesling that we had made, since 1999, from organic grapes on the McFadden Farm. We had made a conscious decision not to make Chardonnay (too many Chardonnays made in CA!), but our customers were constantly saying that they wanted us to make another white wine. We thought about what kind of wine WE liked and decided that if we ever were to find a region and vineyard with excellent Chenin Blanc grapes, we would try our hand at it.
Luck came our way in the form of the Heringer vineyard in Clarksburg, CA. This region has one of the largest concentrations of Chenin Blanc vineyards anywhere in the state. The reason is wildly logical: the local government paid for a soil and vineyard consultant to analyze the terroir of the region and recommend what varietals the area would be best to grow. The consultant came back with "Chenin Blanc," which puzzled the local growers since it was not considered a top grape varietal. But to their credit, they started planting it and found that the resulting grapes and wine were of unusual quality.
Click Here to buy the 2019 'Concrete Cuvée', Chenin Blanc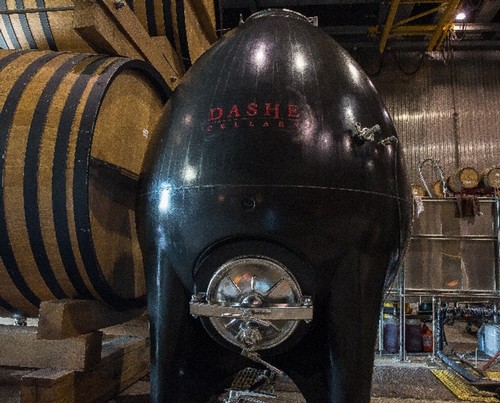 We Start Making Chenin Blanc: Black BART arrives
Dashe Cellars made its first artisan wine Chenin Blanc under our Les Enfants Terribles label from the Heringer Ranch in 2016. It was a hasty decision (we had just found the vineyard just before harvest) and came with another hasty decision: I wanted to make Chenin Blanc in a concrete egg. I had talked with other producers of Chenin Blanc, both in the US and in Europe, and there seemed to be a consensus that the complexity, texture, and aromatics of Chenin Blanc were all greatly highlighted when fermented as a natural wine, in concrete. We paid a ridiculous sum to purchase the perfect concrete egg (the price of impulsive buying), and the only one available so close to harvest was jet-black. They threw in a bright red DASHE logo for free, to make us feel better. We nicknamed it "Black Bart," although really it looked more like Humpty Dumpty.
From the start, we wanted to make a "Loire-style" Chenin, whatever that meant. The goal was to have something with great texture, good acidity, lovely minerality, and a long finish.
We found that fermenting Chenin as an artisan wine in concrete and in stainless steel fermenters made a HUGE difference in the resulting wine. The same juice went into the fermenters, but the resulting wines may well have come from completely different places. The concrete fermented wine was quite different in texture (round, velvety, mouth-filling) and had toasty elements to the flavors, almost like champagne. We presumed that the egg-shape promoted lots of yeast contact during fermentation and aging, which (like Champagne) resulted in the characteristic toasty, fresh-bread aromas.
In contrast, the stainless-steel fermented wine had much more structure, almost steely, and was fruit forward. Together, the two lots made for an extremely vibrant, complex wine. We loved it.
In the end, we blended the two together to highlight the best parts of both fermentation styles and released it to customers who were delighted to have another white wine available from Dashe.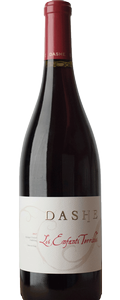 Cabernet Franc Rounded Out the Loire Valley Connection
We enjoyed the Chenin Blanc from Heringer vineyard so much that when we found out that they had a few rows of Cabernet Franc on their home ranch, we had to see if we could make a lighter-bodied Cabernet Franc—something in the style of a Chinon or a Bourgueil from the Loire.
When we first made the wine from these grapes, we simply couldn't get our heads around it. It showed flavors of cassis and black cherry, which was lovely, but also had an edge of green olive and herbs, that simply was confusing to us when the wine was young.
We decided to put the wine into some nice French oak and waited until the next year or so to see how the wine would evolve.
Some time went by until, one day, Rene Calderon was racking the wine from barrel to barrel and we suddenly remembered that the wine was languishing in barrel without us tasting it for quite a while.
With no expectations, we tried the wine and looked dumbfounded at one another. In the past year, it had changed from a gangly child to a full-blown mature wine. Simply put, it was gorgeous and had nothing in common with the wine that we had tasted when it was in its youth.
This wine was filled with aromas of blueberries, and cherry, and spice. Just lovely. Anne remarked that it reminded her of some of the delicious and structured Chinon wines that were made from Cabernet Franc, which her family loved drinking when she was growing up.
We had gone from wondering if this was just a wasted experiment to asking ourselves how fast we could get it into bottle so that we could share it with our Dashe fans.
Click Here to buy the 2017 'les enfants terribles' Cabernet Franc
Here at Dashe Cellars, we have always been known for our Zinfandels, especially wines that reflect the combination of New-World fruit and Old-World balanced style. We're proud of being standard-bearers for that style of Zinfandel.
But every once in a while, it's great to get back to our roots and make wines that we fondly remember from when we first met. The wines of the Loire are never far from our hearts, and these versions of Chenin Blanc and Cabernet Franc are some of our favorite wines in the Dashe Cellars lineup of wines. They are often our go-to wines when we come, tired from work, to pop open a cork and relax, sipping, at the end of the day.

Well, we certainly have quite a bit to talk about these days, eh? As I write this, there are lightning-sparked fires, viruses, political campaigns, economic upheavals. What's next, locusts?

One thing is for sure: we have learned to appreciate our friends and family more than ever. Our extended Dashe Cellars family has been an absolute source of joy to us these past months, keeping us busy during some dark times and filling up our new "City View Patio" at the winery every Saturday. Every day has been sold out since we opened again. Thank you!

For those of you who haven't seen our patio, complete with 18 new "wine cabanas" for eating and drinking, we highly recommend it. Looks a bit like a cross between an art installation and a collection of tiny Stonehenge structures, with a killer view of the San Francisco skyline. (Except you can't order wine in most art installations and can't have food trucks like "Bacon Bacon" or Gerard's Paella in them, either).

We're weathering the storm as well as can be expected. Since we typically sell a LOT of wine to restaurants, we are suffering along with our restaurant friends. But our direct sales have definitely taken off, spurred on by "shelter-in-place" workers and our valiant Wine Club members who have stepped up to the plate and purchased wines to keep us afloat and their dinner tables full of delicious wines. Anne and I have been hand-delivering to the Bay Area, and have loved exploring all of these neighborhoods we would never have seen before. The East Bay is remarkably beautiful and diverse; we have been AMAZED at the beauty in the hills of Oakland and Berkeley.

And even though I can barely believe that I'm writing this, harvest is starting. (Sounds very "Game of Thrones" when I write it down, but it's true.) Grapes are ripening fast, despite fires, pandemics, and elections. They wait for no one. So, here we go. Grape picking and crushing with masks; winemaking with threats of power outages; lots of cold beer to cool off the hot winemaking staff. Takes a lot of beer to make good wine. Ask any winemaker.
- Michael Dashe

Baking Bread, Making Wine, and Pairing Cheese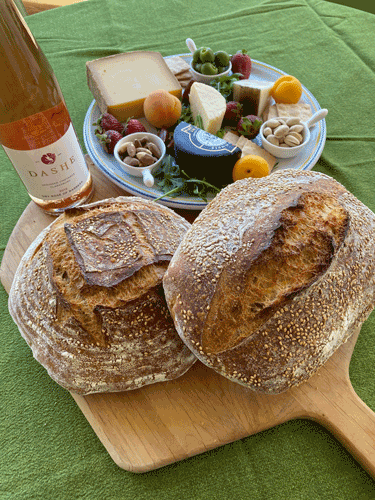 When my kids were unceremoniously kicked out of university and the entire family was bunkered at home, I decided it was time to step up as a fermentation scientist and get to work: fermenting sourdough starter; figuring out the best wines to match with fresh-baked levain bread; and pairing it all with the perfect cheese (a necessity with a French wife and kids).
After all, the best way to keep everyone happy when in close quarters is to keep everyone well-fed and focused on a task that would take everyone's talents to succeed. My wife is also a winemaker and a hell of a baker, so she would be natural help (although half the time she acted more like a Greek chorus than a French baker). My daughters were brought up as both French and American, so I figured that they would throw themselves into the project simply because they love good food. Not insignificantly, I also figured that baking my own levain bread was going to save me a bundle of money. A good loaf of bread in San Francisco costs a small fortune, so baking my own bread for $0.50 of per loaf was going to be a perfect way to economize while simultaneously creating something we all could enjoy.
The First Step: Natural Yeast or Not?
The winemaking was already taken care of, and the cheese selection would be the last step, so baking the bread was by far the most time-consuming part of the process. It took only a few minutes to decide to make bread with natural yeast starter rather than buying commercial dried active yeast. As someone who has lived in San Francisco since the early '80s, I already had an affinity for sourdough bread as a daily staple. Having a warm loaf of sourdough, and then matching it with a freshly steamed-and-cracked crab (with melted butter) and a salad is just about as perfect a meal as there is in my book. There are dozens of great bakeries in the Bay Area that supply bread to the local stores, so our family had already zeroed in on levain—a bread made with wild yeast—as one of our favorite styles of bread.
The first issue was that I hadn't ever made sourdough bread, much less created a wild sourdough starter. But as a winemaker, I felt that fermentation was going to be the least of my problems, because if anyone could detect a fermentation going wrong, it was going to be me.
Full-disclosure, I cheated at the start, because rather than create my own starter from scratch I decided to get a bit of actively fermenting sourdough starter from friends. It's a time-honored way to get one's starter, and it has the advantage that you know from the start what kind of bread the starter can produce. One call to a couple that I knew made great bread, and they were happy to give me a half-cup of starter.
Start with a Good Starter
If there's anything I learned during this whole process that I could offer as a tip is: get a good, strong, actively fermenting starter. A good starter is the heart and soul of a good levain bread, and it is the one ingredient that requires a bit of work and understanding. For one thing, it is messy. And sticky. And it smells…yeasty. The aroma is not bad at all—in fact, it smells a bit like a very toasty champagne if the champagne was left out overnight—but it is not everyone's cup of tea. But even if you find the tangy aromas of your starter off-putting, it only requires that you fold it into your dough, because the eventual bread itself has only a slight hint, a whiff, of the tanginess of the starter.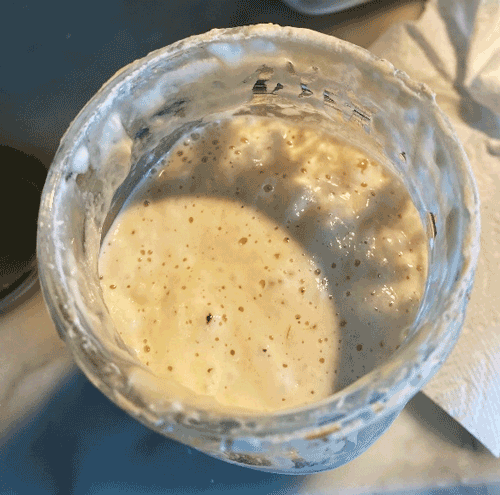 Just a word to the wise: if you need to get a starter and you live in an urban environment, like San Francisco, there are many bakeries out there that will just give you starter if you simply ask them. It is not as if you need a lot of starter, because you only need a half cup or less of starter to commence.
Once you have located a source of starter, the fun has just begun. Once you've obtained the starter, you must cultivate it and coax it to be the best starter that it can be. And there is only one way to do that—by feeding it, like it is a living being. Regularly. Every morning and every night. It's like a pet that doesn't have the decency to respond to you. Feeding it is not so hard (it is actually just a few spoonfuls of flour and a bit of water), but it's got to be done regularly if your starter is going to be active and create a semi-decent loaf of bread. You wake up in the morning, say hello to your starter, dump most of it out, and then give the remaining half cup or so some flour and water. By the afternoon, it has doubled or tripled in size (like a man-eating plant in Little Shop of Horrors) and is ready to be used.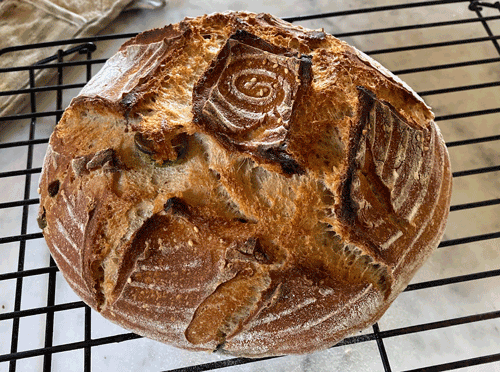 The Zen of Baking: If You Aren't Patient, You're Screwed
As a winemaker nothing gets me as worked up as a good fermentation, and although wine still captures the prize for heart-racing full-tank fermentation, a good sourdough starter and bread-making marathon comes in a close second. To start out making bread for the first time, I heartily recommend the YouTube video "15 Mistakes most Beginner Sourdough Bakers Make" from ProHomeCooks—I followed the instructions to the letter and came out with a more than decent result.
I must confess, it takes patience to make levain. Realistically, it's a day and a half process. I've now made bread five or six times, and the only time that the results were less than ideal (i.e. the shape and density of a Frisbee) was when I tried to shorten the process by not giving it the necessary time to rise.
So, take a breath and prepare to make yourself useful while you wait. I won't go into every step of making the bread (that's what YouTube videos are for!), but I will let you know a couple of things that I learned in the process.
First of all, make sure that your starter is as active as possible, and has risen three-fold or more at the time you use it. It should have lots of bubbles on the surface and smell tangy.
Second, don't get impatient during the bulk rise step, when you are waiting for your dough to rise before putting it into its final shape. I made the mistake of trying to shorten this step, assuming that the bread would rise as much as it needed during it's second rise (the "proofing"), but sadly, it didn't.
Last, make sure you have a decent Dutch Oven (Le Crueset is the best) to bake your bread. It creates a little steam oven to bake the bread and creates a great crust.
As extra credit, it helps to get a spiral basket—called a "banneton"—for the final proofing of the dough. It creates the spiral effect that gives the bread a professional look.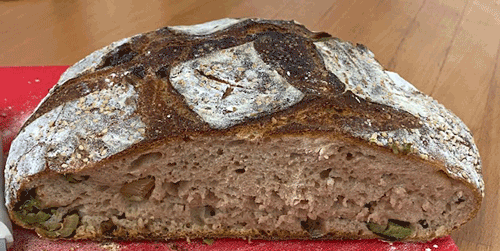 You've Baked your Bread, Now Select the Wine
There's nothing quite as gratifying as slicing into one of your loaves—your creation—and seeing a bread that rivals the best you've bought in a bakery. It has a great crust, and the crumb of the bread (the interior structure) is light and airy.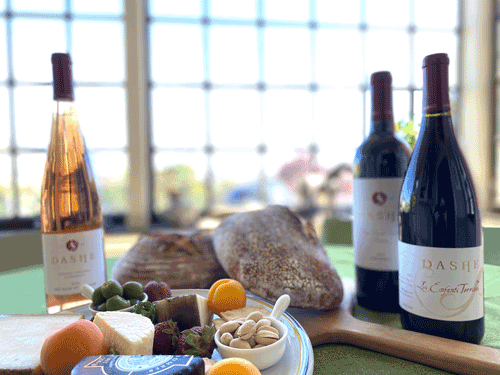 Now, the question is: what wine to pair with the bread? It's been hot lately, so I'm always partial to rosé this time of year. Personally, I think that rosé goes with almost anything when it's hot outside, and it goes so well with salad, cheese, and bread that it's a natural choice.
Click Here for our 2019 Rosé of Barbera, Heringer Vineyard
One of the best aspects of a levain bread is that the subtle nuttiness and tanginess of the bread goes perfectly with a range of wines, especially when you put cheese selections into the mix. In the summertime, I prefer light reds, so Cabernet Franc, Grenache, or Gamays all do well. As a winemaker that specializes in Zinfandels, I would be remiss if I didn't suggest a lighter Zinfandel style such as our Les Enfants Terribles Mendocino Cuvee, our biodynamic Heart Arrow Ranch Zinfandel, or our Dry Creek Reserve Zinfandel.
Click Here for our lighter reds, the 'les enfants terribles' Cabernet Franc, Grenache, Mendocino Cuvée, and Heart Arrow Ranch Zin
Click Here for our 2017 Zinfandel Reserve, Dry Creek Valley
Don't Forget the Cheese!
My wife and kids provided much of the enthusiasm for creating the bread, trying to keep things into perspective when I was certain that the bread wasn't rising correctly, etc. They also were the first people in line to slice a piece of warm bread (please, let it rest an hour out of the oven before cutting, so that the texture of the bread isn't moist and gummy) when the bread comes out of the oven.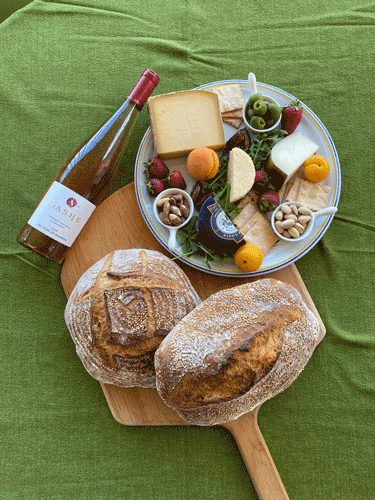 Any French family loves to eat their bread with fresh butter—and definitely salted butter if you're from Brittany, and salted butter with crystals that crunch if you're actually IN Brittany). Cut some slices of a nice Comté or Gruyere cheese, or maybe a sheep cheese such as Petite Basque or a Spanish Manchego to go with it, and now you're talking some serious hedonistic pleasure. We even used a fine English white cheddar and some fruit, to pull everything together.
Combine that with a view of the San Francisco skyline, and the current problems seem much more manageable.