The Dish @ Dashe
Fish Tales and Monkey Business from the Team at Dashe Cellars

Mike Dashe Co-founder & Director of Winemaking

Anne Dashe Co-founder

Rene Calderon Winemaker

Monica Chappell Wine Club Manager


Let's Talk Thanksgiving!
Wine adds a perfect festive touch to holiday meals, but selecting what to drink on Thanksgiving can be daunting. So how do you choose the right wine for the big dinner? Here's an easy answer: No single wine will work perfectly with your meal so serve a few. Matching wine with roast turkey is pretty easy, but the side dishes are another story. These dishes usually range from sweet to savory. Think about what is usually served in addition to the turkey; the meal might include sweet potatoes, tart cranberries, buttery carrots, earthy mushroom stuffing, and more. These dishes all have different tastes that make selecting one wine difficult. So, what to do? Try at least two, preferably a red and a white.

Dashe Single-Vineyard Dry Riesling McFadden Farm
-Riesling has a perfect balance of fruit and acidity that will complement sweeter Thanksgiving foods.
Click Here for 2019 Dry Riesling, McFadden Farm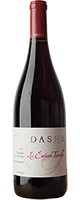 Dashe Les Enfants Terribles Grenache
- Grenache is my first choice for a red wine on Thanksgiving. With most Grenache, fruit is the dominant flavor with just enough acid and tannin to give the wine a nice balance.
Click Here for 2017 Grenache, Clarksburg 'Les Enfants Terribles'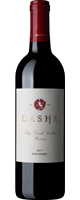 Dashe Zinfandel Reserve, Dry Creek Valley
- Being a Zin-centric Winery, how could we not recommend Zinfandel. Thanksgiving being the All-American holiday, why not go with the All-American grape. Zin can be made into wines of varying style, but for this meal, I would suggest going with a fruitier style of Zinfandel. Stay away from the high-alcohol versions. Our Reserve, Dry Creek Valley would be my top choice.
Click Here for 2017 Zinfandel Reserve, Dry Creek Valley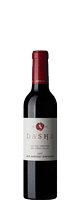 Late-Harvest Zinfandel, Lily Hill Vineyard
-Elevate your dessert game with our Single-Vineyard Late-Harvest Zinfandel. This wine is moderately sweet, with great brambly raspberry, blackberry, and vanilla notes with its sweetness softening the tannins.
Click Here for 2017 Late Harvest Zinfandel, Lily Hill Vineyard

THANKSGIVING TURKEY
INGREDIENTS:
• 1 (12-14 pound) fresh whole turkey
• 1/2 cup unsalted butter, at room temperature
• 2 tablespoons freshly squeezed lemon juice
• 2 tablespoons fresh thyme leaves
• 2 tablespoons fresh rosemary leaves
• 1 tablespoon lemon zest
• 2 cloves garlic, minced
• 3 carrots, peeled
• 3 stalks celery
• 1 sweet onion, cut into wedges
• 1/2 cup Dashe Single-Vineyard Riesling
• 1 1/2 cups turkey or chicken stock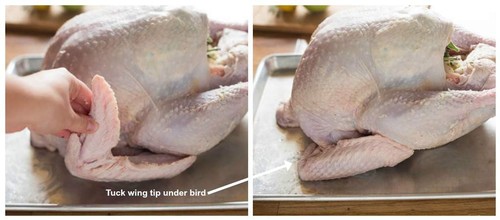 DIRECTIONS:
1. Preheat oven to 400 degrees F.
2. Remove giblets from the turkey cavity. Dry turkey thoroughly with paper towels. Season turkey cavity with salt and pepper, to taste.
3. In a small bowl, combine butter, lemon juice, thyme, rosemary, lemon zest and garlic; season with 1 1/2 teaspoons salt and 1 1/2 teaspoons pepper, or more, to taste.
4. Using your fingers, carefully loosen the skin from the breast meat, spreading half of the butter mixture under the skin. Secure skin over the butter with wooden picks.
5. Place carrots, celery and onion in a shallow roasting pan. Place turkey, breast side up, on top of the vegetables; tie drumsticks together with kitchen twine, tucking the wingtips under.
6. Spread remaining half of the butter mixture over the turkey; season with salt and pepper, to taste. Add the Dashe Single-Vineyard Riesling and chicken stock to the roasting pan.
7. Place into oven and roast for 30 minutes.
8. Reduce oven temperature to 325 degrees F. Continue roasting until the turkey is completely cooked through, reaching an internal temperature of 165 degrees F in the thickest part of the thigh, about 2 hours to 2 hours and 30 minutes more; baste every 30 minutes with pan drippings. When turkey begins to brown, cover lightly with aluminum foil.
9. Let stand 20 minutes before carving; reserve pan dripping for gravy.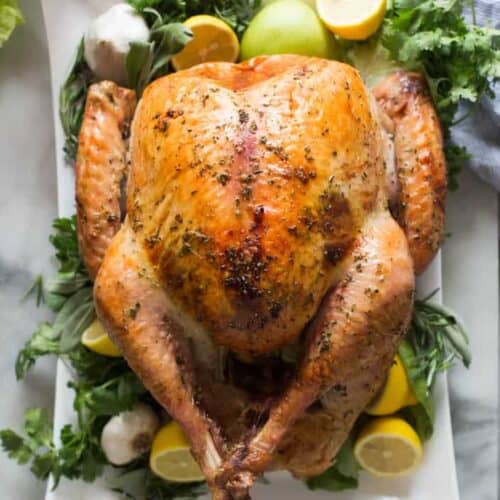 SAVE ROOM FOR DESSERT
You could end Thanksgiving with apple pie and coffee. You could also go to bed early on Thursday night; But, HELLO, it's Thanksgiving. This is no time for underachievement. With Thanksgiving's top pie, I suggest you take the humble apple pie to a whole new level. In fact, I've watched it happen many times. The right wine can elevate the flavor of a dish; 1 + 1 = 3, so to speak, with my kind of wine math.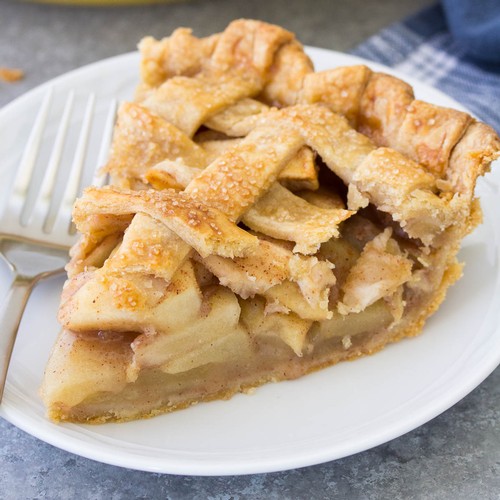 Rule of thumb for pairing wine with dessert - The wine should be at least as sweet as the dessert, with enough acidity for balance. Our single-vineyard late-harvest is made from grapes left on the vine past normal picking times to build sugar levels and develop tastes like dried cherries and chocolate. Try the single-vineyard late-harvest Zinfandel with Thanksgiving Apple Pie, Cheesecake with raspberries or jam, fruit tarts, or carrot cake; late-harvest Zin is always yummy with chocolate too.
There you have it, a few wine options to help you enjoy your Thanksgiving with a bang, not a whisper.
The Complete Feast
From Start to Finish, the Perfect Hostess Gift!
2019 Single-Vineyard Dry Riesling, McFadden Farm
2017 Zinfandel Reserve, Dry Creek Valley
2017 Single-Vineyard Late Harvest Zinfandel, Lily Hill Vineyard
Click Here for more on The Complete Feast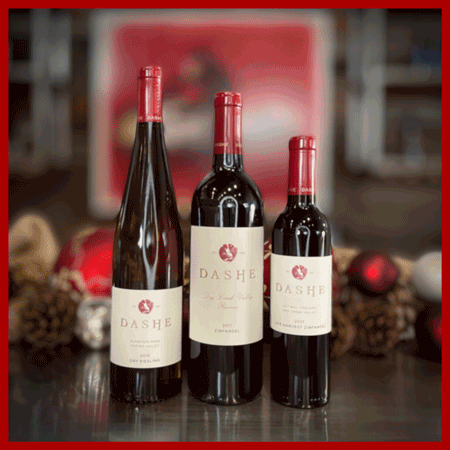 Single-Vineyard Heart Arrow Cabernet Pairing

A Chicken Marsala Recipe from the Master
Home cooks like me have used Marcella Hazan's classic cookbooks for years (my copies are splattered and worn.) In my opinion, there is no one more passionate and inspiring about cooking authentic Italian food. Marcella Hazan, the godmother of Italian cooking in America, is the author of The Classic Italian Cookbook, More Classic Italian Cooking, Marcella's Italian kitchen, and Essentials of Italian Cooking. I have them all in my kitchen library.
For this recipe, there are two special ingredients creating magic: the dried porcini mushrooms, and the Marsala wine. The dried porcini is an aromatic essence of porcini mushrooms. The difference between fresh and dried porcini can be compared to the difference between a bouquet of fresh flowers and the aromas in a bottle of perfume. As for the Marsala, it is a fortified wine from the town of Marsala in western Sicily. For cooking purposes, look for the word secco, which means dry, although it is still slightly sweet.
We have chosen this Chicken Marsala recipe as an unusual pairing to go with our single-vineyard Cabernet Sauvignon. Typically, chicken recipes are too light to pair well with Cabernet, but in this case the earthy porcini mushrooms and the complex flavors of the Marsala meld perfectly with the richness of the single-vineyard Heart Arrow Cabernet Sauvignon.
This Recipe Feeds 4 People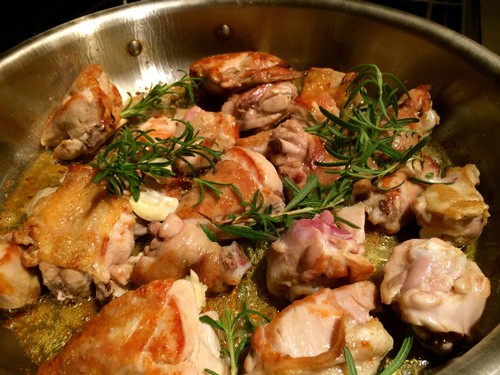 INGREDIENTS
• 1 ounce imported dried porcini mushrooms
• A 3½-pound chicken, cut into 8 pieces
• Flour for coating the chicken, about ½ cup
• 2 tablespoons vegetable oil
• 1 tablespoon butter
• Salt & Black pepper ground fresh
• 3 tablespoons chopped onion
• ⅓ cup dry Marsala wine
NOTE: You could also use bonless skinless chicken breasts pounded into paillards instead of the chicken pieces.
METHOD
1. Soak the mushrooms in 2 cups warm water for at least 30 minutes. Lift out the mushrooms by hand, squeezing as much water as possible from them, letting it flow back into the container where they soaked. Pat dry with paper towels and chop them very fine. The water in which the mushrooms soaked is richly infused with porcini flavor. Filter the water through a strainer lined with cheese cloth, collecting it in a bowl or a pouring cup. Set aside.
2. Pat the chicken as dry as you can with paper towels. Spread the flour on a plate and turn the chicken in it.
3. Choose a skillet or sauté pan that can accommodate all the chicken pieces in a single layer without overlapping, put in the oil and butter, and turn on the heat to medium high. When the butter foam begins to subside, slip in the chicken. When all the pieces have become well browned on one side, add salt, black pepper, and the chopped onion, and turn the pieces over.
4. When the chicken has become browned all over and the onion has become colored a rich gold, add the Marsala wine. Let it bubble briskly for just a few seconds, add the chopped porcini mushrooms, turn the ingredients over with a wooden spoon, then cover the pan and turn the heat down to medium low.
5. Cook the chicken at a slow but regular simmer, replenishing the cooking juices when they begin to dry out with 2 or 3 tablespoons of the filtered water from the mushroom soak. Turn the chicken pieces over every once in a while and continue cooking until they feel very tender when prodded with a fork and the meat looks as though it would easily fall off the bone, about 50 minutes to 1 hour. The cooking juices should have condensed into a small amount of creamy sauce. If there is too much fat floating free, tip the pan and spoon it off. Transfer the entire contents of the pan to a warm platter and serve at once.
Single-Vineyard Heart Arrow Cabernet Pairing

WINE PAIRING:
The Marsala intensifies and develops a deep, concentrated flavor as it reduces. This sauce captures this quality along with the earthy flavors of the porcini mushrooms. The result is an intense, full-flavored dish that marries well to the ripe fruit of the single-vineyard Cabernet. This pairing is a good example of finding parallel intensity both in the dish and the wine.
Single-Vineyard Heart Arrow Cabernet Sauvignon Tasting Notes:
Color: Purple Black
Aromas: Black cherry, blackberry, cassis, graphite, violets, black pepper, minerals
Taste: Almost Bordeaux-like in structure, with good acidity, velvety mid palate, and a spectrum of complex fruit flavors. Entry of blackberry, cassis, black cherry, violets, and then broader flavors of pencil lead, forest floor, black cherry. Finish of blackberry, black cherry, mineral, and black pepper.
This recipe was taken from Marcella Hazan's cookbook Marcella Cucina published in 1997.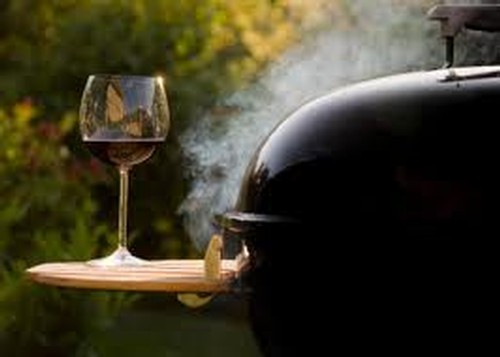 With summer in full swing, it's easy to find yourself pouring wine that is either too cold or too warm.
Just as the right glass will enhance your wine experience, serving artisanal wine at the ideal temperature is equally as important.
When it comes to knowing what temperature to serve a wine, you can follow this easy-to-remember tip: twenty minutes before serving, take the white wine out of the fridge, and put the red wine in. This rule is intended to fix the two most common mistakes in wine service—serving white wines too cold and red wines too warm.
Now, this is not something to lose sleep over, but the fact is that properly chilled artisanal wines do taste noticeably better.
Serving wine at its proper temperature enables you to taste wine at its full potential. Most of the enjoyment that comes from drinking artisanal wine involves its aroma. Taste only has four aspects: sweet, sour, salty, and acid. The nose does the rest. Vapors are created as artisanal wine warms up, so the wine needs to be a few degrees below its ideal drinking temperature for you to enjoy it at its finest. To be confident the wine you serve will be on its best behavior know the whole story.
Red Red Wine
If you've heard the old adage that red wines need to be served at "room temperature" don't forget that "room temperature" can be considerably higher in the summer. In fact, the adage that red wine should be served at room temperature was coined when people were storing and serving wine from their cellars, where wine was kept quite cool. Most artisanal red wines are at their best at cool room temperature, 62 to 65 degrees Fahrenheit. Light reds benefit from being served slightly cooler than full bodied reds. Keep reds too warm and they will taste alcoholic and even vinegary. Too cold and they will have an overly tannic bite and much less flavor.

Created in a lighter style and perfect for a slight chill, our 2018 Heart Arrow Ranch Zinfandel comes from an amazing biodynamic farm in Mendocino County. Biodynamic farming techniques, together with our old-world winemaking, create a broad range of aromas, flavors, and structure akin to a wine from Burgundy or Beaujolais. We ferment with native yeasts and age in a 900 gallon French oak barrel, resulting in a soft and elegant "Old-World" style wine.
Refreshing Whites
Just as many reds are served too warm, most white wines are served too cold. Artisanal white wines are best between 55 and 62 degrees. Chilling white wines properly preserve their freshness but too cold and they will be nearly tasteless. White wines served too warm will taste alcoholic and flabby.

Our 2019 Chenin Blanc "Concrete Cuvée," Clarksburg was inspired by the Loire Valley wines the Dashe family enjoys every summer in France! Fermented in a large concrete egg, which suspends the lees for toasty overtones and preserves the wines delicate freshness and aromatics, this Chenin blanc is one of our most vivacious, textured, and seductive wines.
Bubbling Beauties
Sparkling wines should start out totally chilled and are best served between 40-45 degrees. Put them in the refrigerator an hour and half before serving or in an ice bucket with water for at least 20 minutes before serving. Artisanal sparkling wine will not stay at a constant temperature once it is out of the fridge so keep an ice bucket handy or put the bottle back in the refrigerator between pours.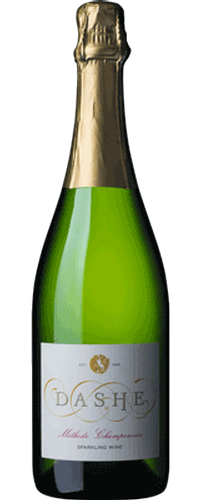 The vintage of 2016 marked the 20th anniversary of the founding of Dashe Cellars, and we felt that a sparkling wine was a perfect way to celebrate this occasion. We have long admired the beautiful sparkling wines made in the Loire Valley from the Chenin Blanc grape, and for this initial wine we used 100% Chenin Blanc from the Heringer Vineyard in Clarksburg, California.
You need not become a maniac with a thermometer to keep artisanal wine the right temperature range; a little experience and a little tasting, and the wine itself will tell you everything you need to know. So, chill this summer with a perfectly chilled glass of wine.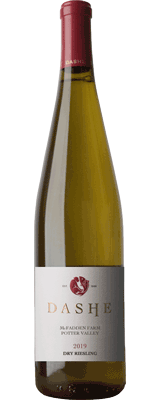 We have more than a casual interest in Riesling, since we make a single vineyard wine from a wonderful old-vine Riesling vineyard in Potter Valley.
In case you didn't know, March 13th has been officially designated as Riesling's Birthday; Happy 586th Birthday, Riesling, you don't look a day older than 400. The reason for that date is that the earliest recording of Riesling dates to March 13, 1435 in Germany, when the first Riesling single-vineyard wines were officially recorded.
For me, Riesling is the wine world's best-kept secret. Few great grapes are so affordable, grown worldwide and liked by so many. Its hallmarks are floral aromas, spice, citrus, and stone fruit flavors, and my favorite component, high natural acidity. For this reason, Riesling is a wine that can age incredibly well. It's got it all!
What to Love about Riesling
First of all, it's incredibly versatile: It can be lightweight and super-delicate, range from dry to sweet, and can be made in both still and sparkling styles. So, basically, there is a Riesling out there for every palate. Riesling produces one of the most popular white wines in the world and is beloved by everyday wine drinkers and sommeliers alike. Not an easy feat!
Food-Pairing Affinity
Riesling has become a darling of sommeliers because of its incredible versatility for pairing with food. It's clean, fresh, mineral expression is fantastic with vegetable dishes or seafood, and the sweeter styles are famous for pairing with spicy food because sweetness helps balance out spice. Finally, rich, luscious styles are excellent with cheese, my favorite food group.
Unique expression of Terroir
Perhaps most appealing of all, is the fact that Riesling is an expressive single vineyard wine depending on where the grapes are grown. There can be a different dimension to each bottle not to mention you can keep in your cellar for years, and it will only get more interesting.
Dashe McFadden Farm Riesling
Click Here for 2019 Dry Riesling, McFadden Farm
Our 2019 Dashe Riesling is organically-grown and cultivated high in the mountains of Potter Valley on the east border of Mendocino county. Since we love dry Riesling, and especially single-vineyard wines, we made this wine bone dry with a beautiful characteristic fruit and mineral aroma, a firm structure, lush mid-palate, and a dry long fruity finish. With its lovely aromatics and mouthfeel, good acid/fruit balance, and complex minerality, this single-vineyard wine is ideal to drink right now and can also be saved for aging in the cellar. This vintage has powerful aromas, a mouth-filling velvety structure, and a depth of flavor that makes it one of the most age-worthy Rieslings we've ever produced.
Celebrating Riesling's birthday is easy; just crack open a bottle and enjoy. Why not join the fun and share your Riesling experiences on social media using the hashtag #RieslingBirthday.
I love serving this Frittata with Riesling. Riesling knows how to play nice with vegetable dishes so it's my go-to wine when veggies are the star of the dish.
Vegetable Frittata Ingredients
2 tablespoons Olive Oil
1 1/2 cups blanched Broccoli Rabe
4 ounces Pancetta
8 ounces Arugula
2 1/2 tablespoons chopped Italian Parsley
1 1/2 cups Italian Fontina cheese grated
8 eggs
1 1/2 cups half-and-half
4 tablespoons freshly grated Parmesan cheese
Directions
Preheat the oven to 375 degrees. Heat the oil in a large oven proof sauté pan. Add the Broccoli Rabe and sauté for 5 minutes. Add the Pancetta and sauté for 2 to 3 minutes. Add the Arugula and cook for another minutes until it is wilted. Off the heat, stir in the parsley and sprinkle the Fontina evenly on top.
Beat the eggs, half-and-half, pinch of salt, and pinch of pepper together with a fork. Pour the egg mixture evenly over the filling. Sprinkle the frittata with the Parmesan cheese and bake for 20 to 25 minutes, until puffed and lightly browned on top. Cool for 5 minutes, serve hot or warm with, you guessed it, a glass of Dashe Riesling. No Birthday candle required.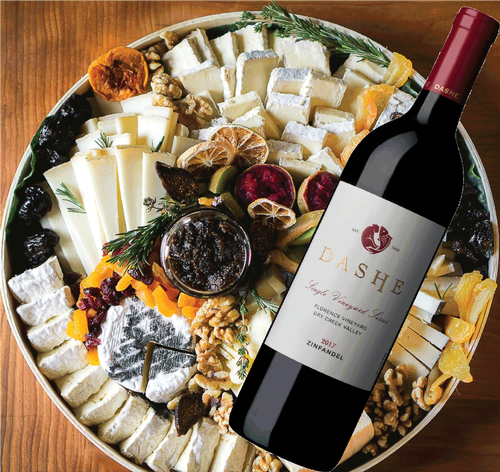 Perhaps one of my favorite things to pair with wine is the ever-changing cheese plate. Wine and cheese are friends from way back. Both are the product of fermentation and both can express terroir, or the taste of the place they come from. In the case of cheese, the taste of terroir emerges from the different milk-giving animals; which can range from cows, goats, sheep and even water buffalos which just happens to make my favorite cheese of all time – Mozzarella di Bufala.
This primer can serve as a perfect introduction to the basics and can offer many ways for you to expand your knowledge and understanding of artisan wine and cheese, delve into the art of pairing the two and help you discover a delicious new dimension to your wine-drinking pleasure. So Let's Go!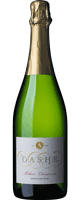 Wine & Cheese Pairing Tips:
The first rule of thumb is that white wines usually pair more easily with artisan cheese than red wines do – sorry red wine lovers. White wine's acidity cuts through cheese's butterfat beautifully. The creamy and nutty flavors in cheese can also bring a white wine to life by contrast. Along those lines, some consider Sparkling wine the overall cheese-friendliest wine. Among red wines, the most successful to pair with cheese are the lighter bottlings. Terroir-inspired combinations, artisan wine and cheese coming from the same region, can also be a great pairing strategy.
Pairings that Please:
White or bloomy rind cheeses such as Camembert and Brie are the trickiest to match; safe bets include one of Dashe's soft, fruity reds from the Les Enfants Terribles Series. My pairing shortlist would include either the Bio-Dynamically grown Heart Arrow Ranch Zinfandel or the 2017 Clarksburg Grenache that was recently featured in Wine & Food Magazine.
Click Here for 2017 Zinfandel, Heart Arrow Ranch
Click Here for 2017 Grenache, Heringer Vineyard
Hard cheeses such as Cheddar, Parmesan, and Manchego go with the widest range of wines; safe bets are medium to full-bodied reds without too much tannin. Insert an age-worthy artisan Zinfandel here – one of Dashe's Single Vineyard Zinfandel would be just the ticket. For me, I'd unapologetically sink my teeth into the Florence Vineyard Zinfandel along with a hunk of Parmigiano- Reggiano.
Click Here for 2017 Zinfandel, Florence Vineyard
Blue cheeses can be troublesome partners for any wine apart from the classic partnerships of port and Stilton. The salty with sweet principle prevails so why not try Dashe Late-Harvest Zinfandel from the Lily Hill Vineyard, Dry Creek Valley in Sonoma with your favorite blue veined cheese. My favorite blue is Point Reyes Original Blue also from Sonoma County – things that grow together go together.
Click Here for 2017 Late Harvest Zinfandel, Lily Hill Vineyard
Strong, pungent cheese offers no safe bets. Sweet or fortified wines are likely to pair well or try an aromatic white such as the classic combination of Munster from Alsace and Riesling. Dashe Dry Riesling from McFadden Farm has a depth of flavor that makes it one of the most age-worthy Rieslings our artisan winery has ever produced, and it's structured enough to stand up to strong cheeses.
Click Here for 2019 Dry Riesling, McFadden Farm
For Goat milk cheeses, Sparkling wine is a good match especially with young soft artisan cheeses; the more acid in the cheese the more acid the wine should have. Along with crisp acidity, sparkling wine possesses wonderful bubbles to cleanse the palate. The 2016 marked the 20th Anniversary of Dashe Cellars and to commemorate we released Dashe 2016 Méthode Champenoise Sparkling wine.
Click Here for 2016 Sparkling Wine, Methode Champenoise
Sheep milk cheese can handle a robust red made from Mourvedre, Carignane or Zinfandel. Hard to decide which direction to go in? Why not have it all with Dashe Ancient Vines Sonoma blend. Another option would be to go with one of two Dashe Single Vineyard Petite Sirah; Louvau or Todd Brothers Ranch, which is a wine club exclusive.
Click Here for 2017 'Ancient Vines', Sonoma County
Click Here for 2018 Petite Sirah, Louvau Vineyard
Click Here for 2018 Petite Sirah, Todd Brothers Ranch
Strategies for Harmony:
Cheese and wine is a classic pairing - like peanut butter and jelly or cookies and milk. Both are natural artisan products, created using a standard process but with a myriad of results. When planning a cheese platter, try upping the ante with roasted nuts, walnut bread and a selection of dried fruits to create a more wine-friendly match. When serving a selection of artisan cheeses, try to choose three or four which all pair well with a particular style of wine. Highly oaked and super-tannic wines can be difficult to pair with cheese so try avoiding these options.
Just say cheese please!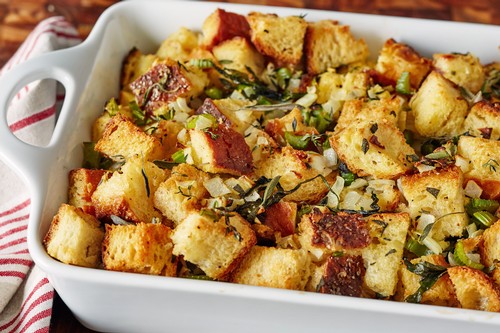 It's that time of year when we dive headfirst into all things Thanksgiving – bring it on! Last year I hosted 25 people at our Thanksgiving table. This isn't the year for relatives to travel, so with everyone celebrating the holidays with smaller groups and mostly immediate family this year, there will be smaller portions which means less leftovers! One thing that will not change is the effort put into the meal.
In my humble opinion, the ultimate Thanksgiving meal is about so much more than just the turkey and sides. If ever there were a wine lover's holiday, Thanksgiving would be it. And one of the pleasures of my Thanksgiving is that every family member has a role in the big meal. My role is a peach. I'm the wine gal. It's a fine job for a number of reasons with my favorite being the many tastings I conduct leading up to the final wine choice. It's a tough job, but someone has to do it. I usually receive family advice along the way; don't bring anything wildly expensive and don't bring anything too weird. To fit the bill, the wine needs to be a crowd-pleaser and match the weight of the menu. No problem. This year, with a cellar full of artisan wines from Dashe, I think I've got it covered.
I've got a few tips that I've learned over the years regarding planning the wine for this delicious yet tricky wine-pairing meal.
How Do You Choose the Right Wine?
Here's an easy answer: No single wine will work perfectly with your entire meal so serve a few. Regardless of which wine you choose the style to look for is medium-bodied, fruity, and without a lot of oak which might overpower the food.
How Much Wine Should You Buy?
A bottle is about five glasses, so I go with a bottle for every two people. If you are serving wine before dinner, add a glass more per person to the equation.
Which is it, Red or White?
Either! Hands down my most favorite part of Thanksgiving is the stuffing. No questions asked. Using the stuffing as a wine guide: if you serve a basic bread-and-celery version, try a white such as Dashe Les Enfants Terribles "Concrete Cuvée" Chenin Blanc or a dry Riesling such as Dashe McFadden Farm Potter Valley Riesling. Add hearty mushrooms or sausage to that basic stuffing recipe then one of Dashe's signature reds such as the bio-dynamically grown Heart Arrow Ranch Zinfandel would be the choice. But the best rule is to let guests drink what they like; be it red or white so plan to have both on hand.
Click Here for our 2019 Chenin Blanc, Concrete Cuvée
Click Here for our 2019 Dry Riesling, McFadden Farm
Click Here for our 2017 Zinfandel, Heart Arrow Ranch
With all that is going on in the world, Thanksgiving is a good time for us to count our blessings. Whether you are cooking at home for your family or taking advantage of the amazing take-out options available, I hope this special meal provides some comfort during these challenging times.
Happy Thanksgiving!
Family Stuffing Recipe
By Monica Chappell
As I said earlier, stuffing and I are BFF's. It is hands down my favorite part of the Thanksgiving meal and as a result, I'm sharing my family's super-savory recipe so look no further. Trust me, this stuffing with lots of gravy drizzled on top, Heaven! So, without further ado here it is.
INGREDIENTS
1 medium onion chopped
1 cup celery chopped
2 tablespoons extra-virgin olive oil
1 tablespoon unsalted butter plus 2 tablespoons cubed
1/4 cup dry white wine – something you would drink!
1 pound sweet Italian sausage meat removed from casing
1/4 cup chopped Italian parsley
1/2 pound day old Ciabatta bread cut into 1/2-inch cubes
Pinch red pepper flakes
2 eggs
1 cup chicken stock
1 cup freshly grated Parmesan cheese
PREPARATION
Preheat oven to 400 degrees F.
In a medium sauté pan add the onion, celery, 1 tablespoon oil and butter cook over a medium low heat for 10 minutes to soften. Add the wine and season with salt and pepper, simmer for about 5 minutes. Take off the heat and allow the mixture to cool.
In a large sauté pan over medium high heat, add 1 tablespoon olive oil and Italian sausage meat and break up with a wooden spoon and cook until browned and cooked through, approximately 8 to 10 minutes.
In a medium bowl toss together the celery and onion mixture, the chopped parsley, sausage, the Ciabatta bread and red pepper flakes. Combine all the ingredients.
Whisk the eggs and add to the chicken stock, and 3/4 cup of the Parmesan. Gently place into an 8 1/2 by 8 1/2- inch glass Pyrex baking dish and top with the remaining Parmesan. Dot with butter. Place in middle rack and bake until top is golden brown, 45 minutes to 1 hour.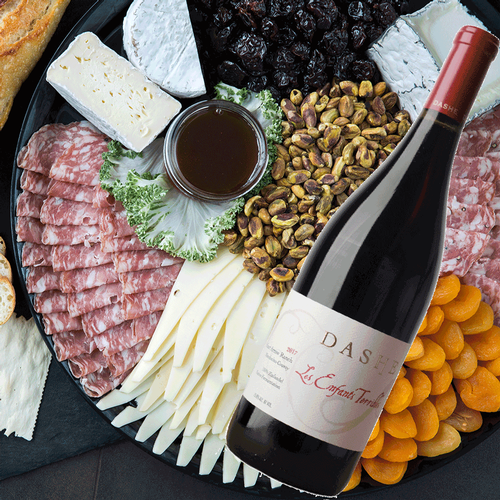 Photo cred:Market Hall Caterers
One of my favorite subjects to talk about is wine & food pairing. I love to try and demystify wine and food relationships one ingredient at a time and provide some pairing strategies. The simple formula – white wine with fish, red wine with meat – once dictated all wine and food pairings, but times have changed. Rules like this just don't fit the way we eat today.
For me, if a wine and food pairing work well together, it's usually due to one of the following principles:
The wine and food are in some way similar - which usually diminishes the taste impression of that similar component.
The wine and food contrast in some way - which usually leaves either the wine or the food as the dominant partner.
When pairing wine and food, several things can happen:
Sweetness in food can increase the perception of bitterness and astringency in wine
Saltiness in food can suppress bitter taste in some wines
Foods with high amounts of acidity can erase the perception of acidity and make the wine taste richer and mellower
The Golden Rule; you cannot beat bubbles:
When in doubt drink sparkling wine. The tingling acidity makes most sparklers a perfect match for a wide variety of food. Try our Dashe 2016 Sparkling Wine, Methode Champenoise with a few of these food-pairing options. It is always a fun surprise to see how a bit of bubbles livens up the dinner and dessert table.
Click Here for more info on our 2016 Sparkling Wine, Methode Champenoise
Fried food and bubbles are best friends from Fried Chicken to Fries
Buttered popcorn from Truffle to Parmesan dusted
Old-school works too like caviar, oysters or foie gras
So simple, but rarely gets better then smoked salmon or cured meats
Fruit based desserts are a natural with the bubbles
Summer Reading:
A great way to explore new wine and food pairing combinations is to treat yourself to a wine and food-pairing book. Some of my favorite reads include:
The Food & Wine Guide to Perfect Pairings by the Editors of Food & Wine
What to Drink with What You Eat by Andrew Dornenburg and Karen A. Page
Perfect Pairings by Evan Goldstein
Great Tastes Made Simple by Andrea Robinson
Well matched, even the simplest food and the humblest wine can create instant magic. Create your own magic this summer with these pairing tips and have fun popping many corks and research the perfect match.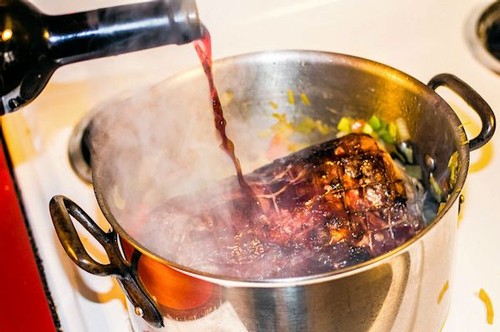 There's no better way to spend a SIP evening than creating a delicious dish while sipping a Dashe wine for inspiration. When the topic of food and wine pairing comes up, the usual flow of conversation revolves around what wine to drink WITH dinner. Yet sometimes the tougher decision is what wine to put IN dinner. That's because when listed as an ingredient, wine is often suggested in the most generic terms, and you're left to wonder - will any wine do? But there is more to cooking with wine than using up last night's leftovers. Take a look at my top 5 tips.
Leftover Wine
As a general rule, never cook with any wine you would not drink. The month old leftovers in the refrigerator won't do. Any off flavors in wine become more concentrated during cooking.
Cooking Wine
Avoid using these all together. They are made of a thin, cheap base wine to which salt and food coloring have been added.
White Wine
If the dish has bold or spicy flavors go for a more aromatic white such as our Dashe McFadden Farm Dry Riesling made from organically grown grapes from the Potter Valley. Our newly released 2019 vintage has a wonderful fruit/acid balance along with floral aromas that can counterbalance heavily spiced dishes.
Click Here for our 2019 Dry Riesling, McFadden Farm
Dry Red Wine
If a recipe calls for dry red wine, consider the heartiness of the dish. A long-simmered meat dish calls for a correspondingly hearty red like a Cab. A lighter dish might call for a less powerful red such as one of our lighter-styled 'les enfant terribles' Zin's.
Click Here for our 2016 Cabernet Sauvignon, Heart Arrow Ranch
Click Here for our line of 2017 'les enfant terribles' Wild Children
Sparkling Wine
When you cook sparkling wine, you eliminate its primary qualities, bubbles, and alcohol. However, a simple beurre blanc sauce can benefit from the two remaining qualities of a good sparkler: high acidity and yeast flavor.
Click Here for our 2016 Sparkling Wine, Methode Champenoise
Happy Cooking!