The Dish @ Dashe
Fish Tales and Monkey Business from the Team at Dashe Cellars

Mike Dashe Co-founder & Director of Winemaking

Anne Dashe Co-founder

Rene Calderon Winemaker

Stephanie Flasher DTC & Wine Club Manager

Monica Chappell Project Manager

Jiliane Patriarca Tasting Room Teammate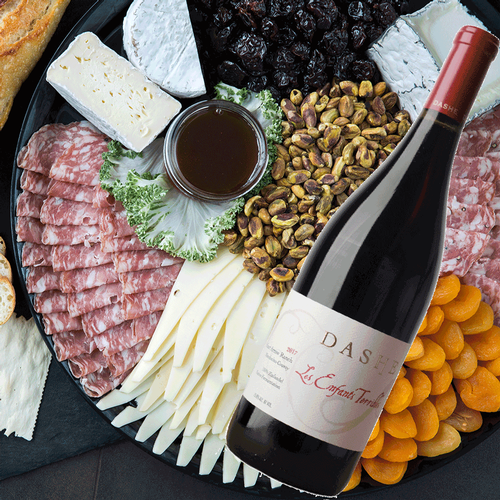 Photo cred:Market Hall Caterers
One of my favorite subjects to talk about is wine & food pairing. I love to try and demystify wine and food relationships one ingredient at a time and provide some pairing strategies. The simple formula – white wine with fish, red wine with meat – once dictated all wine and food pairings, but times have changed. Rules like this just don't fit the way we eat today.
For me, if a wine and food pairing work well together, it's usually due to one of the following principles:
The wine and food are in some way similar - which usually diminishes the taste impression of that similar component.
The wine and food contrast in some way - which usually leaves either the wine or the food as the dominant partner.
When pairing wine and food, several things can happen:
Sweetness in food can increase the perception of bitterness and astringency in wine
Saltiness in food can suppress bitter taste in some wines
Foods with high amounts of acidity can erase the perception of acidity and make the wine taste richer and mellower
The Golden Rule; you cannot beat bubbles:
When in doubt drink sparkling wine. The tingling acidity makes most sparklers a perfect match for a wide variety of food. Try our Dashe 2016 Sparkling Wine, Methode Champenoise with a few of these food-pairing options. It is always a fun surprise to see how a bit of bubbles livens up the dinner and dessert table.
Click Here for more info on our 2016 Sparkling Wine, Methode Champenoise
Fried food and bubbles are best friends from Fried Chicken to Fries
Buttered popcorn from Truffle to Parmesan dusted
Old-school works too like caviar, oysters or foie gras
So simple, but rarely gets better then smoked salmon or cured meats
Fruit based desserts are a natural with the bubbles
Summer Reading:
A great way to explore new wine and food pairing combinations is to treat yourself to a wine and food-pairing book. Some of my favorite reads include:
The Food & Wine Guide to Perfect Pairings by the Editors of Food & Wine
What to Drink with What You Eat by Andrew Dornenburg and Karen A. Page
Perfect Pairings by Evan Goldstein
Great Tastes Made Simple by Andrea Robinson
Well matched, even the simplest food and the humblest wine can create instant magic. Create your own magic this summer with these pairing tips and have fun popping many corks and research the perfect match.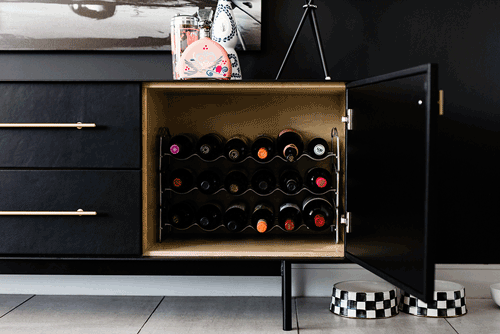 Whether you have 15 or 500 bottles, organizing your wine has a wide range of benefits. You can save precious time trying to find a bottle when you're hosting a party and your guests are ready for some more, or be able to find the optimal pair for your food easily because you know exactly what you have. When I'm not working in our Tasting Room, I have my own business as a Professional Organizer and I have helped quite a few wine-loving clients create systems for their collections. Here are some of my top tips and tricks.
Traditional ways to organize your wines:
By vintage a.k.a year the grapes were harvested, which helps if you are a fan of aging.
By varietal a.k.a grape type, like Chenin Blanc or Zinfandel.
By region a.k.a the location the grapes come from, like Napa or Bordeaux.
By producer a.k.a label or maker, like Dashe Cellars or Ridge Vineyards.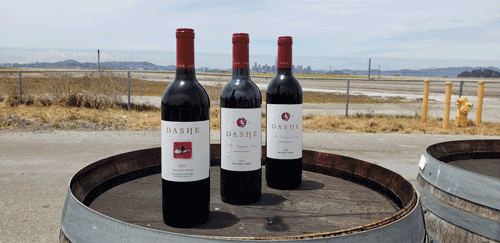 Another option is to organize your wines by your drinking style:
Foodie:
If you think about wine with food in mind, you can organize your wine in terms of bottles that are food friendly and those that are more for easy drinking regardless of food. You can further break down the food friendly section by body, which can help you choose a pair depending on your meal's protein or cuisine type.
Collector:
If you are someone who has the patience to age wine or someone who fancies vertical wine tastings (tasting the same wine but different vintages side-by-side), you can separate your wines by bottles that are ready to drink now and bottles that you are laying down with the intent to enjoy them in the future.
Social:
If you love to be the host with the most, you can organize your wine by party size or type. You may have a section of more inexpensive wines for the larger, party vibe and a section of wines more suited to the more intimate gathering atmosphere.
Or, you can keep it super simple with three sections:
Dive on in:
Bottles you can grab whenever for whatever. You or your guests can go to town in this section and find whatever floats your boat.
Do think twice:
A little more thought goes into this middle section which might include wines that were gifts or are geared more towards food pairing.
Don't touch:
Bottles with very special meaning or very special price points that you are saving for very specific reasons or occasions.
Take it a step further by...
Using a metallic sharpie or paint pen to write the drink by date or the memory of where you got the wine on the back or bottom of the bottle
Labeling the rows or sections in your collection. This is a great way to avoid potential arguments (and possible tears) over the accidental opening of a special wine.
Make sure your collection is earthquake safe! Keep the more expensive bottles at the bottom so they are less likely to fall over.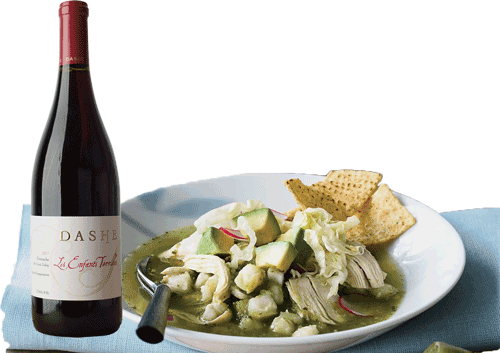 We have quite the collection of gourmands here at Dashe Cellars. Monica, with her Italian heritage, can throw a pasta feed for 60 at the drop of a hat. Mike will spend the day making the perfect Bolognese for his homemade lasagna (don't tell my mom, but it's the absolutely best that I've ever tasted). And if you haven't tasted Anne's baking then you haven't lived, seriously I'm always impressed when we have a team lunch and Anne shows up first-thing in the morning with an amazing dessert fresh from the oven.
Food-Pairing Reds
So, when we decided to host a lunch for Anne for her birthday, I knew that I had to not only find a recipe that would impress, but I needed to find the perfect wine to match. Lucky for me, our 'les enfants terribles' wines are the perfect wines for pairing with lighter-bodied dishes like this Chicken Pozole that I found on Food & Wine's website. These wines tend to be lighter and more ethereal in style than our more structured single-vineyard wines. This is because of a style of fermentation known as Carbonic Maceration in which the grapes are fermented intact rather than being pressed when they come in from the vineyard. We age them for a short amount of time in large 120- or 900-gallon oak casks which keep the fruit fresh and without too much oak influence.
2017 'les enfants terribles' Grenache
A beautiful wine that offers bright, lively fruit with a great structure and balance. This Grenache is made in almost a Grand Cru Beaujolais style that offers a velvety texture with aromas of wild strawberry and flavors of strawberries and raspberries and a finish of minerals and peppery spice.
Color: Pale Red
Aromas: Wild strawberry, pomegranate, spice, minerals
Taste: Beautiful velvety texture. Entry of intense strawberry, raspberry, and pomegranate fruit. Beautiful floral elements of lavender and violets, long, sweet finish of red fruit, minerals and peppery spice.
Click Here to buy the 2017 Grenache
Mexican Chicken Verde
By Anya Von Bremzen Food & Wine Issue May 2008
Makes 6-8 servings
There are many variations on pozole, a traditional hominy-based Mexican stew closely associated with the Pacific-coast state of Guerrero. Anya von Bremzen's version, a green pozole, derives much of its flavor from tangy ingredients like tomatillos, cilantro and green chiles.
Ingredients
7 cups chicken stock or low-sodium broth
2 cups water
4 chicken breast halves on the bone, with skin
1 pound tomatillos, husked and halved
1 small onion, quartered
2 poblano chiles—cored, seeded and quartered
2 jalapeños, seeded and quartered
4 large garlic cloves, smashed
1/2 cup chopped cilantro
1 tablespoon oregano leaves
Salt and freshly ground black pepper
1 tablespoon vegetable oil
Three 15-ounce cans of hominy, drained
Finely shredded iceberg lettuce, sliced radishes, chopped onion, diced avocado, sour cream, tortilla chips and lime wedges, for serving
How to Make It
Step 1
In a large, enameled cast-iron casserole, bring the chicken stock and water to a boil. Add the chicken breasts, skin side down, cover and simmer over very low heat until they're tender and cooked through, about 25 minutes. Transfer the chicken breasts to a plate and shred the meat; discard the bones and skin. Skim any fat from the cooking liquid and reserve.
Step 2
In a blender, combine the halved tomatillos with the quartered onion, poblanos and jalapeños, smashed garlic, chopped cilantro and oregano. Pulse until coarsely chopped, scraping down the side. With the machine on, add 1 cup of the cooking liquid and puree until smooth. Season the tomatillo puree with salt and pepper.
Step 3
In a large deep skillet, heat the vegetable oil until shimmering. Add the tomatillo puree and cook over moderate heat, stirring occasionally, until the sauce turns a deep green, about 12 minutes.
Step 4
Pour the green sauce into the cooking liquid in the casserole. Add the hominy and bring to a simmer over moderate heat. Add the shredded chicken to the stew, season with salt and pepper and cook just until heated through. Serve the pozole in deep bowls, passing the lettuce, radishes, onion, avocado, sour cream, tortilla chips and lime wedges at the table.
Click Here to go to original recipe posting on www.foodandwine.com.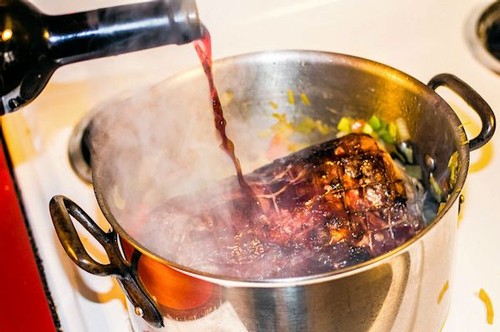 There's no better way to spend a SIP evening than creating a delicious dish while sipping a Dashe wine for inspiration. When the topic of food and wine pairing comes up, the usual flow of conversation revolves around what wine to drink WITH dinner. Yet sometimes the tougher decision is what wine to put IN dinner. That's because when listed as an ingredient, wine is often suggested in the most generic terms, and you're left to wonder - will any wine do? But there is more to cooking with wine than using up last night's leftovers. Take a look at my top 5 tips.
Leftover Wine
As a general rule, never cook with any wine you would not drink. The month old leftovers in the refrigerator won't do. Any off flavors in wine become more concentrated during cooking.
Cooking Wine
Avoid using these all together. They are made of a thin, cheap base wine to which salt and food coloring have been added.
White Wine
If the dish has bold or spicy flavors go for a more aromatic white such as our Dashe McFadden Farm Dry Riesling made from organically grown grapes from the Potter Valley. Our newly released 2019 vintage has a wonderful fruit/acid balance along with floral aromas that can counterbalance heavily spiced dishes.
Click Here for our 2019 Dry Riesling, McFadden Farm
Dry Red Wine
If a recipe calls for dry red wine, consider the heartiness of the dish. A long-simmered meat dish calls for a correspondingly hearty red like a Cab. A lighter dish might call for a less powerful red such as one of our lighter-styled 'les enfant terribles' Zin's.
Click Here for our 2016 Cabernet Sauvignon, Heart Arrow Ranch
Click Here for our line of 2017 'les enfant terribles' Wild Children
Sparkling Wine
When you cook sparkling wine, you eliminate its primary qualities, bubbles, and alcohol. However, a simple beurre blanc sauce can benefit from the two remaining qualities of a good sparkler: high acidity and yeast flavor.
Click Here for our 2016 Sparkling Wine, Methode Champenoise
Happy Cooking!

Baking Bread, Making Wine, and Pairing Cheese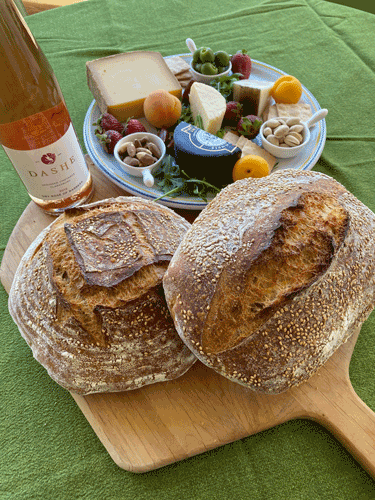 When my kids were unceremoniously kicked out of university and the entire family was bunkered at home, I decided it was time to step up as a fermentation scientist and get to work: fermenting sourdough starter; figuring out the best wines to match with fresh-baked levain bread; and pairing it all with the perfect cheese (a necessity with a French wife and kids).
After all, the best way to keep everyone happy when in close quarters is to keep everyone well-fed and focused on a task that would take everyone's talents to succeed. My wife is also a winemaker and a hell of a baker, so she would be natural help (although half the time she acted more like a Greek chorus than a French baker). My daughters were brought up as both French and American, so I figured that they would throw themselves into the project simply because they love good food. Not insignificantly, I also figured that baking my own levain bread was going to save me a bundle of money. A good loaf of bread in San Francisco costs a small fortune, so baking my own bread for $0.50 of per loaf was going to be a perfect way to economize while simultaneously creating something we all could enjoy.
The First Step: Natural Yeast or Not?
The winemaking was already taken care of, and the cheese selection would be the last step, so baking the bread was by far the most time-consuming part of the process. It took only a few minutes to decide to make bread with natural yeast starter rather than buying commercial dried active yeast. As someone who has lived in San Francisco since the early '80s, I already had an affinity for sourdough bread as a daily staple. Having a warm loaf of sourdough, and then matching it with a freshly steamed-and-cracked crab (with melted butter) and a salad is just about as perfect a meal as there is in my book. There are dozens of great bakeries in the Bay Area that supply bread to the local stores, so our family had already zeroed in on levain—a bread made with wild yeast—as one of our favorite styles of bread.
The first issue was that I hadn't ever made sourdough bread, much less created a wild sourdough starter. But as a winemaker, I felt that fermentation was going to be the least of my problems, because if anyone could detect a fermentation going wrong, it was going to be me.
Full-disclosure, I cheated at the start, because rather than create my own starter from scratch I decided to get a bit of actively fermenting sourdough starter from friends. It's a time-honored way to get one's starter, and it has the advantage that you know from the start what kind of bread the starter can produce. One call to a couple that I knew made great bread, and they were happy to give me a half-cup of starter.
Start with a Good Starter
If there's anything I learned during this whole process that I could offer as a tip is: get a good, strong, actively fermenting starter. A good starter is the heart and soul of a good levain bread, and it is the one ingredient that requires a bit of work and understanding. For one thing, it is messy. And sticky. And it smells…yeasty. The aroma is not bad at all—in fact, it smells a bit like a very toasty champagne if the champagne was left out overnight—but it is not everyone's cup of tea. But even if you find the tangy aromas of your starter off-putting, it only requires that you fold it into your dough, because the eventual bread itself has only a slight hint, a whiff, of the tanginess of the starter.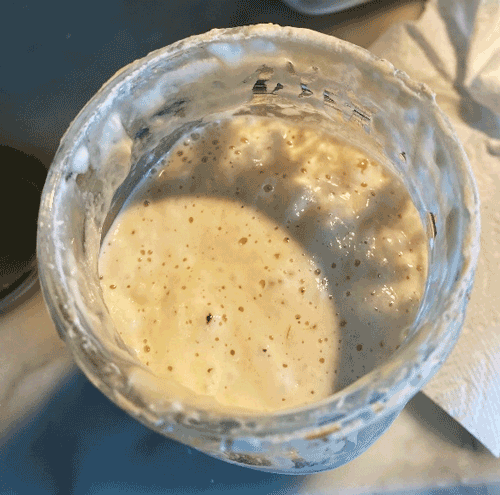 Just a word to the wise: if you need to get a starter and you live in an urban environment, like San Francisco, there are many bakeries out there that will just give you starter if you simply ask them. It is not as if you need a lot of starter, because you only need a half cup or less of starter to commence.
Once you have located a source of starter, the fun has just begun. Once you've obtained the starter, you must cultivate it and coax it to be the best starter that it can be. And there is only one way to do that—by feeding it, like it is a living being. Regularly. Every morning and every night. It's like a pet that doesn't have the decency to respond to you. Feeding it is not so hard (it is actually just a few spoonfuls of flour and a bit of water), but it's got to be done regularly if your starter is going to be active and create a semi-decent loaf of bread. You wake up in the morning, say hello to your starter, dump most of it out, and then give the remaining half cup or so some flour and water. By the afternoon, it has doubled or tripled in size (like a man-eating plant in Little Shop of Horrors) and is ready to be used.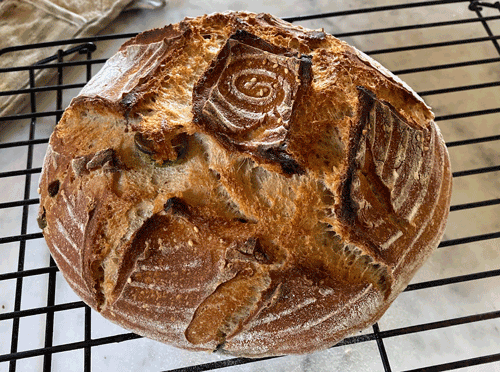 The Zen of Baking: If You Aren't Patient, You're Screwed
As a winemaker nothing gets me as worked up as a good fermentation, and although wine still captures the prize for heart-racing full-tank fermentation, a good sourdough starter and bread-making marathon comes in a close second. To start out making bread for the first time, I heartily recommend the YouTube video "15 Mistakes most Beginner Sourdough Bakers Make" from ProHomeCooks—I followed the instructions to the letter and came out with a more than decent result.
I must confess, it takes patience to make levain. Realistically, it's a day and a half process. I've now made bread five or six times, and the only time that the results were less than ideal (i.e. the shape and density of a Frisbee) was when I tried to shorten the process by not giving it the necessary time to rise.
So, take a breath and prepare to make yourself useful while you wait. I won't go into every step of making the bread (that's what YouTube videos are for!), but I will let you know a couple of things that I learned in the process.
First of all, make sure that your starter is as active as possible, and has risen three-fold or more at the time you use it. It should have lots of bubbles on the surface and smell tangy.
Second, don't get impatient during the bulk rise step, when you are waiting for your dough to rise before putting it into its final shape. I made the mistake of trying to shorten this step, assuming that the bread would rise as much as it needed during it's second rise (the "proofing"), but sadly, it didn't.
Last, make sure you have a decent Dutch Oven (Le Crueset is the best) to bake your bread. It creates a little steam oven to bake the bread and creates a great crust.
As extra credit, it helps to get a spiral basket—called a "banneton"—for the final proofing of the dough. It creates the spiral effect that gives the bread a professional look.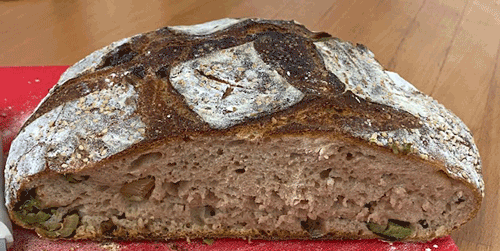 You've Baked your Bread, Now Select the Wine
There's nothing quite as gratifying as slicing into one of your loaves—your creation—and seeing a bread that rivals the best you've bought in a bakery. It has a great crust, and the crumb of the bread (the interior structure) is light and airy.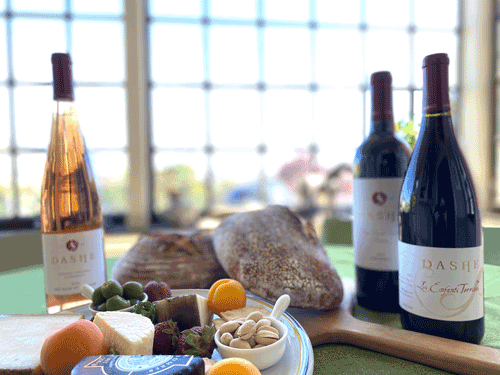 Now, the question is: what wine to pair with the bread? It's been hot lately, so I'm always partial to rosé this time of year. Personally, I think that rosé goes with almost anything when it's hot outside, and it goes so well with salad, cheese, and bread that it's a natural choice.
Click Here for our 2019 Rosé of Barbera, Heringer Vineyard
One of the best aspects of a levain bread is that the subtle nuttiness and tanginess of the bread goes perfectly with a range of wines, especially when you put cheese selections into the mix. In the summertime, I prefer light reds, so Cabernet Franc, Grenache, or Gamays all do well. As a winemaker that specializes in Zinfandels, I would be remiss if I didn't suggest a lighter Zinfandel style such as our Les Enfants Terribles Mendocino Cuvee, our biodynamic Heart Arrow Ranch Zinfandel, or our Dry Creek Reserve Zinfandel.
Click Here for our lighter reds, the 'les enfants terribles' Cabernet Franc, Grenache, Mendocino Cuvée, and Heart Arrow Ranch Zin
Click Here for our 2017 Zinfandel Reserve, Dry Creek Valley
Don't Forget the Cheese!
My wife and kids provided much of the enthusiasm for creating the bread, trying to keep things into perspective when I was certain that the bread wasn't rising correctly, etc. They also were the first people in line to slice a piece of warm bread (please, let it rest an hour out of the oven before cutting, so that the texture of the bread isn't moist and gummy) when the bread comes out of the oven.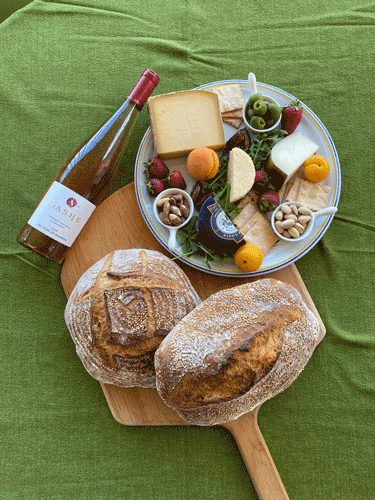 Any French family loves to eat their bread with fresh butter—and definitely salted butter if you're from Brittany, and salted butter with crystals that crunch if you're actually IN Brittany). Cut some slices of a nice Comté or Gruyere cheese, or maybe a sheep cheese such as Petite Basque or a Spanish Manchego to go with it, and now you're talking some serious hedonistic pleasure. We even used a fine English white cheddar and some fruit, to pull everything together.
Combine that with a view of the San Francisco skyline, and the current problems seem much more manageable.